NIGHTINGALE AWARDS 2013 – SPECIAL ADVERTISING SECTION
This year marks the 25th year that Oakland University's School of Nursing has been honoring exemplary nurses and recognizing achievements within the nursing profession. The tradition of honoring Michigan's top nurses began 25 years ago, at the urging of Maggie Allesee, an original Oakland University School of Nursing long-term Board of Visitors member and philanthropist. For her support and efforts over the years, Ms. Allesee will be receiving an honorary Nightingale Award this year.
The only event of its kind in Michigan, the Nightingale Awards for Nursing Excellence also serve to provide scholarships for nursing students and funding for faculty research projects, and ensure that the School of Nursing has the most authentic and advanced technology for educating future health care professionals — which improves the lives and safety of the patients and families with whom nurses work.
Over the past quarter century, hundreds of hard-working, heroic, and honorable nurses from around Michigan, Ohio, and Canada have been lauded at the Nightingale Awards for Nursing Excellence. Nurses are nominated by their supervisors, colleagues, physicians, other health care providers, patients, and other nurse supporters. Each year, nine winners and nine runners-up from eight different categories are highlighted. Winners receive a solid bronze statue of Florence Nightingale and a check for $1,000. Runners-up receive a plaque and a pin. There are three finalists in the People's Choice category who were nominated by former patients, with the winner being announced at the event.
Nursing Administration Winner
Gail Pietrzyk
Crittenton Hospital Medical Center
Nominated by Karen Crawforth & Gretchen Pagac
As the director of Perioperative Services, Gail Pietrzyk has been instrumental in the function and growth of the Perioperative Services Department at Crittenton Hospital. Her commitment to ensuring each patient will have a safe surgical experience is palpable throughout the operating room, and it's one of her nursing and administrative philosophies. In 2012, Crittenton's operating rooms were recognized for having the highest culture of safety scores in the state, largely as a result of Pietrzyk's commitment to effective communication and safety in the operating room. In addition, she helped organize a three-day relationship-based care training program for the nursing practice, to help improve patient satisfaction and to incorporate relationship-based care into the nursing practice. To her staff, Pietrzyk is known as an inspirational mentor and she is a role model to perioperative nurses. She humbly demonstrates her strong and decisive leadership skills, and often works long hours to ensure her department is run efficiently and effectively.
Nursing Administration Runner Up
Bridget Leonard
DMC, Rehabilitation Institute of Michigan
Nominated by Maria Bobo
Bridget Leonard is manager of the Nursing Resource Pool at DMC–Rehabilitation Institute of Michigan, where she has excelled above and beyond in an administrative role by taking tremendous strides to ensure her staff is pushed and encouraged to succeed. Leonard was the first manager to approve tuition reimbursement for patient care sitters who were interested in a nursing career. As a compassionate, committed, and caring nurse manager, Leonard is a leader who takes a visionary position and inspires others. Her caring heart is filled with passion and dedication, which is expressed in all she aspires to accomplish.
Advanced Nurse Winner
Christine Westphal
Oakwood Healthcare System
Nominated by Barbara Medvec
A practitioner at Oakwood Healthcare System, Christine Westphal is the director of the Palliative Care (PRISM) program. She leads a multidisciplinary team in providing a comprehensive care and management program inclusive of physical, psychological, emotional, and spiritual supports to meet the needs of patients of all ages — and their families — suffering from serious and/or life-threatening illnesses. Not only has her experience as a clinician been helpful to her in this role, but her willingness to engage with the patients' families and to work with them to develop specific care plans that honor their values has been instrumental in the program's success. Westphal's efforts have been recognized by her patients and their families through Oakwood's Everyday Hero program; she is one of only five employees who has received more than 50 personal thank-you/recognition notes from patients. Westphal is considered one of the most humble and giving nurses, and she has a passion for the practice of nursing and outstanding patient care.
Advanced Nurse Runner Up
Pauline Kulwicki
DMC, Harper University Hospital
Nominated by Mary Sieggreen
Pauline Kulwicki has worked as a nurse in the United States Air Force and civilian sector for the past 41 years. She is currently an advanced practice nurse for the Neuroscience and Medicine specialty areas at Harper-Hutzel Hospitals. As both a mentor and a role model, Kulwicki encourages the nursing staff on her unit to advance their formal education and receive higher nursing degrees, and she shares the appropriate knowledge so they can enhance their critical thinking skills. She has worked diligently to create a highly skilled nursing staff by helping them expand their knowledge of neuroscience across the continuum of care.
Education And Research Winner
Maria Palleschi
DMC, Harper-Hutzel Hospitals
Nominated by Sheri Testani
An outstanding educator and researcher, Maria Palleschi is a devoted advocate for applying evidence-based research through the use of change management tools. Palleschi, who has a doctorate in Nursing Practice, works with an interdisciplinary team at Harper University Hospital in research, science, and educational endeavors. She is currently engaged in research on timely sepsis treatment during the "Golden Hour," when patients are most responsive to intervention. Palleschi is also involved with three research projects relating to the ICU environment — including studies on sleep, noise, and early ambulation of patients in the ICU. Along with her research load, she dedicates her time to the community by volunteering her efforts to nursing students at the BSN and MSN level. Currently she is assisting a graduate student, and sharing her knowledge and experience by helping with research projects and teaching students how to comprehend the material found in professional journals and adapt that research to the nursing environment.
Education And Research Runner Up
Kathleen Marble
Sparrow Health System
Nominated by Said Omar
Kathleen Marble has advanced through her nursing career from bedside nurse to department manager for Sparrow Hospital's neonatal intensive care unit. Her current achievements include playing a key role in bringing down central line-associated blood stream infections (CLABSI) to zero over the past year in the Neonatal ICU, and working on a research project — published in the 2013 issue of Neonatal Network — involving parental stress when a premature baby is staying in the Neonatal ICU. Marble has a strong commitment to nursing and to her patients, and continually looks for ways to improve the care that she and others provide.
Long-Term Care Winner
Laura Lager
Oakwood Heritage Hospital
Nominated by Karen Dunn
As the charge nurse at the Multidisciplinary Acute Care Rehabilitation Unit at Oakwood Heritage Hospital, Laura Lager is a model of excellence in her demanding field. She has received many awards because of her exceptional nursing skills, leadership, and commitment to quality, patient-centered care. Lager is also a mentor to newly hired nurses and nurse externs, and she provides transitional education for graduating students, with the goal of helping them make a seamless transition from student nurse to their new role as a staff nurse. She encourages her colleagues to become certified rehabilitation nurses and she helps contribute to the education of her staff in a variety of ways, including organizing tracheotomy training. Lager's great sense of humor has provided an engaging atmosphere for the high stress level of her unit, which is why she has been such a great asset to Oakwood.
Long-Term Care Runner Up
Ruth Kniveton
Beaumont Hospital – Royal Oak
Nominated by Rachel Adams
As demonstrated by her abilities as charge nurse at the inpatient rehabilitation unit at Royal Oak Beaumont and as a mentor for graduate and student nurses, Ruth Kniveton continues to grow as a nursing leader. By setting professional goals such as becoming a certified rehabilitation registered nurse, she consistently exceeds her daily responsibilities to further her nursing career. As a Magnet representative for the Magnet Recognition Program, Kniveton incorporates the committee's goals by improving the quality of patient care. Her peers regard her as a knowledgeable, dependable member of the rehabilitation team, and she makes a difference in the lives of her patients and staff members every day.
Nursing In The Community Winner
Shawn Bennis
Henry Ford Home Health Care
Nominated by Fran Gosen
As the leader of the High Risk Clinical Practice Team and co-leader of the Henry Ford Home Health Care High Risk Task Force, Shawn Bennis works with her team to identify programs that improve patient safety and outcomes. Improvements Bennis has organized include partnering with Henry Ford Behavioral Health Services to infuse perfect depression care into home health care high-risk protocols. She has also challenged other clinicians to improve the lives of patients with depression by embracing a holistic approach. She completed training to become a motivational interviewer and health coach, and developed existing pathways for home health patients with chronic illnesses. Bennis partnered with the Pharmacy Care Management Team and, with the patient's permission, a pharmacist will now contact the patient within 48 hours for a one-on-one consultation. The pharmacist keeps in touch with the nurse and makes recommended changes, if needed. Since October 2012, more than 85 patients have benefited from these individualized assessments.
Nursing In The Community Runner Up
Doris Neumeyer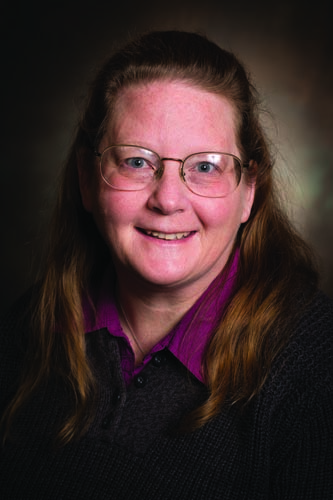 Beaumont Hospital – Troy
Nominated by Jack Poma
As an emergency preparedness coordinator, Doris Neumeyer educates and trains staff on HAZMAT policies, procedures, techniques, and equipment. She also designs and performs multidisciplinary emergency preparedness scenarios. Neumeyer trained and maintained a "First Receiver" team and has managed many disasters internally — including fires, floods, weather emergencies, utility failures, and community epidemics. She has received numerous certifications and has made many achievements that have helped her advance in her emergency preparedness role. Neumeyer is the founding member of the State of Michigan Emergency Management Anti-Terrorism Committee, and she has worked with the Michigan Department of Community Health and CMS to form the Regional Health Care Coalitions in Michigan.
Distinguished Alumni Award Winner
Lisa Astalos Chism
Karmanos Cancer Institute
Nominated by JoAnn Maklebust
Dr. Lisa Chism is a proud graduate of the 2007 Doctor of Nursing Practice class at Oakland University. As the first advanced practice nurse with a DNP degree hired at Karmanos Cancer Institute, her primary role is to work as an advanced nurse practitioner in the Walt Breast Clinic. In the past, breast cancer survivors were viewed as "high-risk breast cancer patients" and were seen in the "high-risk breast clinic." Through Chism's efforts, the clinic has been redesigned as the "Women's Wellness Clinic," shifting the emphasis from a medical model of risk for disease to a nursing model that focuses on optimal wellness. Chism was certified as a menopause practitioner by the North American Menopause Society in 2010. She recognized the importance of having a menopause clinic at Karmanos, since many breast cancer survivors experience early treatment-induced menopause. Chism is a true inspiration to both her patients and colleagues.
Distinguished Alumni Award Runner Up
Marianne Kasenow
Henry Ford Health System – West Bloomfield
Nominated by Karen Harris
Marianne Kasenow is a visionary leader and headed up a design effort for an enhanced orthopedic program that transformed a unit clerk role into an orthopedic concierge. She also applied core skills prior to the opening of Henry Ford West Bloomfield, and represented an array of areas including: surgical, orthopedics, general, prostatectomy, and medical nursing. Kasenow's staff and patient engagement efforts have kept her unit at the 99th percentile ranking since the opening of the hospital. She's active with the Hospital Communication Council to ensure best practices with patient communication, and makes sure her staff — who are often recognized for their achievements — has the tools and resources to do their job successfully.
Staff Nurse Winners
Kelly Benoit
Beaumont Hospital – Grosse Pointe
Nominated by Anne Stewart
Throughout her 17 years of loyal service, Kelly Benoit's meticulous nature and confident, conscientious delivery of care has earned her the admiration and respect of her colleagues, patients, and their families. One project she initiated was creating a universal symbol that is posted on the doors to rooms where one has already experienced a loss or their loved one is in the midst of the dying process — whether the patient is an infant, a child, or an adult. This effort has been adopted at Beaumont hospitals in Grosse Pointe, Troy, and Royal Oak. Further examples of her organization are dispelling the "sticky note" transfer method of information by devising a "DID YOU KNOW" tabbed binder containing topics and answers to many of the staff's questions, keeping the binder in a common area, and developing an "at-a-glance" form for baby care that acts as a supplement to the larger booklet new mothers receive after delivery.
Anne Marie Bradley
Oakwood Hospital & Medical Center
Nominated by Kari Szczechowski
For the past 18 years, Anne Marie Bradley has been recognized as a leader who is dedicated to her patients and the staff at Oakwood Hospital. Since 1998, she has been a member of the Clinical Practice Council (CPC), through which she has assisted on determining practice and policy changes for a variety of departments. Bradley was nominated for, selected, and attended the Michigan Center of Nursing Institute Nursing Excellence program, and was chosen as a recipient of the Oakwood Everyday Hero award. Recently she was recognized at the Oakwood Healthcare System Nursing Excellence Celebration with the Nursing Excellence Award for Evidence Based Practice for her achievements over the years with the CPC and the Unit Council on her floor. She continues to grow in her clinical and leadership expertise, which makes her an excellent role model. Her commitment to providing exceptional care to her patients is evident in her passion to look for evidence-based practice opportunities that will improve nursing practices on her unit.
Staff Nurse Runners Up
Karen Hughes
Oakwood Hospital & Medical Center
Nominated by Edith English
Karen Hughes is proud of being a nurse. As a staff nurse, she takes serving and honoring others seriously. After the loss of a revered colleague, Hughes set up a program called the Nursing Honor Guard. When a nurse or retired nurse passes, a group of four nurses along with an Honor Guard representative perform a beautiful tribute at the funeral home or gravesite to show their respect while honoring these fellow nurses with dignity and pride. Hughes also became a wound care certified nurse and now works with other staff members to better care for their wound patients.
Kirsten Roberts
DMC, Huron Valley – Sinai Hospital
Nominated by Carol DeVore
Kirsten Roberts is a staff nurse. She is passionate, diligent, and knowledgeable — and when there is room for improvement, she will lead the charge, research a variety of possibilities, execute the protocols, and evaluate the effectiveness. One such initiative was the Montana Outcomes Project, a collaborative effort of many cardiac rehabilitation units nationwide. Roberts wanted to be included in that group, so she became an active member of the Michigan Society for Cardiovascular and Pulmonary Rehabilitation. Utilizing new tools discussed at the meetings, Huron Valley Sinai Hospital has been able to benchmark patient outcomes and improve its programs, resulting in a 61 percent improvement in depression scores in participating patients.
People's Choice Nominees
Mary Gadbaw Davis
St. John Providence Hospital
Nominated by Jim and Elizabeth Cahill
Recently, when a young couple met nurse midwife Mary Gadbaw Davis, they felt an instant connection. They went into their 18-week ultrasound full of promise, but it was not the moment they had hoped for. Their follow-up appointment confirmed that their baby had no heartbeat. Davis was there when they heard the news, and also when it was time to deliver the stillborn infant — despite the fact that both events occurred on her off days. Davis consoled them, comforted them, and made them laugh during a difficult time. Davis' ability to console and comfort her patients when met with heartbreaking tragedy leaves them with a strong feeling of peace rather than intense sadness.
Mary Beth DeRubeis
U of M Cancer Center
Nominated by Ann Marie Gierens
Mary Beth DeRubeis is a nurse practitioner and a dispenser of hope and faith. Ann Marie Gierens attributes her healing success during throat cancer treatment to DeRubeis and her positive attitude and encouragement. DeRubeis excelled not only in her delivery of treatment, but she provided a beacon of hope for Gierens, enabling her to succeed in her recovery. The aggressive treatments were taking a negative toll on Gierens, but DeRubeis coached and encouraged her throughout the process and laid out positive expectations. Gierens has often said that although she had the support of family and friends, it was the kindness, confidence, assertiveness, and hope-giving from DeRubeis that made the difference in ultimately receiving a positive prognosis.
Diane Moskal
Beaumont Hospital – Troy
Nominated by Cindy LaCavera
Diane Moskal's passion for serving others means doing what needs to be done — and then some. When her former brother-inlaw, Dennis, was diagnosed with esophageal cancer, she knew what she had to do. Despite the broken family ties, she assisted with medical care coordination and advocated on his behalf. Although he recently passed away, Moskal ensured he was comfortable in his last moments. She has also led successful initiatives — including volunteer hearing screening for newborns, which has changed the lives of thousands of newborns, as well as a car seat education program to teach new parents about car seat safety.
Facebook Comments