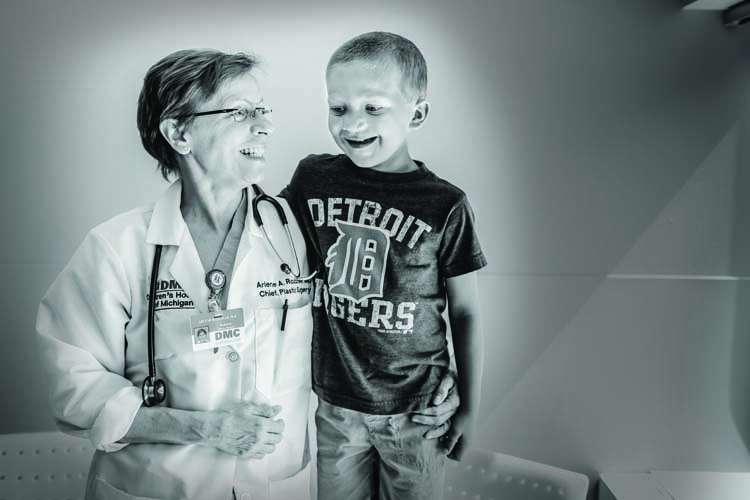 At her 20 weeks ultrasound, Jaimee Saputo-Fristedt received the news — her son would be born with a cleft lip and palate.
"It was definitely scary, because you know right away that the only way to fix that is surgery, and you know it needs to be done at a really young age," says the Highland resident. "You feel a little bit lost for a minute because you don't know what to do."
A cleft in the lip or palate occurs when the soft tissue of the lip or palate doesn't join together completely during pregnancy. The Centers for Disease Control and Prevention in Atlanta estimates about 2,650 babies are born each year in the U.S. with a cleft palate and 4,440 babies with a cleft lip, with or without a cleft palate. The cause is thought to be a combination of genetics and other factors such as environment and medications. Babies born with this condition face a lifetime of medical care.
Saputo-Fristedt began researching options, which eventually led her to Dr. Arlene Rozzelle, chief of plastic surgery at The Children's Hospital of Michigan in Detroit.
At Rozzelle's side is Peggy Schorr, a certified pediatric nurse practitioner. Schorr knows the questions parents will have, and she personally types out guides with timelines, contact information, and FAQs. "We tell them all of this in clinic, but they're overwhelmed," she says.
Jaimee's son, Noah, was born on June 28, 2009. Two weeks later he began his treatment by being fitted for a nasoalveolar molding, a retainer that helps bring together the cleft before surgery. At 4 months old he went in for his first cleft surgery to repair his lip. By 8 months, he returned to have his cleft palate repaired.
"Some of these kids and going to need five to seven operations or more by the time they go to college," Rozzelle says. "This is a lifelong medical situation that's going to need ongoing care."
The Children's Hospital of Michigan houses one of the largest comprehensive cleft craniofacial departments in the state. According to the Michigan Department of Health and Human Services, 2,514 children were born with cleft lips and palates in Michigan between 2000 and 2012.
Another facial syndrome called Pierre Robin Sequence is one of Rozzelle's research specialties. It's rather uncommon; according to the Cleft Palate Foundation, frequency estimates range from 1 in 2,000 to 30,000 births, based on how strictly the condition is defined. When born with this abnormality, infants have a smaller than normal jaw, pushing the tongue to the back of the throat, and obstructing the airway. This leads to difficulty breathing and eating. To treat, Rozzelle makes an incision on either side of the jaw and implants a mechanical intraoral distractor, an expandable metal device, on either side of the osteotomis. This is done shortly after birth and slowly expands the jaw to promote bone growth. This results in an elongated jaw within a few days.
The Children's Hospital of Michigan was an early adopter of using this distraction method on infants. Although similar procedures were being done around the country on older children, Rozzelle saw the benefits of placing the device on infants who are still rapidly growing, and customized the device with a lock to prevent it from sliding backward during eating and movement.
"A lot of kids with cleft or craniofacial anomalies are going to have other medical problems," Rozzelle says. Treatment is multidisciplinary, combining the hospital's professionals in subspecialties such as ear/nose/throat, speech therapy, audiology, oral surgery, prosthodontics, nutrition, neurosurgery, pediatric imaging, interventional radiology, orthodontia, pediatric dentistry, and nasoalveolar molding, which is an important part of lip repair.
Because of the lengthy medical process, family support is key. "This is a family issue," Rozzelle says. Social workers in the clinic handle everything from speech therapy in schools, to referrals to support groups.
Terry Gold, a social worker in the clinic, says she closely monitors how the child and parents are adjusting. They also assist parents with financial resources, ensuring their insurance is covering what can be covered, sometimes expanding to utilities and transportation.
Now on a mission to help other parents facing similar circumstances, Saputo-Fristedt, a mother of three, is the creator of Cleft Moms, and uses her website cleftmoms.com to connect with other parents of children with facial abnormalities. She has spoken with parents from across the state and the country, offering them support through the difficult process. "They need to know they didn't create this, they didn't cause this," she says. "They did nothing wrong."
She's been in contact with more than 100 families in the last few years, reaching countries around the globe. At one point, she even got information for a woman from Vietnam considering seeing Rozzelle for her child's procedure.
Noah turned 6 in June. The next surgery will repair his gum line. After that, he won't need surgery for a few more years. Although he faces a long road ahead, his bright smile doesn't give a hint of the challenges.
Facebook Comments