In 1999, when authorities were sizing up a mother's fitness to rear her children, Dr. Albert Bayer was called in to assess the woman's psychiatric condition.
Their meeting set off a tragic chain of events that eventually led to the woman's attempted suicide and a near-death experience for Bayer's career. He ended up with a criminal sexual-conduct conviction, a spot on the sex-offender registry, and temporary loss of his doctor's license. (His victim, whose name is not being released to protect her identity, is referred to here as M.H.)
More than a decade later, M.H. is still recovering. "I hate what he did to me," she says. "I still don't like to be touched too much. I don't trust people of authority anymore."
Bayer feels the pain, too. "Every day, I wish I could do it over for her sake, as well as mine," he says. "This has given me a huge dose of humility, of shame, of remorse. I don't want this to sound like making excuses, because I take full responsibility for what I did."
An investigation for Hour Detroit shows that Bayer's case, and other serious violations of Michigan's Public Health Code, which empowers the state to license, regulate, and discipline doctors, are rare. That may seem contrary to news accounts recently, as stories of doctors behaving badly have bubbled to the top of the public agenda.
The details are unsettling: Dr. Stephen Jenson, of Pittsfield Township, lost his internal-medicine/pediatric residency at the University of Michigan and faced federal charges after he allegedly left a thumb drive with child pornography on a work computer. Optometrist Dr. Danny Brikho, of Sterling Heights, was charged after allegedly exposing or touching two patients with his genitals. He pleaded no contest on May 21 and was set for a June 28 sentencing. And Dr. Howard Weinblatt, an Ann Arbor pediatrician, is on five years' probation and was ordered to move for a conviction that he watched a 12-year-old neighbor girl, who was also his patient, change clothes for his sexual pleasure.
But a recent count showed only about 200 — 0.5 percent — of Michigan's 40,000 M.D.s and D.O.s are currently barred from participating in all federal health-care programs, such as Medicare and Medicaid, because of code violations. In the 1990s, less than one-third of 1 percent of physicians in the United States were disciplined for criminal activity, according to a 2006 report from Public Citizen, an advocacy group for the public.
The numbers may be small, but each incident packs a wallop.
At Weinblatt's sentencing in March, the victim's father said their family has been ostracized for reporting the grandfatherly doctor. The father told Weinblatt: "You have broken our collective hearts. We held you to a higher standard because you were our neighbor, friend, and trusted doctor."
But those who violate often escape with comparatively mild penalties, even when the violation lasts as long and does as much damage as Bayer did to M.H.
PERSONAL VS. PROFESSIONAL
The doctor treated and prescribed medications for M.H. for six years, starting in 1999, according to a Michigan Court of Appeals summary of the case. She said their relationship "started becoming personal" in 2003, when Bayer was going through a divorce.
In February 2004, M.H. reported, when she was Bayer's last patient of the day, he sat next to her in the therapy session. They began to kiss, which led to oral sex. Following the encounter, M.H. reported feeling "dirty" and began to wash herself compulsively but, as she said in a recent interview, "I couldn't get the filth off."
The pair had sex at least twice in September 2004, the first time after Bayer asked her to meet him at a motel. They continued to have sex at various motels and in the doctor's office. Eventually, Bayer offered M.H. $50,000 to keep their relationship quiet.
Soon after that, she attempted suicide. Then she stopped seeing him.
When police interviewed Bayer, he admitted to having sex with M.H. and being aware of the impropriety of his acts. He pleaded that they not pursue charges because it would ruin him professionally.
Bayer was charged, but the counts were reduced, and he pleaded no contest to second-degree criminal sexual conduct in January 2009. He drew a one-day jail sentence, with credit for time served, and five years' probation. In addition, in April 2008, Bayer's license was limited/on probation for one year and he was supposed to be supervised by a licensed psychiatrist — and not just for his sexual misconduct with M.H. He was also punished for negligent prescribing of controlled substances — and for possession of marijuana and cocaine, which were detected in a separate incident — a call to his house for domestic violence.
Yet, even though other state records show that Bayer subsequently was sentenced to one year in jail for violating the probation, he was allowed work release at his current job selling medical equipment. He's not practicing medicine because his license was suspended in November for prescribing medications without a registration and for working on his own without supervision.
Now, despite undergoing individual and sex-offender therapy, as well as a professional-boundaries course, Bayer says he's not sure he'll try again to regain his license. If he does, he'll treat his profession as a privilege rather than taking it for granted, he says. "I really love getting to know people," he says. "Getting to know their issues, helping them through it."
Another example of what some say is chronic leniency involves forming personal relationships with two female patients by Dr. Elizabeth Bennet Cox, a psychiatrist in Okemos.
Cox treated one woman from 2003 to 2005, according to state records. The two had sex and planned trips together. Cox personally cared for the patient after she had surgery, and she also asked for help with legal problems from the patient, who was a lawyer. The second patient, treated from 2000 to 2005, had been sexually assaulted by two ministers during her adolescence, according to state records.
But after suspending Cox's license for two years, the state reinstated it in October.
Cox, who declined to be interviewed for this story, replied by letter, saying: "I failed in my duties, and have done everything asked of me to rehabilitate myself." She goes on to express her "sorrow and remorse" to her patient.
Reinstatements like Cox's and Bayer's are hardly exceptional: 40 percent of U.S. physicians who had temporarily lost their license for sex-related offenses from 1981 to 1994 were back at work, according to a study Dr. Sidney Wolfe published in the Journal of the American Medical Association in 1998.
Wolfe, director of the Health Research Group for Public Citizen, says: "To have sex with your patient is the worst violation. That should be the end of that person's career."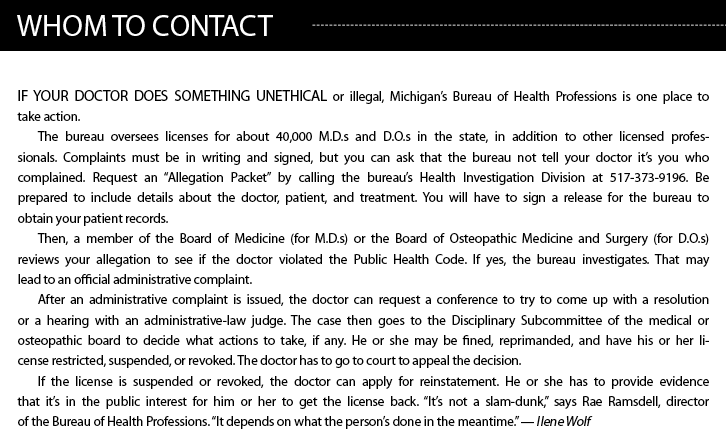 WARNING SIGNS
Some researchers believe there are ways to predict which doctors are most likely to do wrong.
Wolfe's own work indicates that sex-offender doctors are most likely, like Cox and Bayer, to be psychiatrists — followed by child psychiatrists, obstetrician/gynecologists, family practitioners, and general practitioners, usually between the ages of 45 and 64. Those least likely to violate, Wolfe found, were general surgeons, internal-medicine specialists, anesthesiologists, and pediatricians.
One 2004 study in the Academic Medicine journal found that students who were cited for unprofessional conduct during medical school at the University of California, San Francisco were twice as likely to be disciplined by the state's medical board once they became practicing doctors. The study defined unprofessional conduct as putting the doctor's self-interest above that of his patient, demonstrated by negligence, inappropriate prescribing, or sexual misconduct, for example.
Other research, published in 2007 in the Journal of Health Politics, Policy and Law, offers guidance on who will likely be brought before a medical board for a second time. Darren Grant, an economist at Sam Houston University, and Kelly Alfred of the Federation of State Medical Boards, analyzed a national database of all sanctions imposed across the country from 1994 to 2002.
"Our results indicate that a substantial fraction of sanctioned physicians are subsequently sanctioned again, at rates far higher than those of unsanctioned physicians," they reported. "We find a surprisingly high number of repeat offenders among physicians receiving 'severe' sanctions, about 20 percent over a five-year window, and a more modest number among physicians receiving 'mild' sanctions."
The two advise that doctors who receive severe sanctions or have high rates of recidivism should be monitored if allowed to practice.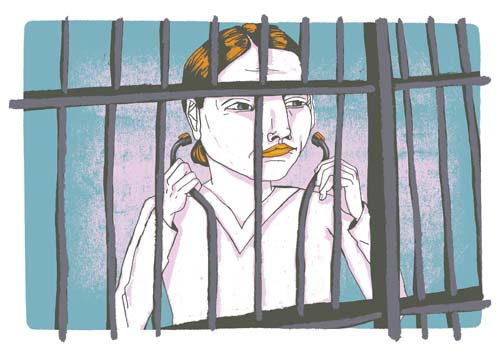 FLIMSY ENFORCEMENT
But enforcement is getting less, not more, strict.
Wolfe notes that the rate of serious discipline — revocations, surrenders, suspensions, and probation/restrictions — was 20 percent lower in 2010 (2.97 actions per 1,000 physicians) than the peak rate in 2004 (3.72 serious actions per 1,000 physicians), with considerable evidence of under-disciplining physicians.
"At this point, with all that's been written, I would think they'd [state medical boards] be hyper-aware of protecting patients," says Bill Heisel, contributing editor/blogger for Reporting on Health. "They will usually plead poverty and say they don't have the money and people to go after doctors."
Wolfe agrees. "Most states are not living up to their obligations to protect patients from doctors who are practicing medicine in a substandard manner," he wrote in 2011 at the posting of "Ranking of the Rate of State Medical Boards' Serious Disciplinary Actions, 2008-2010," on Public Citizen's website.
Michigan ranked 38th in the study, and has ranked from 37th to 40th since 2003 (with the higher the number, the worse the showing).
The state declined an interview with a member of the Board of Medicine, citing their volunteer status.
Rae Ramsdell, director of Michigan's Bureau of Health Professions, which administers the Public Health Code, says studies and rankings like Wolfe's can be misleading.
"I'm always concerned when people make blanket statements, because each case is individual," she says. "I just don't think it's appropriate."
Wolfe is also critical of hospitals. He says they're hesitant to discipline doctors because they fear loss of revenue, and although physicians are obligated to report errant doctors, they rarely do, he notes. "They don't report it because it's their friend," he says.
And the "it" is by no means only about sex.
For instance, about 300 patients of Dr. Yasser Awaad, former head of pediatric neurology at Oakwood Hospital, are suing him for allegedly misdiagnosing them with epilepsy. Awaad, according to court documents, unnecessarily gave his young patients medications with bad side effects; didn't give them the medicines they really needed; ordered unneeded tests and even surgery; and sent them to special-education classes for no valid reason.
The patients' lawyers add that the fallout went well beyond immediate health issues: Parents limited their families for fear of having another epileptic child, and the kids passed up college scholarships, school, and social activities because of the doctor's actions. Efforts to reach Awaad were unsuccessful.
Brian Benner, who is suing on behalf of the 300 patients, joins Wolfe in pointing the finger at the state and hospitals for shirking responsibility to protect the public by allowing Awaad to stay in business. He said that an earlier complaint to the licensing board about four siblings who were improperly diagnosed with epilepsy had led to just a year's probation and a $10,000 fine.
"I can't believe the state's letting him get away with this," says Benner.
One of Benner's colleagues, Nancy Savageau, adds: "The big thing to take away from this case is, if you think the hospital is watching the doctors, they're not. If you think the state is watching the doctors, they're not."
The state's Ramsdell disagrees: "Not all the experts felt that what Awaad was doing was inappropriate. There's more to the situation than what you're seeing." She explained that some experts even felt that although Awaad's diagnosis may not have been correct, his recommended treatment was appropriate. Oakwood, in a statement, says: "Above and beyond codes and rules, at Oakwood it is core to our mission, vision, and values to always deliver compassionate care and put patients first above all else."
RX: REHABILITATION
Some experts favor rehabilitation as opposed to punishment. When the problem is a doctor's drug or alcohol abuse, the state has a program to help. And while Public Citizen's Wolfe believes that sexual misbehavior should be fatal to a doctor's career, some experts take a softer stance and promote rehabilitation through education, treatment, and monitoring.
Two of those experts are Cindy Boling and Dr. Steve Schenthal, who says of other doctors: "They're just human beings with white coats on."
Each was involved in a beyond-boundaries situation earlier in their lives, and both now work for a company that helps doctors examine why, for example, they formed a sexual relationship with a patient and develop a strategy to keep it from happening again.
In Boling's case, she was the victim: In 1999, her gynecologist started courting her with roses and lunches. "I kind of felt like Cinderella," she says.
She moved in with him, but Prince Charming soon turned into a frog — pressuring her to do clerical work for his practice and eventually asking her to fill amphetamine prescriptions for his use. When the relationship deteriorated to the point of death threats against her, Boling moved out.
In Schenthal's case, he was the transgressor, becoming involved with a patient in his psychiatric practice. He paid a heavy price.
"I went through the process of taking responsibility," he says, "and my license was revoked."
In response, Schenthal formed Professional Boundaries (PBI). Although the firm is based in Florida, Michigan doctors use its online training and teleconferencing services, as well as three-day onsite sessions, to learn more about the ethics and psychology of patient abuse.
Doctors who participate in the PBI programs get continuing medical-education credits (necessary for maintaining their license), and pay for courses a la carte from $1,800 to $2,200.
One Michigan doctor who used PBI is Dr. Luis Valle, a Grand Rapids family-medicine specialist. The state had suspended his license for two years in 2005 and limited it for an additional two more after he had sex with, and wrote improper high-grade pain-pill prescriptions for, a female patient. His reinstatement process included several of PBI's programs, according to Michigan's Bureau of Health Professions.
During Valle's efforts to get his license fully reinstated, which it was in June 2011, his sex therapist, who is not connected with PBI, testified that "there had been an accumulation of stressors in [Valle's] life that allowed him to transgress with little insight at that time."
However, his therapy didn't reassure Merry Rosenberg, an assistant attorney general who opposed Valle's reinstatement on behalf of the state. "We don't know what he might be doing in the future, again, faced with stresses that are endemic to the medical profession." Valle returned a phone call requesting an interview, and said: "I did what I had to do, I complied with the board, and that's all I have to say," before hanging up.
While PBI educates fallen doctors and other professionals about ethics and boundaries, other firms, including the Behavioral Medicine Institute of Atlanta, Inc., offer direct treatment for professional sexual misconduct. Its medical director, Dr. Gene Abel, reports in a book that treatment can be successful, but such efforts are not without roadblocks.
"Unfortunately, the professionalism of the perpetrator of PSM [professional sexual misconduct] is often accompanied by considerable arrogance," Abel writes. "Professionals are accustomed to special treatment and to special privileges being given them because of their professional status."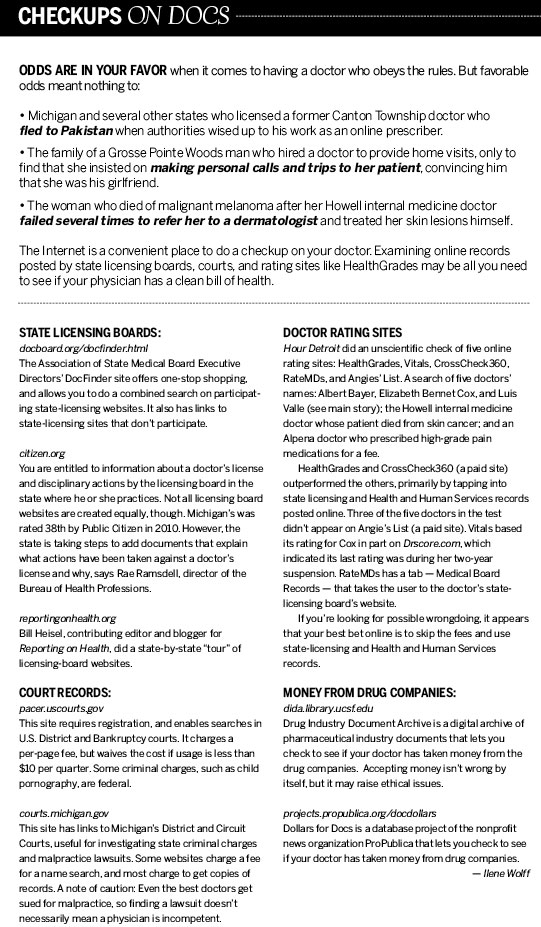 ---
Medicare Fraud: When Everyone Is a Victim
Along with patient abuse, there's another violation that harms everyone: billing fraud. And that's the violation of the Michigan Public Health Code that seems to draw the harshest penalties.
Dr. Jose Castro-Ramirez of Farmington Hills may have specialized in making house calls to patients, but he didn't need to leave his own home to commit health-care fraud. He and his partners faxed documents to one another in a plan that defrauded Medicare of $18 million for fictitious physical and occupational therapy, says John Neal, the chief assistant U.S. attorney who prosecuted the case.
Castro-Ramirez is serving a 14-year prison sentence in New Jersey, and was ordered at sentencing in 2010 to pay $9.4 million in restitution. He didn't respond to a letter requesting an interview.
His case is one of many targeted by the Medicare Fraud Strike Force since 2007, a project of the federal government to clean up illegal health-care billing in up to nine U.S. cities, including Detroit.
The fraudsters typically use recruiters to find poor people insured by Medicare. The recruiters give the insured money, groceries, or prescriptions for high-grade pain medications in exchange for their insurance information and signatures. The perpetrators then bill Medicare for fictitious services or equipment. Such activities have created a cottage industry of sorts in Detroit, where some impoverished Medicare beneficiaries have sold their information for more than one fraudulent ploy.
The strike force uses computer technology to detect unusual spikes in utilization to detect suspicious activity, similar to what credit-card companies do. The technology enables Washington to detect these cases as they occur, possibly reducing the amount of taxpayer money that needs to be recouped.
"Money was flowing out at a rate that just couldn't be sustained," says Neal, who then explained the rationale for using data mining to spot suspicious billing. "Let's get the data as close to real-time as we can, and then let's use the data to open investigations."
Since it was formed five years ago, the strike force has charged nearly 1,200 people who falsely billed the Medicare program more than $3.6 billion. In Southeast Michigan in the past three years, 141 people have been charged for billing $153 million in false charges, according to statistics from the U.S. Attorney's Office, Eastern District of Michigan.
But not all Medicare fraud involves fake patients. Michigan has become a hotspot for "nail avulsion" billings by podiatrists for Medicare patients receiving other, non-billable foot care. During nail avulsion, a podiatrist removes a thin slice from the side of the nail to relieve an ingrown toenail.
Data analysis of Medicare billings for podiatrist Errol Sherman of Oak Park led to his prosecution for billing thousands of nail avulsions that were never performed on hundreds of patients. Sherman was sentenced in March to one year in prison and ordered to pay $300,000 in restitution. He did not return a message requesting an interview.
The strike force's success prompted Barbara McQuade, U.S. attorney for the Eastern District of Michigan, to dedicate a seven-lawyer unit out of her office to work on health-care fraud in Detroit.
"We all are [victims] because we all as taxpayers pay into the Medicare system," she says.
In addition to the strike force, the Affordable Care Act — commonly called "Obamacare" — has toughened sentences for fraud, upped scrutiny of providers in categories with a higher fraud risk, increased cooperation between Washington and the states, and expanded efforts to recover money from fraudsters.
— Ilene Wolff
---
If you enjoy the monthly content in Hour Detroit, "Like" us on Facebook and/or follow us on Twitter for more frequent updates.

Facebook Comments