From the volunteers who circulate mail carts to major financial donors, hospitals are indebted to the giving spirit of the community they help heal.
In metro Detroit, the names of philanthropists adorn hospital buildings, wings, and art installations. Often, the donors are the same prominent citizens who help keep metro Detroit's community traditions and cultural gems afloat. Others make gifts to hospitals in thanks for personal care. Here's a sampling of just a few charitable donations that serve as prescriptions for the well-being of our medical institutions.
DETROIT MEDICAL CENTER
Shortly after he was born, Earl Stilson underwent the first of 10 surgeries needed to open his eyes, which were fused shut at birth. The memory of that, as well as additional orthopedic surgery and rehabilitation, left a lifelong impression. He recalls being frightened, but well cared for by the staff at Children's Hospital of Michigan in Detroit. Six decades later, Stilson, a successful entrepreneur, donated funds to build a specialty center for DMC/Children's Hospital of Michigan Stilson Specialty Center in Clinton Township. Stilson owns Marine Sales and Repair and a number of other businesses and real-estate ventures.
The DMC Rehabilitation Institute's Mike Utley Center for Human Performance bears the name of Utley, a former Detroit Lions' offensive guard who was paralyzed during an NFL game in 1991. The center was opened earlier this year with funding from the Mike Utley Foundation. It features a biofeedback laboratory, one of only two in the Midwest that offers biofeedback therapy for people with orthopedic and neurological conditions such as spinal-cord injury, brain injury, stroke, and cerebral palsy.
The DMC Rehabilitation Institute's Brasza Outpatient Center was named after Henry and Marie Brasza, owners of a small parts metal-manufacturing company. Henry was a therapy patient at the institute in 1976. While recuperating from surgery for lung cancer, he was told he might never regain the use of his left arm, his family says. Through rehab, however, he regained most of his mobility. His daughter, Marie Brasza-Pinch, says her father wanted to invest in the people who helped him.
The Barbara Ann Karmanos Cancer Institute is named in memory of the late wife of Peter Karmanos Jr., chairman and CEO of Compuware. She died of breast cancer in 1989 at age 46. Karmanos gave $15 million to the cancer research, patient care, and education partnership that was formed a year earlier by the Michigan Cancer Foundation, the Meyer L. Prentis Comprehensive Cancer Center of Metropolitan Detroit, The Detroit Medical Center, and Wayne State University.
UNIVERSITY OF MICHIGAN
C.S. Mott Children's Hospital is named for Flint auto pioneer and philanthropist Charles Stewart Mott who, in 1965, gave U-M a $6.5-million gift to help open its first children's hospital. Four decades later, the Charles Stewart Mott Foundation gave U-M a $25-million gift toward the construction of a new children's hospital and women's hospital facility, which will retain the name C.S. Mott Children's Hospital and Women's Hospital. The new facility is scheduled to open in 2011.
A. Alfred Taubman, a graduate of the University of Michigan (the College of Architecture and Urban Planning bears his name), was the major donor to the A. Alfred Taubman Health Center, which is home to numerous outpatient clinics.
U-M's Rachel Upjohn Building houses the university's Depression Center and outpatient psychiatry/addiction services. It's named for Rachel Mary (Upjohn) Meader, the granddaughter of Dr. William E. Upjohn, a 19th-century U-M Medical School graduate who invented the first pill that dissolved easily in the human body. Upjohn co-founded, with his brothers, the Upjohn Co. Meader and her husband, Edwin, gave $10 million to the Depression Center.
And the Danto Auditorium inside U-M Hospital's new Cardiovascular Center is named for its $2-million benefactor Marvin Danto, Michigan Design Center founder. Danto and his wife, Betty, contributed, in part, because he was grateful for the care he has received from the center's co-director, Dr. Kim Eagle.
BOTSFORD HOSPITAL
Often, doctors provide more than health care. The Ellis Siefer, D.O., Surgical Services Pavilion at Botsford is named for Dr. Siefer and his wife, Mary, who have been donors to Botsford. Dr. Siefer, who is 90 and retired, was the hospital's first director of surgical services and chairman of the Department of Surgery beginning in 1965.
SAINT JOSEPH/TRINITY 
Saint Joseph Mercy Hospital in Ann Arbor philanthropists have included:
Judy Dow (Alexander) Rumelhart (the Robert H. and Judy Dow Alexander Cancer Care Center; she is the granddaughter of the founder of Dow Chemical); Harry A. and Margaret D. Towsley (the Senior Health Building, named for the couple — she was the daughter of the founder of Dow Chemical); and the Ellen Thompson Women's Health Center, underwritten by Ellen and Bob Thompson. He is the founder of Thompson-McCully Co.
St. Joseph Mercy Woodland Health Center's Warren R. and Lauraine A. Hoenshied Cancer Center stands in memory of Warren and in honor of Lauraine, whose sister died of cancer.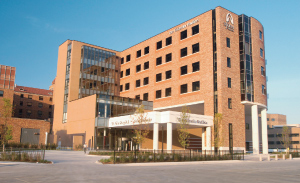 MOUNT CLEMENS REGIONAL MEDICAL CENTER
Some institutions benefit from community leaders who adopt them as a cause. The name of Macomb County Treasurer Ted B. Wahby is now attached to the hospital's Cancer Center in honor of his ongoing fundraising efforts.
Mount Clemens' Mat Gaberty Heart Center is named for Gaberty, a St. Clair Shores resident and former Macomb County road commissioner who continues to plan and organize events that raise awareness and money to fight heart disease.
Gaberty's father died of a heart attack when he (Mat) was 18. The younger Gaberty underwent heart-bypass surgery at another hospital, and he worried about his wife's having to drive to another county each day to visit him. As a result, he wanted to help provide quality cardiac care closer to home, in Macomb County.
ST. JOHN HEALTH
Most metro Detroiters are familiar with the Van Elslander family's financial support of Detroit's Thanksgiving parade.
They have also donated funds for health care. The new Van Elslander Pavilion at St. John Hospital and Medical Center in Detroit is part of a $163-million hospital expansion. St. John's Van Elslander Cancer Center (VECC) also bears the name of the Art Van (furniture stores) chairman and CEO.
Other names attached to the expansion project include: Gretchen C. Valade, owner of Mack Avenue Records and chairwoman of Carhartt, Inc.; Anthony L. Soave, president and CEO of Soave Enterprises; Richard and Jane Manoogian (Richard is executive chairman of Masco Corp.) Also contributing to the VECC were Meade Lexus owner Ken Meade, and his wife, Deborah; and broadcast executive Robert Liggett and his wife, Victoria.
The new hospital in Novi was offering naming rights for $15 million.
CRITTENTON
Named areas at Crittenton reflect the local Rochester area and the farm fields where the hospital now stands.
The Howard L. McGregor Jr. Ambulatory Services Center bears the name of a Rochester resident who was president and CEO of National Twist Drill in Rochester. He was a member of the Board of Trustees at Crittenton Hospital when it was in Detroit, and then served as a member of the planning team for Crittenton in Rochester. In 1965, McGregor donated a portion of his farmland to build the hospital.
The Bertha Van Hoosen Mother-Baby Unit reflects Rochester history. Dr. Van Hoosen, a member of a notable pioneering Rochester family, graduated from the University of Michigan in 1888. A highly regarded surgeon, Van Hoosen was instrumental in developing the use of "twilight sleep" for women in childbirth. Her popular book, Petticoat Surgeon, was published in 1947.
HENRY FORD
The hospital that bears the name of one of the world's most famous industrialists reflects the generosity of several high-profile residents and businesses.
Among them is another Ford. Josephine (Dody) Ford donated $10 million to establish a cancer center for the Henry Ford Health System. The Josephine Ford Cancer Center was established in memory of her late husband, Walter B. Ford.
Among the best known is the Hermelin Brain Tumor Center. Family and friends of David Hermelin — a leading philanthropist, businessman, and former U.S. ambassador to Norway — pledged $10 million to launch a brain-tumor research center within the department of neurosurgery at Henry Ford Hospital. Hermelin, who was treated for a brain tumor at Henry Ford, died in 2000.
In making the donation, Hermelin said, "The time is here to make a real difference in people's lives. The new research that will be done at the center will provide new hope for thousands of patients with brain tumors."
BEAUMONT
The philanthropic support of Florine and J. Peter Ministrelli — who own and develop commercial, residential, and vacant-land properties — began when Dr. Jose Gonzalez introduced Peter to Dr. William O'Neill, who needed private philanthropy to underwrite some innovative research efforts. The Ministrellis have helped fund the Center for Advanced Cardiovascular Imaging, The Program for Urology Research and Education, and The Ministrelli Women's Heart Center, all of which bear their names.
The Harold & Marian Poling Neuroscience Center was established when Harold Poling, the former CEO and Chairman of Ford Motor Co., and his wife, Marian, made a $5-million personal gift and helped to raise an additional $10 million from the community.
The Vattikuti Digital Breast Diagnostic Center was made possible by a significant gift from Raj and Padma Vattikuti. Rajendra Vattikuti is founder of Covansys.
The Rose Cancer Center and Rose Center for Adaptive Imaging were made possible by gifts from the Rose family (Edward and Lillian). Edward Rose founded Edward Rose & Sons, a family-owned real-estate development business headquartered in Farmington Hills.
Facebook Comments