Andy Craig swears this actually happened. "I was at home one day, getting a package delivered," he recalls. "I said, 'Thanks a lot' to the driver as he handed it to me, but he just kept staring at me. Finally, he said, 'You know, you look really familiar.' "
Then it hit him. " 'Hey, don't you work at that dildo warehouse in Ferndale?' "
Some might be offended by such a question. Craig was impressed by the guy's memory. Young man, Andy Craig does not merely work at the dildo warehouse: Alongside his brother Steve, he'll have you know, he is co-owner of the company called Nalpac. 
Indeed, Andy probably would have to let you know, as Nalpac –– probably for understandable reasons — is one of metro Detroit's best-kept secrets. "I'm telling you, I think the only people who knew it existed were the workers at UPS and FedEx," he says.
There are only a half-dozen or so distribution companies in the U.S. that supply erotic toys and gifts to the nation's more than 750 brick-and-mortar sex shops and the thousands of internet businesses, eBay retailers, and lingerie boutiques that sell such merchandise. One of the oldest and largest is Nalpac, located inside a sprawling, nondescript, 200,000-square-foot warehouse in the industrial district of fashionable Ferndale.
Nalpac bills itself as "America's Leading Adult Toy Distributor." Within its gray walls are 60 employees and, at last count, 23,000 individual items, ranging from massage oils, personal moisturizers, and edible treats to rubber, plastic, and leather … well, you can imagine.
You can, can't you? If not, the company's 2019 Winter Catalog is available online at nalpac.us.
Nalpac was founded in 1971 by Ralph Caplan (spell it backwards), who, the story goes, went door-to-door selling glass bongs and other paraphernalia. When that business model eventually became too risky during the Reagan era, he reinvented himself, transitioning to another somewhat questionable product line. 
But after nearly a half-century of working largely under the radar, Caplan apparently grew weary of the grind. "He didn't really want to put all the money and effort into it anymore," says Kim Cowens, a buyer for Nalpac and, with 20 years under her belt, one of the company's longest-serving employees.
Enter the Craig brothers, partners in the Detroit private equity firm Craig Capital, who looked beyond any possible stigma to see and seize an opportunity — a product line that was gaining public acceptance and a business that sorely lacked the cutting-edge technology needed to fully capitalize on it. They bought the company in April 2017 and set about modernizing it. They moved it into its current Ferndale location two months later.
Is it fair to say the private equity brothers weren't exactly experts on the merchandise when they bought Nalpac? "We're still not up on it," Steve admits with a laugh. 
"We sell what we sell, but at its core, a lot of it is creative design," says Steve, who is also a licensed attorney. "We're really a marketing company and a technology company. For us it's boxes in, boxes out. Obviously, there's a component of our creative and sales teams that need to be aware of the products, but for me it's finance and operations."
Warehouse operations received a huge boost in technology and infrastructure through the Craigs' investment, and the improvements are obvious. There's a new computer screen at virtually every workstation; each incoming item is labeled with a Nalpac-exclusive barcode; and employees are equipped with scanners that lead them from product to product as they pack outgoing shipments. They even designed oversized, modified shopping carts, assembled in-house, to make maneuvering through the cavernous stockroom easier.
"Our whole operation lives and breathes on efficiency, and that's really what will make us or break us," Steve says. "If we don't ship really fast — same day in most cases — our customers are very disappointed. We are all competing with Amazon."
Nalpac is now the brothers' primary investment, Steve says. "Our intent wasn't really to be involved this much, but we found there was a lot of opportunity, so we had to build a management team, and it has taken a while to do that," he says. "It's big business, and it's really taken off and become more mainstream in the last few years."
Nearly all members of that new management team are women, a fact Steve says wasn't intentional — he and Andy simply felt each new hire was the right person for their job — but it does, he says, reflect broader changes in the industry.  
"It's really only within the last few years that any women have been in key leadership roles in this industry, not only here but nationally," he says. "To me, that was really bizarre. When we got here, the only woman who had a semi-leadership role was Kim [Cowens], who was an assistant buyer. Now she's a buyer."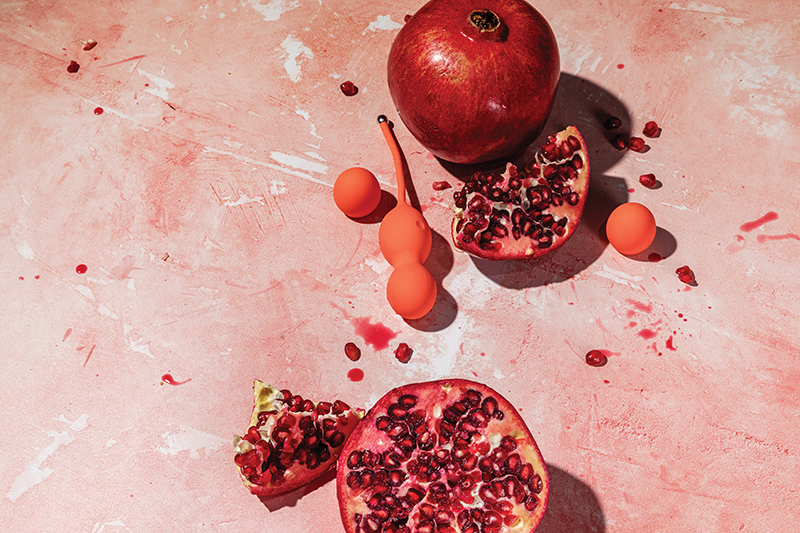 The change in management also reflects recent cultural shifts in how the company's range of adult products are perceived.
"Before, it was something no one talked about. Now you see it on commercials at night, in magazines, Walmart, CVS. Everyone has these kinds of products now," Steve says. "It's about women being able to have the ability to express their sexuality." 
Not everyone on the Nalpac leadership team jumped aboard immediately, however. New chief of staff Emily Bean thought she was applying for a position with the brothers' equity firm when she met with them last year. 
"They didn't disclose the type of company it was in the [job] listing, and I came in completely blind," she recalls. "At the very end of the interview they said, 'Do you want to see the product line?' They showed me the catalog and I was like, 'Oh!' But I thought it really might be fun."
Bean, who holds a master's degree in art, says she's been reading voraciously about the duties of a chief of staff and sees her role as "just picking up everything that isn't completed, driving projects, and making sure everything gets done. Every day is completely different." 
The most surprising part of her job? "Just how desensitized you get," Bean says. "Within a week, nothing was surprising anymore. As long as it's ethical and safe. And there's nothing we have that isn't."
"What do people think we
do in here? We have work to do.
Ain't no orgies in here."                  —KIM COWENS
Creative Director Amy Lazzara, who ran an online adult store in college, worked previously at Nalpac under the Caplan regime and returned to the company after the Craigs took over.
As creative director, "I do everything that's visual," she says, including creating catalogs, maintaining an in-house mockup store display for training clients, and a digital buyers' product guide used by both retailers and consumers. Lazzara also produces a popular live web series called Dicks With Don in which senior buyer Don Zerilli shows and discusses new products. "He's just a grump, but you can't help but love him," she says.
New controller Beth Paladino once was international controller for Cargill, the largest privately held corporation in America. "I knew I wanted a smaller, not-corporate environment, but progressive and technologically advanced," she says. "These guys are very innovative, and I think that will make them successful."
In all, nearly half of the company's workforce is female, which, Cowens notes, can come with its disadvantages.
"It's hard to maintain a relationship being a woman in this industry. Every time a man finds out what I do for a living, he thinks, 'Oh, she must be a freak,' " she says. "That's like saying, 'Oh, you work around pork all day, so you must be a pig.' What do people think we do in here? We have work to do. Ain't no orgies in here."
Facebook Comments