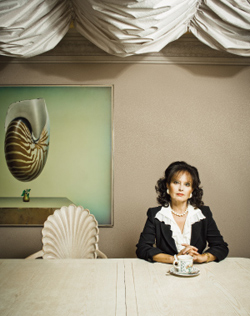 When Heinz Prechter took his life in his beautiful Grosse Ile pool house seven years ago, he revealed a secret he'd kept hidden from all but his immediate family and few close friends.
Prechter, one of Detroit's sharpest business minds, was mentally ill. The German immigrant and self-made millionaire suffered from bipolar disorder II, an affliction that, on its worst days, sent him reeling into an abyss of depression.
In life, Waltraud "Wally" Prechter guarded her husband's secret, as aware as he was of the stigma society attaches to an illness that even Heinz Prechter wouldn't name in their most intimate conversations. "He called it 'it' amongst the two of us, and he would not acknowledge nor accept it," his widow says. "After his death, my children and I decided to do something about this illness."
The family created the Heinz C. Prechter Bipolar Research Fund, now affiliated with the University of Michigan's Depression Center. They're in the midst of an ambitious program to raise funds and house research aimed at unraveling yet another secret: the genetic peculiarities that give rise to the disorder.
The Bipolar Genes Project is building a DNA repository at the U-M Depression Center. In conjunction with researchers from Stanford, Cornell, and Johns Hopkins universities, they are collecting DNA samples from 1,000 bipolar patients and 1,000 non-sufferers, whom researchers track through interviews over five years.
The goal: To provide a pool of longitudinal data for researchers trying to understand the illness, also known as manic-depression, which afflicts some 3 million people nationally. The disorder is marked by wide mood swings that range from a nearly euphoric, or manic, state in which sufferers can have almost delusional perceptions of their own abilities, to deep depression — and suicide.
Medical researchers have devised drug therapies to mute the high-to-low mood swings brought on by chemical imbalances in the brain. But no one has discovered the underlying cause, though it is believed to be genetic and often runs in families. Prechter says her adult daughter has been diagnosed with it, and she believes her mother-in-law suffered from it, but was never diagnosed.
To support the research efforts, the Prechter Fund has raised more than $5 million, including a $3-million endowment, and is on its way to raising an additional $3 million through two matching challenges. One challenge — $500,000 from the Herrick Foundation — was scheduled to end last month, and another — for $1 million from the Prechter family foundation — continues until Dec. 1, 2009.
The Prechter family provided founding money for the fund and its programs, which employ 15 people, and Prechter donates her time as president, raising money and serving as the public face of the fund while drawing public attention to bipolar disorder. The first fundraiser set the tone: an inaugural gala evening in 2002 that raised $1.25 million, which Prechter says is a record for such research. And there are plans for another high-profile event — a fashion show.
All of this has kept her very busy. And that, of course, was part of the plan. The Bipolar Research Fund is aimed at doing public good, but it also offers its president some personal grief therapy, a way to channel her own pain into something productive.
"I still grieve," Prechter says. "Every day, something comes out and you cry again. I will probably never be done. But the pain pushes you; it gives you the impetus to do something about it. I could sit in the corner and cry, but it's not going to get me anywhere. Heinz always wanted to make a difference, and I do believe that is what I should do, and it will honor his memory as well."
The Prechters met at a dance while Heinz, who came to America in 1963 as an exchange student, was visiting his native Germany. They married in 1977, and Wally joined her new husband Downriver, where he was already running his ASC company, designing and producing ready-made sunroofs for automakers to drop into cars on the assembly line.
ASC was highly successful, and at the time of his death at 59, Prechter had expanded, through his privately held Prechter Holdings, into the hospitality industry and weekly newspapers. He also applied his acumen and love for rubbing elbows with other powerful people to politics, and was a top fundraiser for the Republican Party. It was at Prechter's Texas ranch that George W. Bush first sat down with top corporate backers in 1996, while he was still in his first term as Texas governor.
Those political connections were apparent at Prechter's funeral, which drew hundreds of people to the Grosse Ile Presbyterian Church, including top White House adviser Karl Rove and two members of Bush's cabinet: Energy Secretary (and former U.S. senator from Michigan) Spencer Abraham, and Commerce Secretary Donald L. Evans. A longtime Prechter friend, then-Gov. John Engler, was among the eulogists.
Yet hardly any of those in attendance had known, until Heinz hanged himself, that he suffered from bipolar disorder.
"We have to treat mental illness with the same urgency as physical illness," Prechter says. "If you look at the research in regard to bipolar disorder, it is 20 years or more behind compared to where we are with cancer and all the other illnesses. They are just as valid to investigate and research, but I do believe that we have forgotten about mental illnesses.
"They victimize people twice. First, because they have the illness, and secondly because we don't have the research that could lift this veil. The time has come; we need to push for this."
Martelle is a Los Angeles-based freelancer. E-mail: Editorial@hourdetroit.com.
Facebook Comments