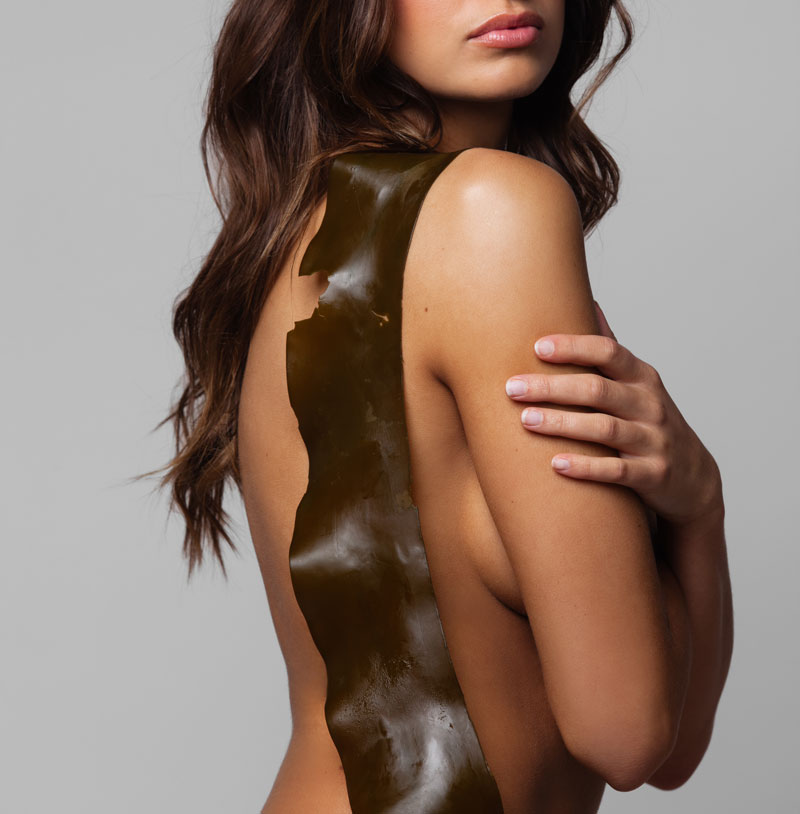 Anju Brodbine, owner of Woodhouse Day Spa's Rochester Hills location, says seaweed is a staple for her business. Not only is the multifaceted organic material a powerhouse in the beauty world — seaweed contains many anti-aging properties and can lessen the appearance of cellulite — its application has proven to be effective in treating issues related to psoriasis, eczema, arthritis, sore muscles, and much more. Here, Brodbine offers a glimpse into the many benefits of seaweed services.
Strategic Sourcing
The seaweed used for services at Woodhouse Day Spa is sourced from a family-owned company called Voya. Based in Ireland, which is home to more than 500 species of seaweed, the company's harvesting team strategically plans when to wade into the Atlantic Ocean by checking the levels of the tide and weather conditions. Once hand-picked, the seaweed is dehydrated, packaged, and sent to select boutique spas around the world, such as Woodhouse. 
Chemical Makeup 
Seawater, which has a chemical composition similar to blood plasma, contains minerals, vitamins, amino acids, and algal antioxidants like polyphenols and carotenoids. Because seaweed grows in the ocean, the material is naturally infused with these respective nutrients. When submerged in warm water for spa services, seaweed releases the nutrient-rich gel touted for its soothing and anti-inflammatory characteristics. "Because it's coming directly from the ocean, sometimes there are little shells and snails on there," Brodbine says referring to the seaweed, adding that all Voya products are "as organic as you can get." To that end, the seaweed at Woodhouse is void of harmful added chemicals, and its fragrance is authentic to the location it's harvested from. "It even smells like the ocean [at the spa] sometimes depending on how many seaweed services are going," Brodbine says with a smile.
Soak It In
While useful in reducing signs of aging and treating wounds, the gel substance found in seaweed is perhaps best known in the spa world as a natural solution for skin conditions such as psoriasis, eczema, dermatitis, and even severe acne. When applied, the gel offers hydration that combats intense dryness and minimizes redness. Brodbine says the material is also useful in treating issues surrounding arthritis, as its anti-inflammatory properties can help decrease pain in inflamed joints. Athletes have even been known to turn to seaweed baths to combat muscle pain.
Relax and Restore 
In its topical form, seaweed can be applied as a face mask, body wrap, eye compress, and more. Guests looking for the ultimate relief can indulge in Woodhouse's Lazy Days Renewal Ritual ($155), an 80-minute service that begins with an exfoliating seaweed body scrub. The scrub is followed by a soak in a hot tub filled with seaweed, sea salt, and aromatherapy oils, and the service is capped with a 45-minute back, shoulder, and neck massage using seaweed and toning oil. "You're going to be amazed at what your skin feels like," Brodbine says. 
Real Results 
Following services, guests are expected to notice softer skin and, within days, those who suffer from problematic skin conditions may see fewer breakouts. Clients with inflammatory conditions may also experience less discomfort compared to the standard response to traditional treatment and medicine. For guests who want to continue their seaweed journey outside of Woodhouse Day Spa, Brodbine says they can purchase pre-packaged Voya products, which can sustain up to three at-home treatments, in the spa's shop. "A lot of people who have psoriasis or arthritis will buy [this seaweed] at least once a month. They say it's really helped their condition." 
Facebook Comments