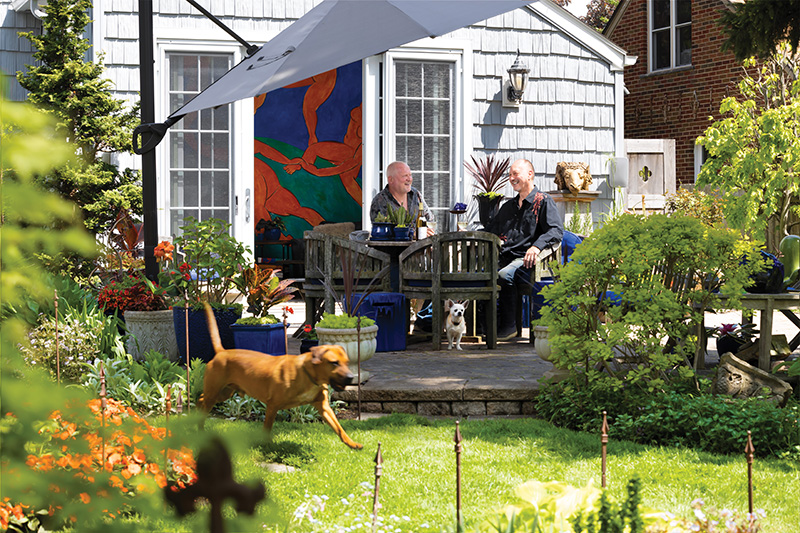 It's science-meets-design in the gardens of Dan Davis and K.C. Vansen. The married couple, who have been collecting and cultivating plants and flowers at their 1942 home in northwest Ferndale for more than two decades, love all things botanical. 
"We have 3,000 varieties of plants, between the pots and the ones in the ground," says Davis, an interior designer who co-owns Dan Davis Design with fellow interior designer and business partner Paul Johnson. His growing passion took root when he started creating container arrangements for his apartments decades ago. "It's like a small botanical garden."
Vansen, who is a physician's assistant in robotic surgery at Ascension Providence in Novi, has been intrigued with plants since working at a former Frank's Nursery and Crafts in Detroit as a teenager. "When we're in the gardens, we're working, but when we're done, we pour a glass of wine and walk around to see what happened that day. So many things have a short bloom time," Vansen says. 
The couple's skills complement one another. "I'm an interior designer, so of course the yards have to be designed well," Davis says. "One thing we have a lot of are annuals in pots." Adds Vansen: "Dan does the pots. We have more than 120!" Meanwhile, Vansen collects in-ground woodland species. Together, they love visiting nurseries and looking for something rare they may not have. 
Parties, weddings, garden tours, and other celebrations have taken place within the botanical retreat. Other fans of the gardens: the couple's dogs — their chihuahua, Puglia, and Bari, their relatively new American Staffordshire terrier and chow chow rescue. 
Here, Davis and Vansen contemplate their favorite trees, colors, artifacts, and more found in their oasis.  
The Details of the Ferndale Garden 
Mow shmow
"It takes just 15 minutes to mow the front and back of our yards," Davis says. "The grass is just paths that serpentine through the gardens."   
House of blues
Davis has chosen cobalt blue as a main color that pops within their garden paradise, from art pieces and furnishings to plant pots and seating cushions. Several cobalt blue glass spires, which they call "faux-Chihuly," poke out of one of the garden beds. "We saw some similar [to ones made] by glass artist Dale Chihuly at Frederik Meijer Gardens & Sculpture Park in Grand Rapids. These are knockoffs," Vansen says.  
Please be seated
The couple mixed and matched random pieces to create what they call a lion-themed "throne." Included are two large corbels on the sides of the chair, as well as a back and top from an antiques market. The rest of the chair is constructed of patio-building material. "Why not?" Davis asks with a laugh. 
Tree-mendous beauty 
"All of our Japanese maples are located in the backyard," Davis says. His all-time favorite is the shishigashira variety, which has "dark green leaves that are small and crispy."
Woodland wonders
In the "woodland species" department, you'll find everything from orchids and jack-in-the-pulpits to trillium in black, red, pink, yellow, white, and green. The black trilliums are from Davis' father's property in North Carolina and have large dark petals. "I even have one of [the late natural science teacher and Trilliums co-author] Fred Case [Jr.'s] rare personal trillium hybrids; it has a purple center," Vansen shares. 
Divide and conquer
Some 100 hosta varieties pepper the spaces. "We divide them and have a plant sale every spring," Vansen says. "One of my most unusual collectible hostas is called Gunther's prize. I think it runs about $150 now."
Driven to suc-seed
"We've created a courtyard in our driveway," Davis says. "You enter through a black, arched gate. There's new teak seating and a little potting table that becomes a bar when entertaining. We've got some 60 pots alone in that courtyard!"  
Garden shops they dig
Eckert's Greenhouse in Sterling Heights, Gee Farms Nursery and Garden Center in Stockbridge, Ray Wiegand's Nursery in Macomb, Western Market in Ferndale, Arrowhead Alpines in Fowlerville, and Telly's Greenhouse and Garden Center in Troy.
---
This story is from the July 2022 issue of Hour Detroit. Read more our digital edition.  And click here to see more metro Detroit interiors.