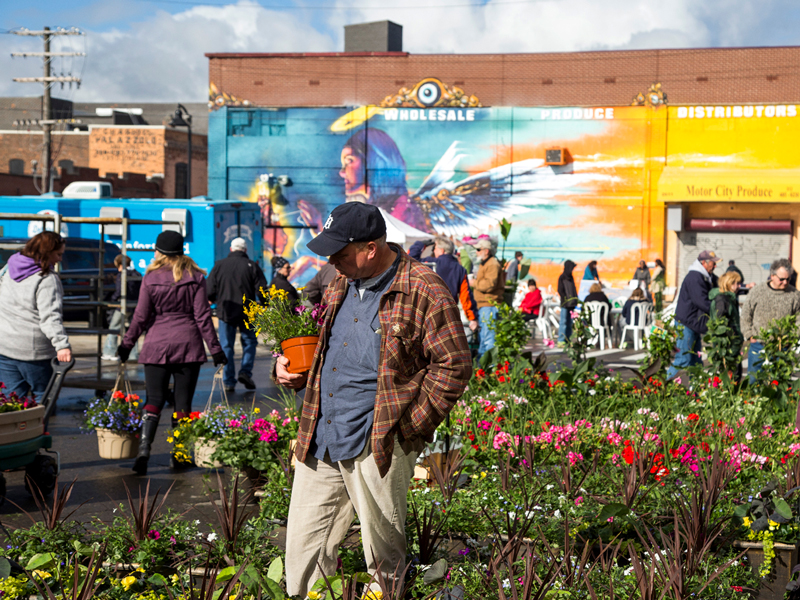 For metro Detroiters, Eastern Market's annual Flower Day marks the unofficial start of summer. Beginning in 1967, the historic staple will return on May 20, starting at 7 a.m. for its 51st year.
In collaboration with the Metro Detroit Flower Growers Association (MDFGA), Flower Day provides more than the standard flower and gardening selection. The one-day festival will feature a diverse range of florals grown locally and throughout the state, taking over the market and drawing visitors from across the nation to shop the massive selection.
"[Flower Day] is different from our [usual] Saturday market because there is no produce on-site that day," says Samuel Morykwas, marketing manager for Eastern Market. "All of the sheds and surrounding areas are completely filled with flowers and things to fill your garden."
To say the event is popular would be an understatement. In fact, one of the biggest concerns for the long-standing tradition is the turnout. On average, between 60,000 – 80,000 guests attend Flower Day, depending on the weather. Despite the scattered showers predicted this year, we recommend planning an early visit to get the most variety — a little rain never stopped event-goers. Just keep an umbrella at the ready.
Morykwas recommends attending the market prepared, on-time, and with a mission in mind. If your primary goal is to purchase flowers, make sure to come early for the best selections. If you're just looking to enjoy the festivities, noon is an ideal time.
A few more tips to note: Shoppers can bring wagons for hauling flowers, although carts will also be available for rent. Wear comfortable shoes. And while some vendors accept credit and debit cards, be sure to bring cash for those that do not – especially if you're interested in picking up a Flower Day t-shirt or poster.
Although space will be limited, free parking will be available on the street throughout the day. Visitors often come and go throughout the afternoon, so try to be patient when hunting for a spot. Parking will also be available inside the Eastern Market Parking Garage on Riopelle Street, and in lots on the north corners of the market on Wilkins Street.
Enjoy the day of May flowers — and perhaps a few showers, too.
---
The 51st Annual Flower Day will take place from 7:00 a.m. until 5:00 p.m. inside Eastern Market. For more information, visit easternmarket.org.
Facebook Comments