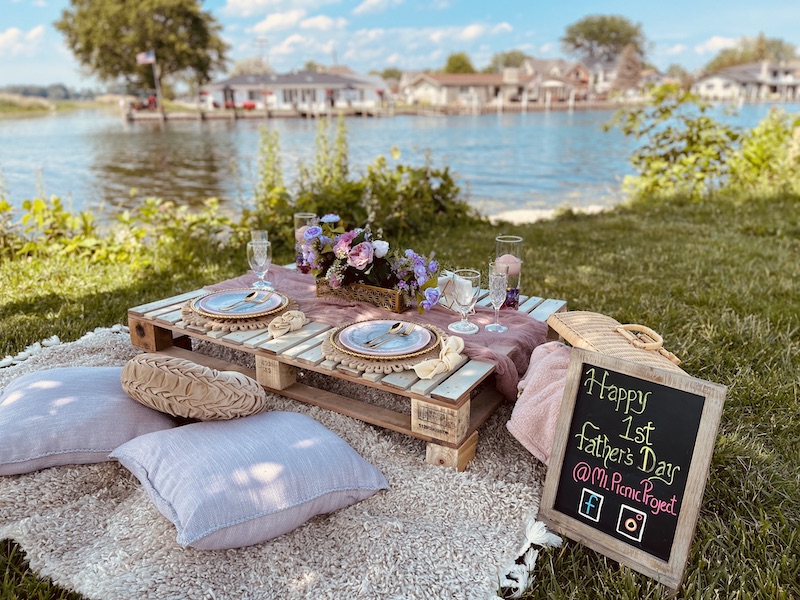 When Yathu Manick's fiancé proposed to her during an Instagram-worthy beach picnic in sunny Cancun, she wondered how he had pulled it off. The luxe scene, which was complete with coordinating blankets, cushions, glassware, and fairy lights, looked like something out of a magazine. "I didn't have to do anything," he told her. "I just made a call, and they set everything up for me."
Manick, a Canton-based engineer, was so enchanted by the idea that she looked for similar services when she returned home. "It's very popular in California and Florida where the weather is warm all year," she says. "[But] when I came back to Michigan, I couldn't find anything like that." Taking matters into her own hands, Manick launched MI Picnic Project (@mi_picnicproject) earlier this year, offering an intimate event planning service that coordinates stylish picnics for dates and small parties.
For $145, clients get an expertly coordinated picnic for two to four guests at a metro Detroit location of their choosing, complete with a low-top dining table, rugs, cushions, silverware, plates, chargers, glassware, and décor. Extras like charcuterie boxes, cakes, games, balloons, or seating for additional guests can be added on for supplemental charges. "This is basically hassle-free," Manick says. "You just tell me what you want and where you want it, and I set it up for you and clean it up for you."
While the picnics are a popular date idea for couples, Manick has styled birthday parties, bachelorette parties, showers, and other events for as many as 20 guests. "Recently we had a new request for a backyard wedding," Manick says. "People want to celebrate their special event in a unique way."
Looking to plan an outing with MI Picnic Project? Manick offers her top tips to make your picnic perfect.
Book ahead
Manick recommends booking her service at least two weeks in advance in order to make sure she has the time to make the necessary arrangements. "It's a good timeline for us to go back and forth about the number of guests, the preferred location, and what you're celebrating," she says.
Pick your spot
While most guests opt to hold their picnics in their own backyards, Manick says local parks are another great option. "At Kensington Metropark, the lake is right there, and we set up a few feet from the lake so you can have a nice view," she says. Her other favorite spots include Belle Isle, Lake Erie Metro Park, and Stony Creek Metropark. "We arrive early, find a shaded, secluded spot, and we send the exact location 30-45 minutes prior, so you know exactly where you're heading."
Keep the eats simple 
Cold dishes like sandwiches, salads, and finger foods tend to work best in a picnic setting, Manick says. For guests who don't want to worry about bringing their own munchies, MI Picnic Project partners with local charcuterie board maker Rosana Arnaut (@r.acharcuterieboards) to provide portable, customizable snack platters that can be made in meat-free, gluten-free, or nut-free configurations.
Don't sweat the weather
The weather in Michigan can be unpredictable. For that reason, MI Picnic Project offers free rescheduling in the event of adverse weather conditions. But Manick says a little rain doesn't have to ruin your plans. "We've had multiple picnics set up under a [park] shelter area, where we move the tables out of the way and set it up as a picnic spot," she says. "That actually has turned out to be cute." If you're grappling with more extreme weather, Manick will even set up your picnic indoors.
For more information, visit facebook.com/mi.picnicproject.