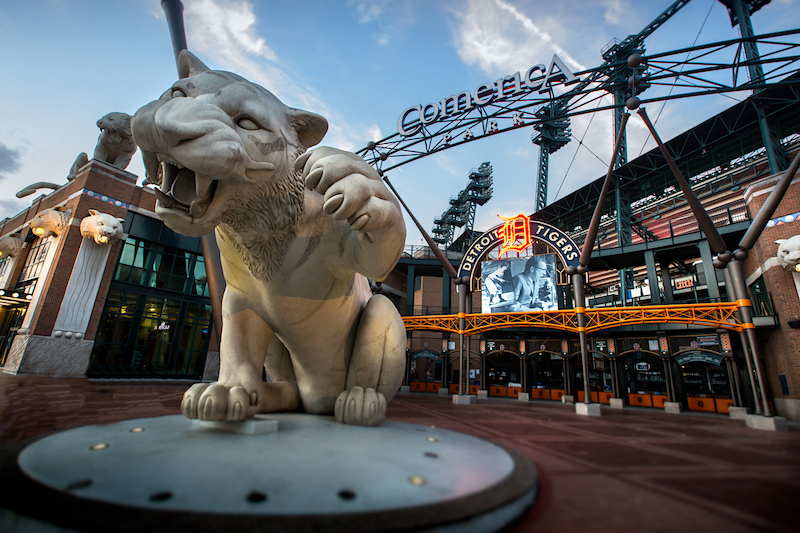 Michigan expands capacity for outdoor stadiums ahead of Opening Day.
Outdoor arenas will now be allowed to have 20 percent capacity. The update comes after backlash for the previous order that only allowed 1,000 fans.
Actor Steven Yeun, who grew up in Troy, earns an Oscar nomination.
Yeun, best known for his role in The Walking Dead, received a best actor nomination for Minari. He's the first Asian American to be nominated for the category.
Russell Street Deli's owners plan a new eatery in Hamtramck.
The team will open a pizza and pasta spot in the former Baker Streetcar Bar. A crowdfunding campaign has been set up to help support the space.
A Michigan man sues Hertz over a receipt that proved his innocence.
Herbert Alford spent nearly five years in custody for a murder he didn't commit. A receipt from the company that he obtained in 2018 would have cleared his name much earlier.
Swap DVDs and VHS tapes at Detroit's Free Blockbuster box.
A local video producer reached out to nonprofit FreeBlockbuster.org to bring this lending library-esque experience to the city.
 

View this post on Instagram

 
Brush Park is getting a new coffee spot this spring.
Cafe Alto will open in the former New Order Coffee space. The shop will roast its own beans and offer pastries from White Wolf Patisserie and Canelle.
Michiganders call for vigilance following violence against Asian Americans.
Robert Aaron Long, a 21-year-old white man, was charged yesterday with killing eight people in Atlanta massage parlors. Six of the victims were women of Asian descent. Now, Michiganders are weighing in on the hate crimes against Asian Americans.
Matthew Stafford shares an emotional farewell to the Lions and Detroit. 
In a nine-minute video, Stafford, who scored 282 touchdowns and saw three playoffs during his time with the team, thanks his coaches, teammates, and fans.
A metro Detroit native's coding app for kids receives funding on Shark Tank.
Samantha John, co-founder of the app Hopscotch, made her case to investors. She left with $550,000 and plans to create a coding camp for disadvantaged kids.
Meet the costumed designer behind Genius: Aretha.
Jennifer Bryan scoured decades of publications and curated more than 1,000 photographs to depict the Queen of Soul's style for the new series.
---
Want more reads delivered straight to your inbox? Sign up for the Hour Daily newsletter today. 
Facebook Comments