General Motors makes the inaugural Time100 Most Influential Companies list.
GM's CEO Mary Barra spoke with Time about the company's plan to invest $27 billion in electric vehicles and introduce 30 new models by 2025.
Michigan's mask mandate extends to kids ages 2 to 4.
The order went into effect this week. Recent data shows child infection rates are the highest they've ever been during the pandemic.
Steven Yeun gives a shoutout to metro Detroit at the Oscars.
During this year's Oscar, the nominee shared the time he and his mom went to see Terminator 2 when they lived in Taylor.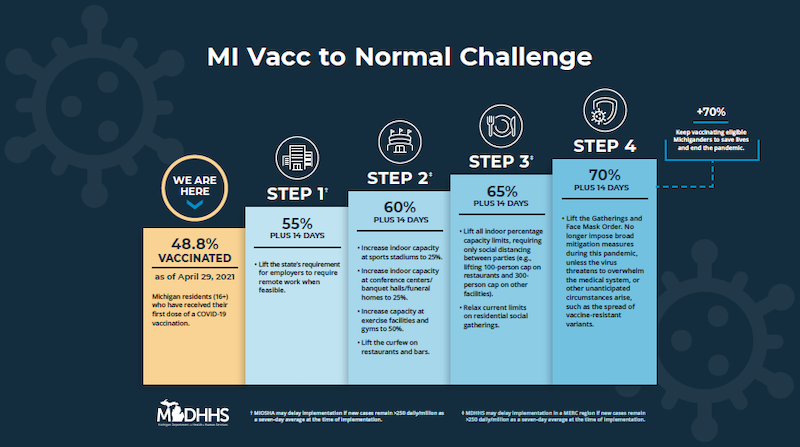 Michigan will ease COVID restrictions in new plan announced by Gov. Gretchen Whitmer. 
In the MI Vacc to Normal Challenge, restrictions will gradually lift as more Michiganders get the vaccine. Restrictions will end once 70 percent of the state is vaccinated.
A new art exhibit from Mexico City comes to Detroit's Beacon Park.
Los Trompos, Spanish for "spinning tops," is an interactive art installation on display until May 23.
Eastern Market revamps its Flower Day event.
The annual one-day festival returns as Flower Season this year. Events will take place every Tuesday in May for in-person shopping only.
The city of Detroit will remove a homeless encampment in Hart Plaza.
The city's $2.9 million renovation project for the venue is raising concerns among social workers and activists about the fate of the people residing there.
Mary Wilson's solo album returns four decades later.
Days before the Supremes' co-founder's death in February, she announced her 1979 solo debut was set to be reissued with never-before-heard tracks.
---
Want more reads delivered straight to your inbox? Sign up for the Hour Daily newsletter today. 
Facebook Comments