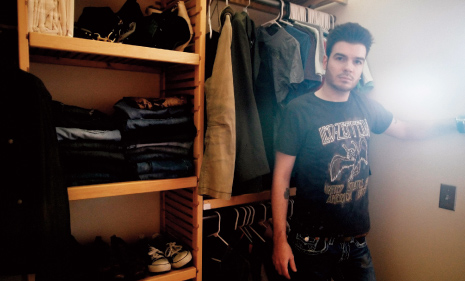 Don't let the look of the standard chef ensemble fool you.
When Andrew Ashmore, the chef de cuisine at MGM Grand's Bourbon Steak, leaves the kitchen, he also leaves the white coat and loafers behind. That's when his outside identity appears in the form of Converse shoes, vintage T-shirts, and tight jeans.
The 25-year-old Grand Rapids native and graduate of Grand Rapids Community College's Secchia Institute for Culinary Education says his contemporary style sense is a newly adopted look for him. Before returning to Michigan last year, Ashmore was at Stripsteak, another Michael Mina restaurant, in Las Vegas. Having been immersed in a fashion-forward environment stirred his creative side.
"The last couple of years, I started to want to look good," he says. "I started to take care of myself a little more."
It also helped that in Vegas he met his fiancée, so he had someone to dress for. "She likes to shop, so it sparked my interest a little more," he says.
"It's all about comfort," he says about his style, which tends to mimic rock bands such as Led Zeppelin and Lynyrd Skynyrd.
To get that vintage rock-star look, he shops at Caruso Caruso in Birmingham. "It was kind of like a dream when I discovered that store," he says. At Caruso, he stocks up on the vintage-look T's that he adores to the point that they fill three-quarters of his closet. The downtown Birmingham shop also carries his favorite denim lines, including True Religion, 7 For All Mankind, and Joe's Jeans. He rounds out his wardrobe at Nordstrom at Somerset, he says.
"I spend some money on my jeans and shoes," he says, with Mark Nason, Converse, and Steve Madden being his preferred choice for footwear. He also is a fan of the T-shirts at Urban Outfitters, Maui Jim shades, and likes having a variety of watches and belts.
When the occasion calls for a dressier look, Ashmore likes a fitted Euro style. Typically, he'll pair his dress slacks with a vest and paisley tie. He also plans to wear his custom suit at his wedding this month.
Now that he's a newly fashion-conscious guy, Ashmore is willing to dispense some advice. Rule one: Comfort is key. "Everyone around you can tell you [the outfit] looks great," he says. "But if you don't feel that way, it's pretty much pointless."
Facebook Comments