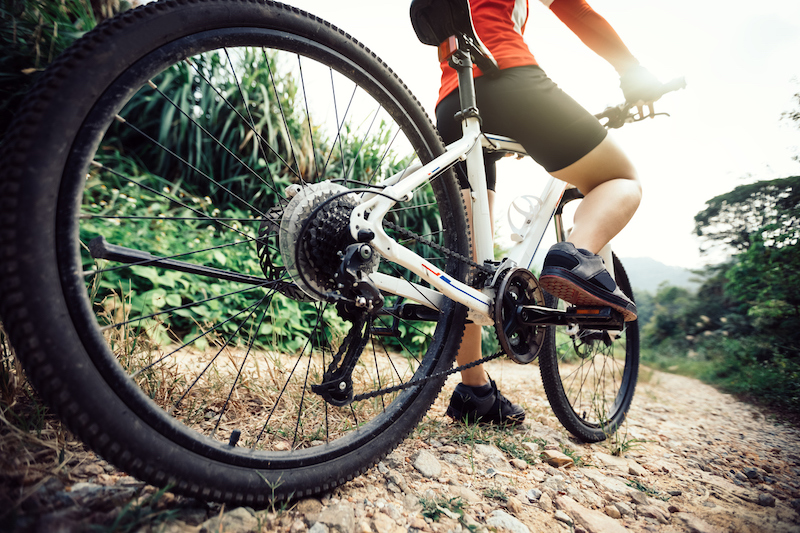 ---
COVID-19 UPDATE: With pretty much all of metro Detroit's nightlife, entertainment, and recreation options stuck in suspended animation, we're fortunate to have an abundance of natural beauty within easy reach. With that in mind, for this year's City Guide we've rounded up a number of great nearby places to bike, hike, fish — or just take in the view. Even outdoors, though, it's important to take precautions. In addition to the usual (wash your hands often and don't touch your face), the state Department of Natural Resources offers these guidelines: Go out only if you're healthy. Avoid long-distance travel. Keep 6 feet apart from people not from your household. If the parking lot at your destination is full, leave and choose someplace else. Be safe out there!
---
With so much of life in metro Detroit shut down because of COVID-19, the outdoors beckons as a low-risk respite from all of the virus-induced anxiety. Mountain biking is one of the best ways to escape, and whether you want challenging or casual, insanity or serenity, the region has a trail for you.
"While the idea of the 'best' trails is a bit subjective and quite frequently discussed over post-ride beers, there is a lot of good mountain biking in metro Detroit,"says Clinton River Area Mountain Bike Association board member Steve Vigneau. Katherine Rose, chair of the Motor City Mountain Biking Association, can attest to that — and to how addicting the sport can be. "I don't know how I ever lived without this life-changing sport," she says. "There are places for bikers of all skill and experience levels to ride."
Here's a look at 10 of the best metro Detroit mountain biking trails:
White Lake Township
Highland Recreation Area
Overview: Not for beginners, these four loops totaling 16 miles offer an aerobic and technical challenge with forested hills, scenic views, swift descents, rock gardens, roots, and log jumps. The A Loop (3.8 miles) and B Loop (5.9 miles) can be ridden as one continuous trail. The C loop (2.4 miles) adds more rock gardens, and the D loop (3.8 miles) includes a grueling climb to the top of 1,140-foot Mount Omich. That leads to a long downhill stretch with many tight turns. The longest straightaway on any of the trails is about 50 meters. "Highland is so much fun, but challenging, and you have to be ready for anything," Rose says. "It might seem smooth due to all the use it has received the past 25 years, but then you run into some rocks or roots."
Starting from Detroit: Take I-75 to M-59, and continue west for 14 miles. The main park entrance will be on the south side of the road, between Bogie Lake Road and Ormand Road. A Michigan State Parks Recreation Passport is required for entry.
More information: mcmba.org
Chelsea
DTE Energy Foundation Trail
Overview: Metro Detroit's newest mountain bike trail system consists of four loops totaling more than 20 miles. All were completed between the spring of 2016 and the summer of 2019. Green Lake (5.2 miles) is best for beginners, but it has jumps and areas to build up speed. There is more climbing on Big Kame (4.75 miles), including a glacier-formed mound and two sizable rock gardens. Winn (8 miles) offers plenty of ups and downs through a forest of oak and hickory overlooking a lake. It features a steep ridgeline with rocky sections and drops of several hundred feet. Sugar Loop (4 miles) is the most technical, with large hills, berms (raised drop-offs), and jumps, as well as many rock features and a serious drop-off. The final trail (Cassidy Loop) is scheduled to open later this year and will include wooden chutes and ladders. "DTE is hands down the favorite of everyone who has ridden it," says Jim Bruzzese of Macomb Bike in Warren. "It's flat-out fun."
Starting from Detroit: The trailhead is on M-52, roughly 7 miles north of I-94, exit 159. A Michigan State Parks Recreation Passport is required for entry because the trails are part of the Waterloo Recreation Area.
More information: dtetrail.org
Pinckney
Potawatomi Trail
Overview: With 24 miles of trails, including a 17.5-mile loop, Potawatomi is one of the Midwest's most popular mountain biking destinations, drawing more than 120,000 users annually. Its other loops are 5.1 and 1.9 miles. Trails flow over rolling hills, past streams and seven inland lakes, and through heavily wooded forest. They vary from hard-packed dirt to sand with exposed roots and rocks. There are about 1,200 feet of elevation changes throughout the 17.5-mile loop, which passes over wooden bridges and offers thrilling descents and scenic overlooks. There is also a ride-in campground. "Potawatomi is the grandfather of mountain bike trails in metro Detroit," Vigneau says. "It's classic, rugged,
and long, with beautiful views, fun bridges, big hills, and valleys."
Starting from Detroit: From US-23, take North Territorial Road west about 10 miles to Dexter-Townhall Road. Turn north for 1.2 miles to Silver Hill Road. Bear left to the parking lot at Silver Lake Beach. A Michigan State Parks Recreation Passport is required for entry.
More information: potomba.org
Brighton
Island Lake Recreation Area
Overview: Pros agree: This is the best venue for beginners or family rides. "No doubt Island Lake is a great place for a beginner to experience single-track riding without the intimidation of overly technical features — fast, flowy, and fun," Bruzzese says. Island Lake is "probably the most popular mountain biking spot in Oakland County," Rose says. "The trails are very wide, easy to negotiate, and pass by the beautiful Huron River and several lakes." There are two loops totaling more than 14 miles. The 8.7-mile Blue Loop is the flatter, gentler option, passing through rolling grasslands and along the Huron River with gradual climbs. The 5.4-mile Yellow Loop is hillier and more technical, but not overly challenging, with nice vistas overlooking bodies of water.
Starting from Detroit: Take I-96 to exit 151 (Kensington Road) and travel south on Kensington Road about 1/2 mile to the park entrance. A Michigan State Parks Recreation Passport is required for entry.
More information: mcmba.org
Shelby Township
Stony Creek Metropark
Overview: Three loops totaling 14 miles comprise what is arguably Macomb County's most popular mountain biking area. The easy loop is 5.7 miles and mostly a two-track. The more difficult (3.6 miles) and the most difficult (4.6 miles) are single tracks, with the most difficult reaching the summit of Mount Shelden, one of metro Detroit's best views. The trails wind through heavily forested areas and tall pines, and past ponds, a branch of Stony Creek, and ruins of old structures. "The trails have everything from super-easy double track to technical single track," Bruzzese says. There's also a mountain bike skills area, and bike rental is available.
Starting from Detroit: The park's entrance is off 26 Mile Road between Mound and Dequindre at 4300 Main Park Road in Shelby Township. Proceed to West Branch Picnic Area, parking lot B. The entrance fee is $10.
More information: metroparks.com/stony-creek
Holly
Holly-Holdridge Mountain Bike Trail
Overview: There are six loops for a total of 29.4 heavily wooded miles that accommodate riders of all skill levels, but the area is best known for the 15.5-mile Gruber's Grinder loop. The physically demanding, highly technical trail named after designer Paul Gruber is not for beginners. It features plenty of climbs, tight turns, log piles, and rock gardens and is littered with roots. The other loops are easier and range from 0.75 to 4 miles.
Starting from Detroit: Exit I-75 at Grange Hall Road and travel west on Grange Hall to Hess Road. Turn north and proceed to the Holdridge Lakes parking area. A Michigan State Parks Recreation Passport is required for entry.
More information: cramba.org
Novi
Lakeshore Park
Overview: Lakeshore is another place that accommodates riders of all experience levels. The 10 miles of single track weave through a Christmas tree farm, woods, and an old orchard and feature log piles, rock gardens, and a jumping area known as The Crater. There's even a kids single track. "Lakeshore is certainly on my 'must-do' list," Rose says. "The trails offer so much in a single spot."
Starting from Detroit: Lakeshore Park is located at 601 South Lake Dr. in Novi. Entry is free.
More information: mcmba.org
Leonard
Addison Oaks County Park
Overview: A 7-mile loop with easy and intermediate sections takes riders through thick woods and over bridges spanning spring-fed streams. There are plenty of spots to pick up speed, but also enough turns to keep bikers on their toes, and sufficient climbs to ensure a productive workout. "Addison Oaks is a smooth, flowing, fast, well-manicured trail system that's fun for both beginners and experienced riders," Vigneau says.
starting from detroit: Addison Oaks is roughly 12 miles north of downtown Rochester at 1480 West Romeo Road in Leonard. The entry fee is $5 for Oakland County residents and $10 for nonresidents.
More information: cramba.org
Waterford Township
Pontiac Lake Recreation Area
Overview: The hilly, 11-mile loop with numerous turns is for more advanced riders. Bikers climb nearly 1,000 total feet, including a single ascent of more than 400 feet that begins roughly 2 miles in. The reward is a sweeping view of Pontiac Lake followed by a tricky, rocky descent. The terrain is a mix of thick woods, old farm fields, and wetlands. "Pontiac Lake is a classic, rugged single-track with plenty of hills and descents that favors more experienced bikers," Vigneau notes.
Starting from Detroit: Take M-59 to Williams Lake Road and turn north before turning west (left) on Gale Road to a parking lot on the left. The trails begin across the road. A Michigan State Parks Recreation Passport is required for entry.
More information: cramba.org
Howell
Brighton Recreation Area
Overview: There are two contrasting loops totaling 14 miles. Murray Lake (9.2 miles) is for beginner and intermediate riders and features some tight single tracks and sections to gain speed through wooded areas. Torn Shirt (5 miles) is one of metro Detroit's most challenging trails, with steep climbs and descents. Riders will encounter a fair share of rocks, logs, and roots and climb more than 1,100 feet in all.
starting from detroit: Brighton Recreation Area is at 6360 Chilson Road in Howell. A Michigan State Parks Recreation Passport is needed for entry.
More information: potomba.org
Facebook Comments