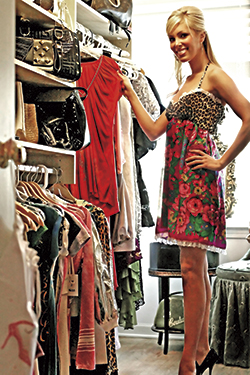 At about 5 in the morning, when most people have yet to roll over and give the snooze alarm its first tap, Erin Nicole's hair and makeup are camera-ready, and she's primed to report on streets and freeways.
And that's just the beginning of a typical 18-hour day for the 22-year-old WXYZ-TV traffic reporter. By night, she's one of two in-arena hostesses for the Detroit Pistons.
Her split-personality professional life leaves Nicole with a bit of a double identity when it comes to fashion. By day, she sports classic suits, skirts, and black pants, though lately she's been trying to dress "a little more hip," for TV. She finds her TV wardrobe at Saks Fifth Avenue, Nordstrom, Guess, BCBG, Macy's, and Neiman Marcus.
In the evening, at The Palace of Auburn Hills, Nicole appears in sequined, jeweled, or jazzed-up basketball attire as she does everything but play-by-play between the opening tip-off and 11 p.m.
The fashion-savvy graduate of Mercy High School in Farmington Hills is no stranger to the spotlight. A performing-arts enthusiast, Nicole portrayed Kim Mathers in Eminem's video "When I'm Gone."
Off camera and away from basketball, Nicole says she has "a very different sense of style. I'm definitely a girly girl; I love dresses." She's drawn to Betsey Johnson and dresses from Lexi Drew, and Luxe in Birmingham. "I love shopping at boutiques; you can find things that you can't find anywhere else," she says.
She says her personal style is inspired by Gwen Stefani's fashion-forward wardrobe, as well as Eva Longoria's "classy yet elegant," appearance. To keep pace with trends, Nicole says she scans celebrity images in People and Us Weekly.  She also turns to Elle  and Vogue for fashion inspiration.
This summer, Nicole expects to sport her own version of trends she's spotted on the magazine pages. Look for her to don Chanel shades with a bright or bold top paired with jeans or black shorts. "I love skinny jeans," she says, confessing that she owns 30 pairs. Her favorite denim labels include J Brand, 7 for All Mankind, and True Religion. Her trademark looks also include wearing pink and pairing black dresses with brightly colored heels. She does her footwear shopping at Betsey Johnson or Shoe Envy in West Bloomfield Township and checks out Stefani's L.A.M.B. line. "I love a great pair of leopard heels," she says.
What's most important, she says, is how an outfit feels. "You have to be comfortable with taking a risk," she says. "Make sure you feel confident with what you put on."
Facebook Comments