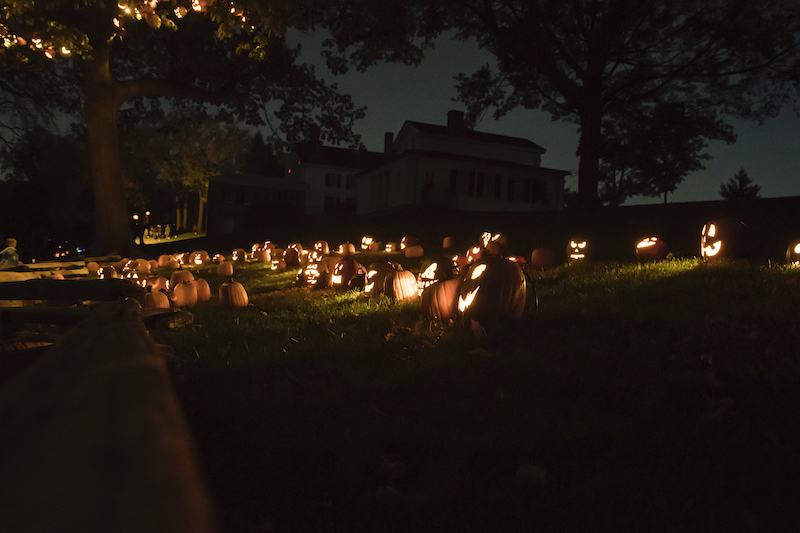 Celebrating its 40th anniversary, Hallowe'en at Greenfield Village is returning with even more spooky spectacles this year. Although, due to the pandemic, guests will notice some changes.
"[Every year] we tweak the event, we make improvements, we retire some elements, and we bring new elements into the mix," says Jim Johnson, director of Greenfield Village. "When COVID-19 hit, of course, we had to go back to the drawing board."  
Hallowe'en at Greenfield Village will take place from 4 p.m. to 9:30 p.m. on Oct. 8-11, 15-18, 22-25, and 29-31. This year, the event is eliminating trick-or-treating and dining packages like its Fairy Tale Feast and Eager Tavern Harvest Supper to follow COVID-19 safety protocols. However, many favorites from past Hallowe'en events will still be present. 
Over 1,000 hand-carved jack-o-lanterns will be on display on an illuminated path. The evening event will also feature more than 50 characters, such as the Grim Reaper, Alice in Wonderland, and Peter Pan, roaming the grounds and interacting with guests, and present dramatic vignettes from stories like The Legend of Sleepy Hollow and The Wizard of Oz. And, fall treats, hot beverages, and craft beer will also be available for purchase.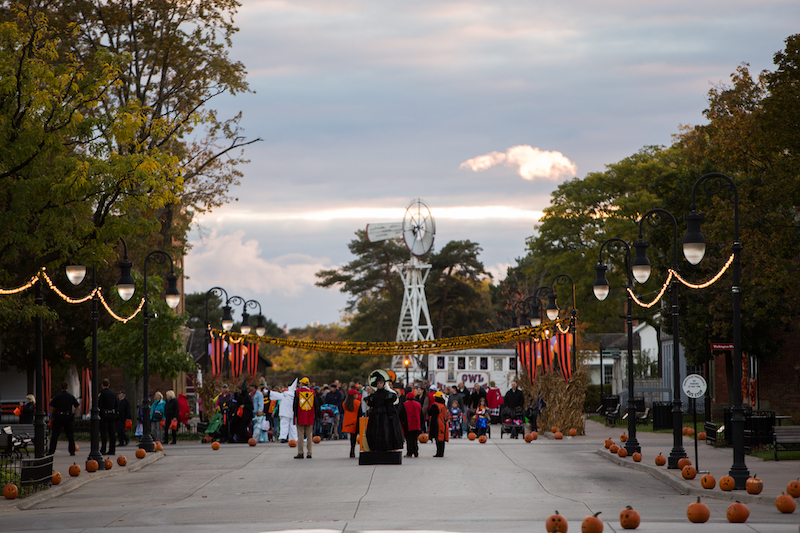 Unlike past years, guests are welcome to roam the grounds at their own pace instead of following the usual prescribed walking trail. Greenfield Village is also transforming its Firestone train station into the witchy Fire and Brimstone station. The Hallowe'en Express, a spooky train experience, will take off from the station. 
"We'll change [the Firestone's] character a little bit, and all kinds of fun stuff will happen along the way," Johnson says. "The staff will be in costume." Every attendee will be allotted one train ride with their Hallowe'en ticket, but guests are required to call and reserve a time for the train to ensure proper social distancing. The Henry Ford's Contact Center is accepting reservations at 313-982-6001. 
Usually, each Hallowe'en night would see roughly 7,500 attendees, but Johnson says tickets are limited to 2,500 attendees per night this year to ensure proper social distancing. For safety purposes, guests are also required to follow spacing markers and wear traditional face masks — Halloween costumes are not an acceptable substitution for a face mask. Cleaning staff will be onsite to disinfect surfaces, restrooms, and restaurants, and hand sanitizer stations will be placed throughout Greenfield Village. 
Johnson expects tickets — which are $14.50 for Greenfield Village members, $17 for non-members, and free for children 2-and-under — to sell out "very, very quickly." Guests can buy tickets at the door, but Greenfield Village recommends purchasing them in advance online.  
For more information and to buy tickets, visit thehenryford.org. 
Facebook Comments