Where to hold your wedding is a very personal matter. Some couples want the comfort and convenience of home; others choose to get away from it all to an exotic location. Here are two recently married metro Detroit couples and their very different choices.
A Mexican Getaway
When Stefani Thomas and Jeremy Scott were expecting the birth of their daughter nearly two years ago, the baby showers were well attended. Perhaps too much so.
"Here [in Detroit], a wedding would have been out of control! We had two showers with 150-plus guests, so you could imagine what a wedding would have been like," Thomas says.
So the Bingham Farms couple chose a destination wedding. "We wanted something different and beautiful with the ocean in the background so we picked Riviera Maya, Mexico," Thomas says. "We had about 40 close family and friends fly in from Michigan, New York, Chicago, Florida, and Oregon."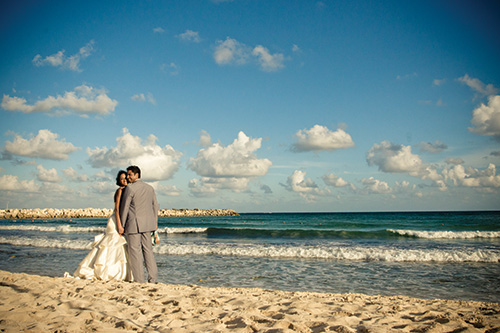 The couple wanted a warm and tropical setting for their late November wedding. They also wanted guests to have a nice, relaxing vacation. "It was wonderful having all of our close family and friends together for a week in such a beautiful place," Thomas says.
Thomas, a Clarkston native, was a national model until baby Ella's birth. Now she does mostly local fashion shows and recently put in her fifth year as a narrator for Chrysler at auto shows around the country. She recently graduated from the University of Michigan with a B.A. in pre-law, psychology, and political science.
Thomas met Scott — who was also a model but now works in corporate business development — several years ago through mutual friends. "We immediately connected and became best friends," she says.
Doing Downtown Detroit
In the August 2013 issue of Hour Detroit, the "101 Things Every Detroiter Should Do" feature story included a fabulous view of Woodward Avenue. For Tizzie and Tom Daguanno, that view holds another charm. Their wedding last May was on the rooftop of the historic Park Shelton in Midtown.
The rest of their wedding is pure Detroit, too. As a birthday surprise, Tom proposed by spray painting a mural in Eastern Market that read "Marry Me Tizzie?"
A second mural announced the wedding date.
Based on that mural, Tom was asked to paint a bus for the Detroit Bus Company (the Lochness). So the couple used it as their bridal limo.
The nuptials also jump-started a new business. Tom and longtime friend Max Schmidt, the best man in the wedding, started a custom suit shop called 1701 Bespoke on account of the wedding. "They outfitted not only my husband but all of our groomsmen, as well," Tizzie says.
Tizzie, who works for Ford Motor Co. as a product specialist on the auto show circuit, met Tom on the set of The Butterfly Effect 3: Revelations (the third installment of a sci-fi movie series). She was a stand-in/body double, and he was working as the dolly grip. Chow Catering catered the film, so they were asked to help feed guests on the big day.
The rest of the photo session was a "semi trash the dress at all of our favorite Detroit landmarks," says Tizzie, including the Michigan Central train station, a baseball field hidden off Jefferson Avenue, and the Detroit RiverWalk.
Facebook Comments