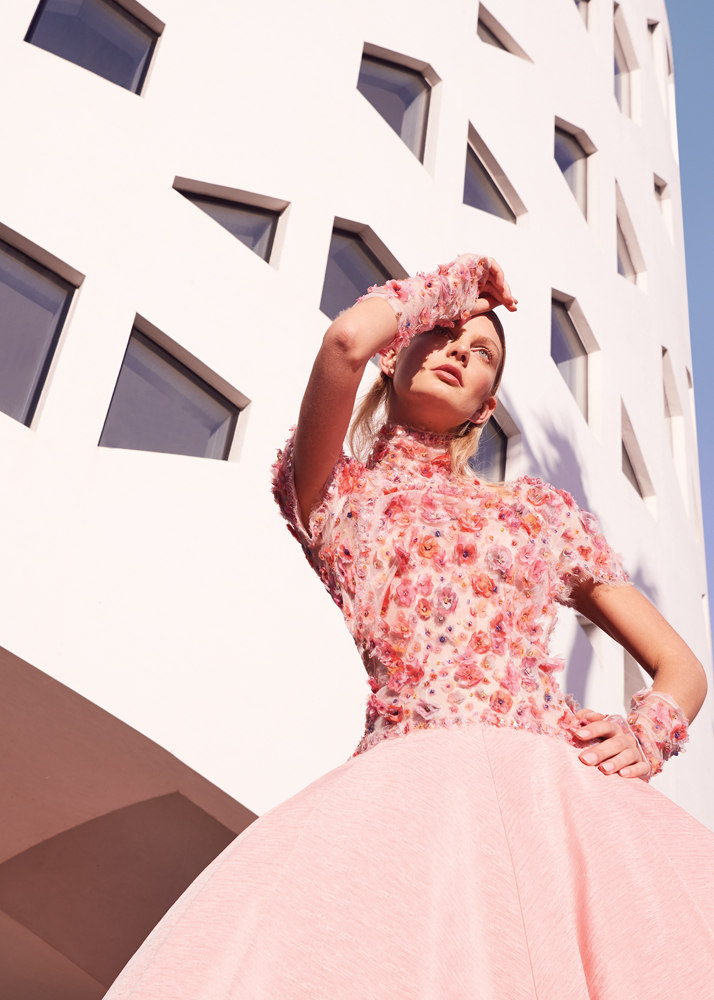 One hundred years ago, Coco Chanel — the designer revered for her elegance and modern approach to fashion — opened her couture atelier in Paris. Celebrating the milestone, Hour Detroit looks to the French fashion house's latest couture collection to inspire a timeless garden party.
---
Floral Fantasies
Chanel's 2018 couture collection debuted in a lush, garden setting. Held under the glass roof of the Grand Palais in Paris, rows of florals and greenery lined the runway. Closer to home, create a Coco-approved arrangement using locally grown peonies, roses, and camellias. The latter is rumored to have been the late designer's favorite flower. Silver mercury glass vases give seasonal centerpieces a vintage feel.
---
To the Nines
Models clad in architectural silhouettes strutted down the runway in Chanel's Haute Couture collection. Embroidered with floral appliqués, the styles further enforce the brand's mastery of couture — made-to-measure fashion that can take hundreds of hours to create. As hostess of your own garden party, take a cue from these feminine but strong masterpieces with your attire, opting for a sophisticated headpiece or structured dress.
"Fashion is not simply a matter of clothes. Fashion is in the air, born upon the wind. One intuits it. It is in the sky and on the road."
— Coco Chanel
The Scene
Whether planning an intimate backyard wedding dinner, a baby shower, or an end-of-summer soirée, choose linens in shades of pale pink and blue when decorating your tables. Like the couture collection, hints of neutral colors like silver, black, and white, add a contemporary touch to an otherwise delicate aesthetic. Dainty dishware is then ideal for displaying fruits and jams, cheese, finger sandwiches, and pastries.
"A woman can be over-dressed but never over-elegant."
— Coco Chanel
Tea Time
Drawing inspiration from opulent Parisian cafés, allow guests to sip piping hot brews poured from an antique teapot or French Press. Metro Detroit's own Intu Tea offers fine options for tea-drinkers and fresh roasts from Eastern Market's Germack Coffee are suitable for coffee buffs. Handpainted teacups and saucers adorned with delicate pastel blossoms are the perfect vessels for seasonal blends.
---
Credits
Shot on Location at the Faena Forum, Miami Beach
Fashion Editor: Katherine Lande
Model: Patricia Van Der Vliet, Women 360, New York
Hair: Adrien Coelho, Creative Management, Miami, using Oribe and Coelho hair products
Makeup: Gina Simone using Chanel Beauty
Digital Tech: Carlos Rojas
Photography Assistants: Julio Carlos, Felipe Patino