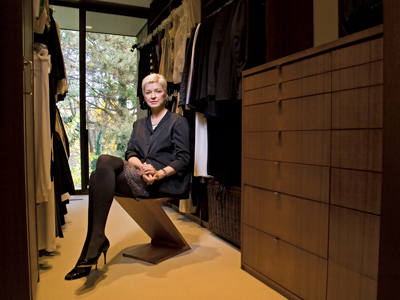 Dressed in a black-sequined Jil Sander miniskirt, interior designer Lynda Charfoos looks slightly less understated than her Minoru Yamasaki-designed Bloomfield Hills home. As Charfoos sits model-like, her look is more akin to the vintage Life magazine covers that paper an Asian screen in her pristine living room.
Having worked the fashion runways growing up, the former model knows how to put a look together. While a college coed, Charfoos graced the pages of Vogue, Harper's Bazaar, Glamour, and other high-profile magazines with her swimwear ads for Jantzen. She also did some radio and TV work.
"I was in the fashion industry for about 40 years before I went into interior design," Charfoos says. "[Fashion] actually was my first love."
She says that dress for any professional person (male or female) is really part of a whole package. "I think the way you present yourself and the way you dress is a reflection of the kind of work ethic, and the kind of work that you do," she says.
Because of the creative nature of her profession, Charfoos says designers tend to dress the way they design. "My specialty in interior design is contemporary and 20th-century classic furniture," she says. In her wardrobe, that translates to "a fairly contemporary minimalist look."
Her immaculate, dark-paneled closet — arranged in categories by pants, pantsuits, and jackets — is about 90 percent Jil Sander. "They [Jil Sander designs] are great pieces to mix with other designers," she says.
The other 10 percent of her wardrobe is composed of Armani and Theory (from Neiman Marcus). Mixed in are items from J. Crew and designer pieces from Linda Dresner in Birmingham.
"Seventy-five percent of my closet is black," Charfoos says. It's my "basic color; [it] goes with everything."
For shoes, she heads to Stuart Weitzman at Somerset. For purses, she buys one "fashion forward" bag a season. Favorites include Tod, Jil Sander, and Prada. Her accessories are minimal, just watches, rings, and earrings. "The easiest way to update your wardrobe is by accessories," she says. She suggests buying clothes that are "iconic by nature" and buying a scarf or some jewelry to update the look.
The key to always looking good and not breaking the bank is "investment dressing," Charfoos maintains. Buy less, but buy better, she says, and then your clothes have a longer life.