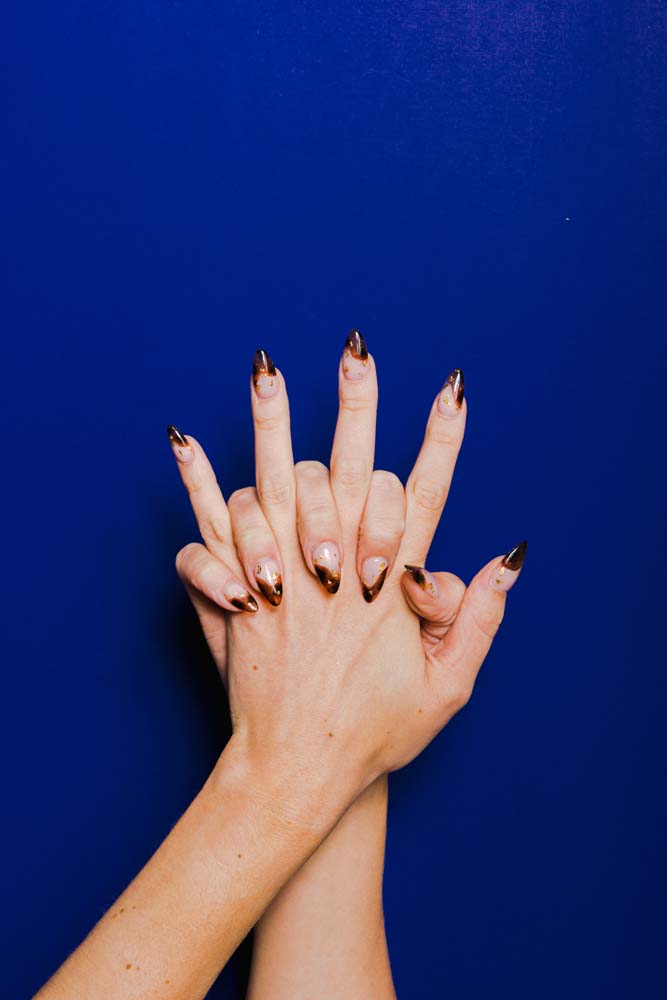 The days of Googling "how to remove acrylic nails at home" are over. Nail salons were allowed to reopen June 15 after being closed during the state's COVID-19 shutdown. Whether you favor dagger-sharp nails that gleam with embellishments or something neutral and natural, these nail artists are back in business and ready to transform your talons from locked-down to luscious.
Tina Van
Instagram: @xtv.nails
Nail Gloss Studio, 44811 Hayes Road, Sterling Heights
From the runway to the red carpet, animal print is always in, which is why Tina Van at Nail Gloss Salon has developed a special expertise in hand-painted animal prints. With tortoise shell, snakeskin, butterfly wings, and other nature-inspired looks in her portfolio, Van is the queen of the animal (nail) kingdom. Van says she wants her clients to "expect the highest level of sanitation from each nail tech," which in practice means tables that are spread 6 feet apart, barriers between artists and clients, and face coverings required for artists and clients alike.
Bella Lanning
Instagram: @wownailsusa
Revival RN, 9835 Village Pl. Blvd.,Brighton
For your first post-quarantine look, why not keep it simple? At Bella Lanning's studio, "less is more" is a lifestyle. "I find neutrals and minimalism practical and universal for an everyday style," she says. "I really believe in simplicity." For the past two years, Lanning has been working from her own studio, where clients let her unleash her creative simplicity. From plain, neutral colors with tiny embellishments to a single wisp of gray smoke on white polish, her designs are coveted by admirers of organic and minimalist aesthetics.
Jenessa Davis
Instagram: @fanessnails
Faness Studio, 20111 James Couzens Fwy., Detroit
To get nails done by
Jenessa Davis, you'll need more than a photo for inspiration. In two to three hours, Davis looks into clients' dreams and desires to paint personal and unique nail
designs. "I dig really deep to customize the art for the customer. I don't do duplicates," she says. "When people show me photos, I say, 'What makes it unique to you?' I make sure people know how to express themselves by letting their nails be their canvas."
Brianna Villareal
Instagram: @nailsby_bribri
Fabulous Nails, 8011 Allen Road, Allen Park
Enhancing the existing features of natural nails, the French manicure is the most commonly recognized and requested design. Despite its simplicity, Brianna Villareal views each French manicure as a blank canvas on which to get creative. "You can do it with a million colors, glitter, opaque, neon," she says. "You can have fun with it. It's so versatile." Villareal urges clients to book appointments as far in advance as possible, as many salons are already booked for months.