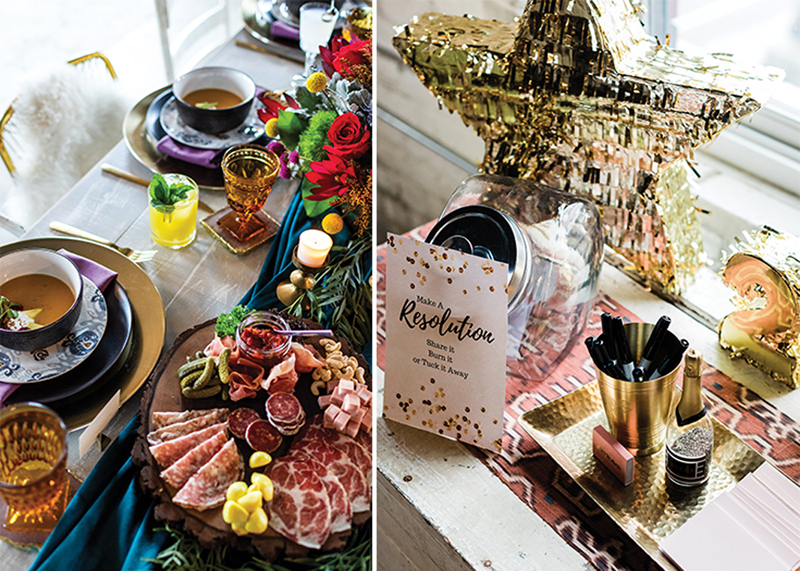 When the women behind outside advertising agency Brooklyn Outdoor are not scoping out new spots in the city for lifestyle blog J'adore Detroit or working on projects for clients, the team rents out their industrial Eastern Market office space and loft for events that range from small, corporate dinner gatherings to fashionable cocktail parties. This season, Hour Detroit tasked the creative visionaries with bringing the ultimate New Year's Eve party to life. The result is an opulent bash where guests will dance, drink, and laugh their way into 2019.
---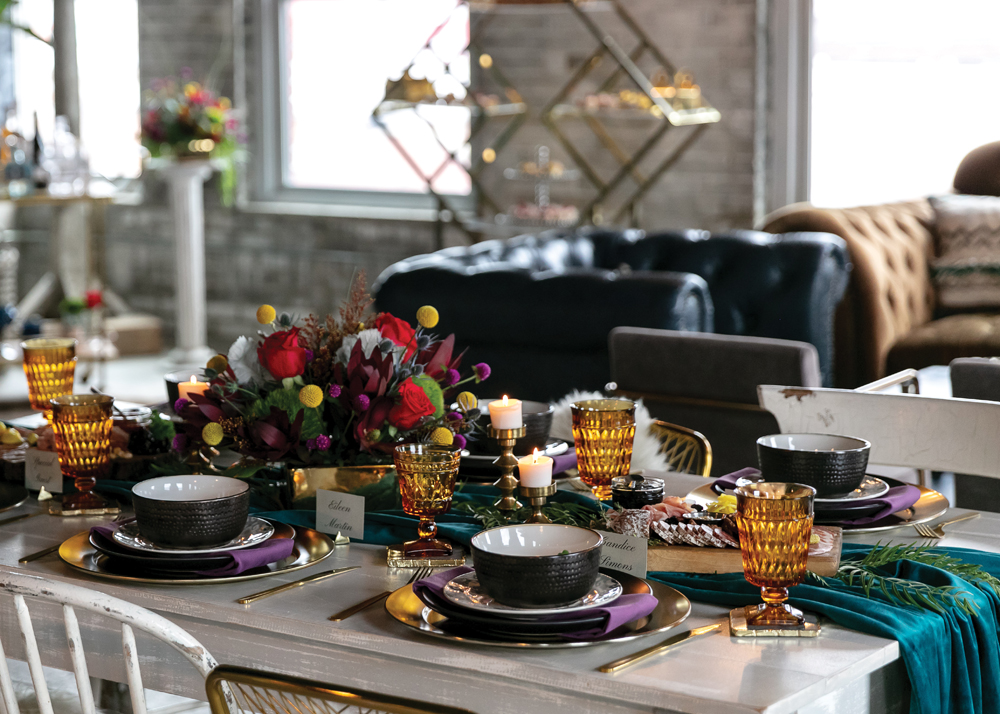 Luxe Looks
For Brooklyn Outdoor president and CEO Candice Simons, who founded the outdoor advertising agency as well as lifestyle blog J'adore Detroit, every element of a party must create an environment where guests feel as though they can be themselves. "I like when people feel like they're at home," she says. After deciding what type of New Year's Eve party your space best serves, the next step in setting an inviting atmosphere is determining a color scheme for the décor. Simons and her power team gathered inspiration and built a mood board to help them select jewel tones like plum, turquoise, gold, and accompanying elements like marble and crystal accents for their loft party. The research also informed the rest of the aesthetic, and guided their collaboration with Spoke Events, a Detroit-based event planning company, and Modernly, a specialty event rentals and design company in Livonia. Before purchasing pieces to dress up a space, Allie Jagger, account manager and event coordinator at Brooklyn Outdoor, notes that hosts should keep it simple. "You don't need to go crazy," she says. "If you're doing full-course, your dishes at home are fine. You can dress it up with florals, table linens, a velvet runner."
All Dressed Up
New Year's Eve is the perfect opportunity to sport flashy attire. "Anything black, sparkly, velvet, or leather is always good," Jagger says. As seen on the fall/winter runways, trending styles like animal prints and metallic materials also complement a party ensemble. To make sure every guest feels as though they're styled appropriately for the evening, include a brief memo in your invitation that explains the dress code, and don't be afraid to get creative. For example, the fashion theme for the loft party is what Simons refers to as "hippie glam," which translates to luxurious pant suits, exaggerated silhouettes, and funky prints for the Brooklyn Outdoor team's attire — each outfit available at Neiman Marcus at Somerset Collection South. "Some people want black tie, but it's not authentic for me," she says. "I want to make it fun." Simons suggests that if a party guest isn't comfortable wearing bold clothing or accessories, they can instead experiment with their beauty routine by wearing a deep red lipstick and rich, pigmented metallic eye shadow. "This season, play up your eye and lip in a way you normally wouldn't," she says. "It brightens up your whole look."
As an extension of the Brooklyn Outdoor and J'adore Detroit empire, Simons has created lifestyle brand Sable and Bone. Items from her entrepreneurial endeavor — a candle, made in collaboration with soy-based candle company Detroit Rose, and a fragrance, created with natural perfume brand Sfumato — are now available for purchase at jadore-detroit.com. A line of fashion pieces is expected to launch by spring.
Bites and Bubbly
When it comes to curating appetizers for a strolling party, it's best to give your guests a variety of easy-to-eat options. "Do fun things food wise, like charcuterie boards, oysters, things you don't traditionally see," says Lauren Van Haaren, junior publicist at Brooklyn Outdoor. For a seated party, where the focal point of the evening is the dinner table, use the opportunity to link up with a local catering company or restaurant to create tasty courses — the loft party features dishes and drinks from Grey Ghost and desserts courtesy of Zayna Bakes. Finally, it goes without saying, but every New Year's Eve party has to have champagne, especially when the clock strikes midnight. Simons suggests that the bubbly concoction can be made into festive Jell-O shots or serve as the main attraction on a bar cart or DIY-drink station that features champagne alongside different mixers like cranberry and orange juice. Another effortless drink idea is to pre-make a few cocktails, and set them up in mason jar jugs so guests can self-serve. Once again, simplicity is key. "Make it easy for people to eat and drink and spend more time engaging with each other," Simons says. "For New Year's Eve, you want to reconnect with your loved ones and celebrate being together."
Pump Up the Party
To keep hosts engaged with guests and away from the sound system, Simons suggests creating a playlist or using an app like Pandora to curate music fit for the evening. "I play songs that get me pumped up while getting ready for the event," she says. While conversation will naturally flow as guests recap the previous year and share their hopes for 2019, party planners can consider creating Instagram-worthy nooks that encourage interaction, like a spot for photo opps stocked with a vibrant backdrop and Polaroid cameras. "The most important thing to think about when having a party is providing people with things to do that isn't just mingling and eating," says Eileen Martin, Brooklyn Outdoor communications intern and University of Michigan Dearborn student. Interactive games that encourage guests to communicate with one another are also ideal for end-of-year celebrations. Resolution, a DIY game that the Brooklyn Outdoor team put together, requires guests to write their goal for the new year on a card. They can either share what they've written, tuck it away and keep it to themselves, or burn it. "Burning it is a little intense," Martin says with a laugh. "But it's definitely an option."
---
Visit hourdetroit.com for a playlist curated by a friend of Brooklyn Outdoor, Sara Aldridge, aka DJ Lady Fantastic.