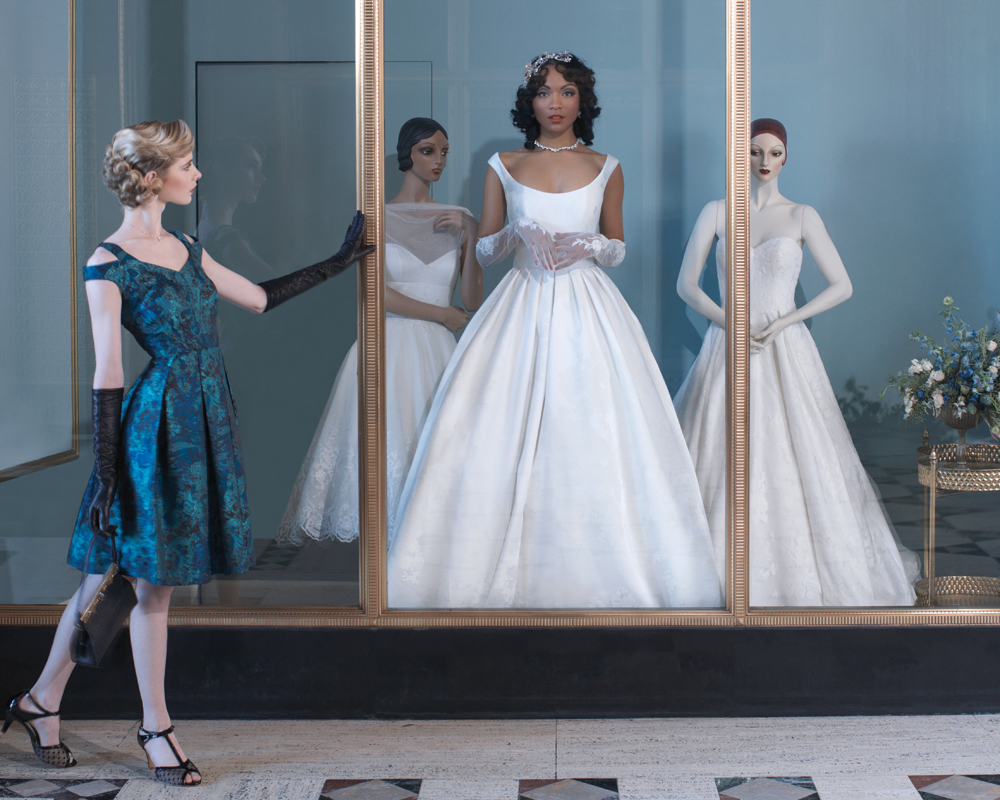 Window Shopping
From left: Maggy London Blue Beau dress, $198, and Juliart vintage cameo handbag, $215, at The Peacock Room, Fisher Building, Detroit; 313-315-3061. Penny Preville diamond necklace, $4,995, and diamond earrings, $3,995, at Tapper's, West Bloomfield; 248-932-7700; tappers.com. Hey Lady Zou Zou Bisou T-strap heels in Banging Black, $248, at heylady.co. Leather gloves, stylist's own
Matthew Christopher Juniper gown, $3,210, at Bridal Couture, Birmingham; 248-645-0500; bridalcouturemi.com
Maritza's Bridal headpiece, $475, at Blush Couture Bride, Birmingham; 248-839-5870; blushcouturebride.com. Antique rhinestone bridal necklace, $275, at The Peacock Room. Modern Trousseau Gala gown, $4,700, and Sara Gabriel Daphne earrings, $127, at The Gown Shop, Ann Arbor; 734-834-4696; thegownshop.com. Justin Alexander lace gloves, $177, at Piera's Bridal Couture, Shelby Township; 586-566-7800; pierasbridal.com
Justin Alexander ball gown, $2,000, at Piera's Bridal Couture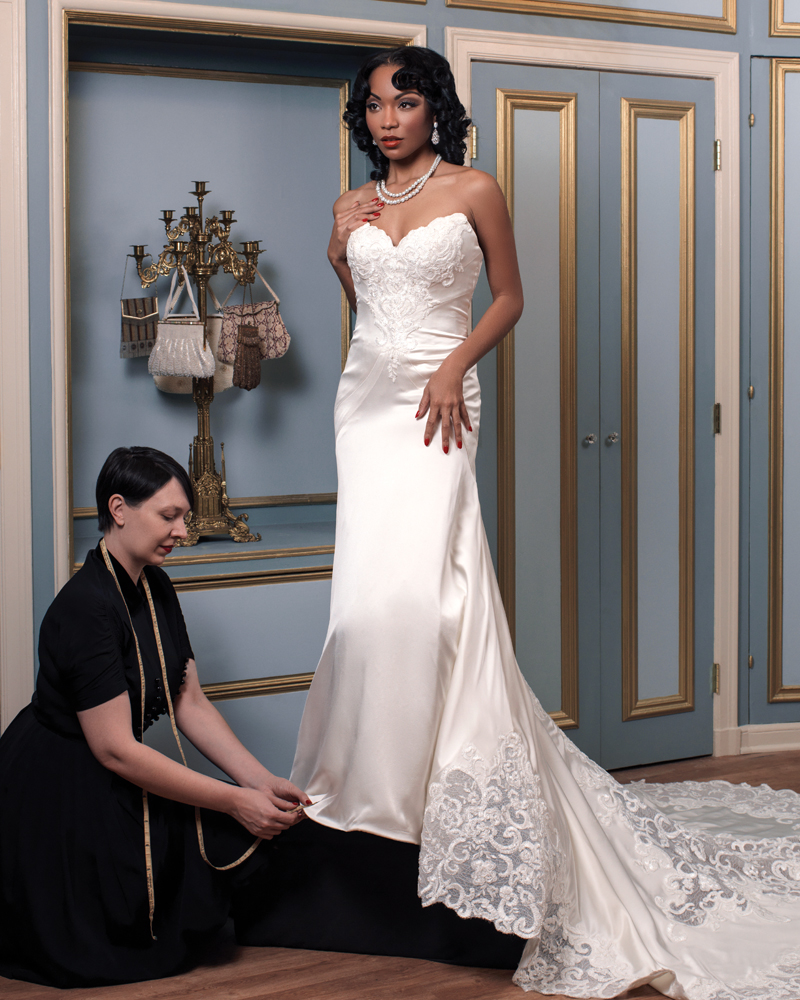 Tailor-Made
Matthew Christopher Lillian gown, $4,360, at Bridal Couture; Jardin Jewelry earrings, $370, at Roma Sposa, Birmingham; 248-723-4300; romasposa.com. David Tutera Embellish Luna Crystal Ball 2-Row Necklace, $70, at B. Ella Bridal, Plymouth; 734-459-0000; b-ella-bridal.com
Tailoring
William + Bonnie: Whether you're a bride, bridesmaid, or wedding guest, William + Bonnie Alterations Boutique offers custom tailoring services to help create the perfect fit. Concourse Level Ste. C5, 313-355-0291. Hours:  Tues. 12 p.m.-6 p.m.; Weds. 12 p.m.- 7 p.m.; Thurs.- Fri. 12 p.m.- 6 p.m. or by appointment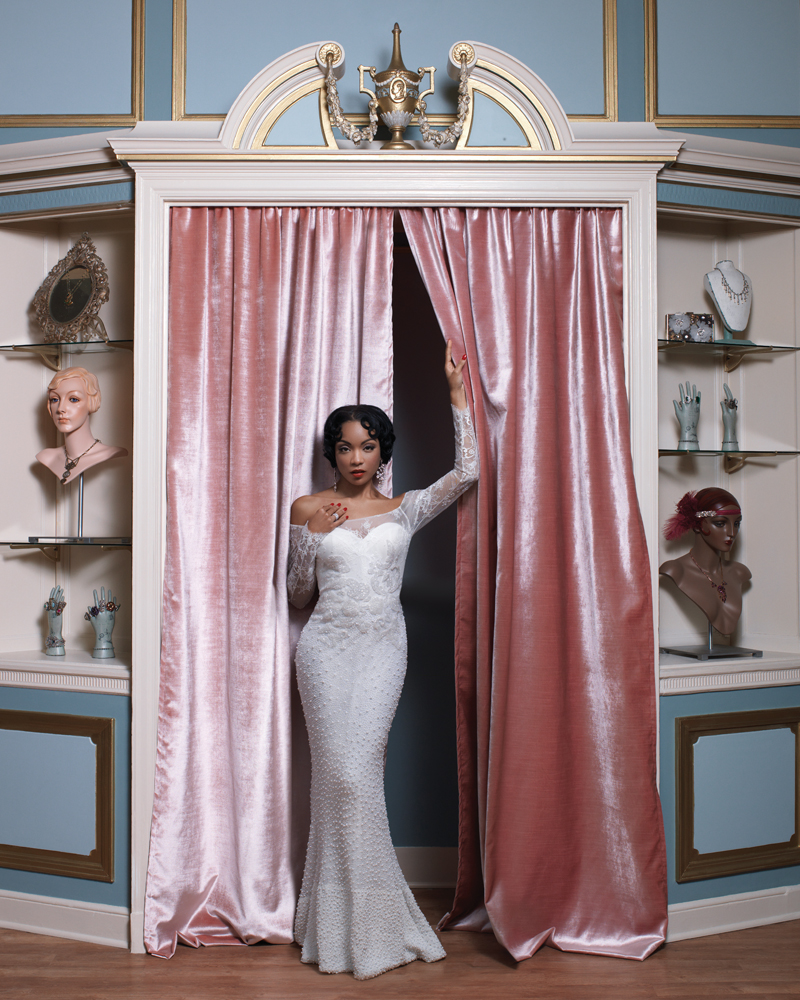 Grand Entrance
Jennifer Behr earrings, $1,110, at L'amour Bridal, Farmington Hills; 248-308-2733; lamourbridalmi.com. Yolan Cris Eriste gown, $6,700, at Bisou Bridal Boutique, Birmingham; 248-792-7510; bisoubridalboutique.com. Diamond and 18-karat white gold ring, $5,395, at Tapper's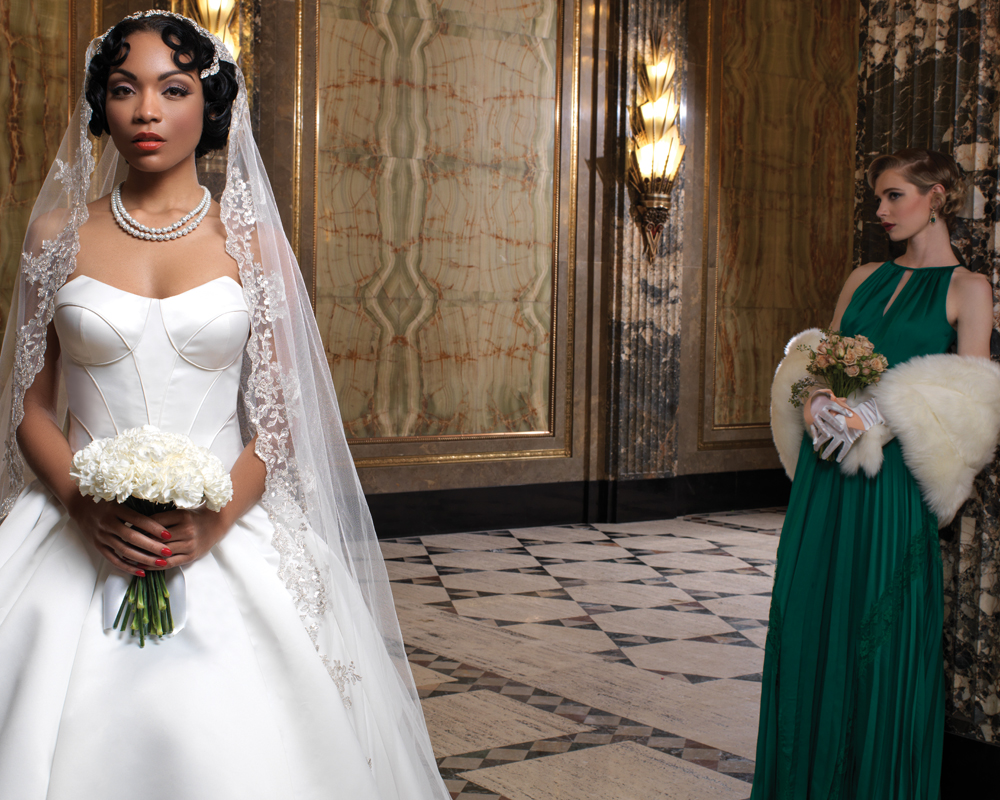 Picture Perfect
Laine Berry Shelby gown, $4,000, and Ian Stuart Bride Nova Scotia veil, $1,298, at Blush Couture Bride. David Tutera Embellish Luna Crystal Ball 2-Row Necklace, $70, at B. Ella Bridal, Plymouth; 734-459-0000; b-ella-bridal.com. Pronovias les Accessoires headpiece, $250, at Piera's Bridal Couture.
Bridesmaid Gown
Adrianna Papell dress, $279, and white faux fox wrap, $95, at The Peacock Room. Maria Elena earrings, $475, at Roma Sposa. Satin gloves, stylist's own.
The Peacock Room: Marble walls adorned with Art Deco lamps make the Fisher Building lobby the quintessential locale for bridal party photos. The Peacock Room offers evening wear organized by color to fit your party's color scheme, and vintage-inspired accessories to boot. 313-315-3061. Hours: Mon.-Fri. 11 a.m.-7 p.m.; Sat. 10 a.m.- 7 p.m.; Sun. 12 p.m.- 5 p.m.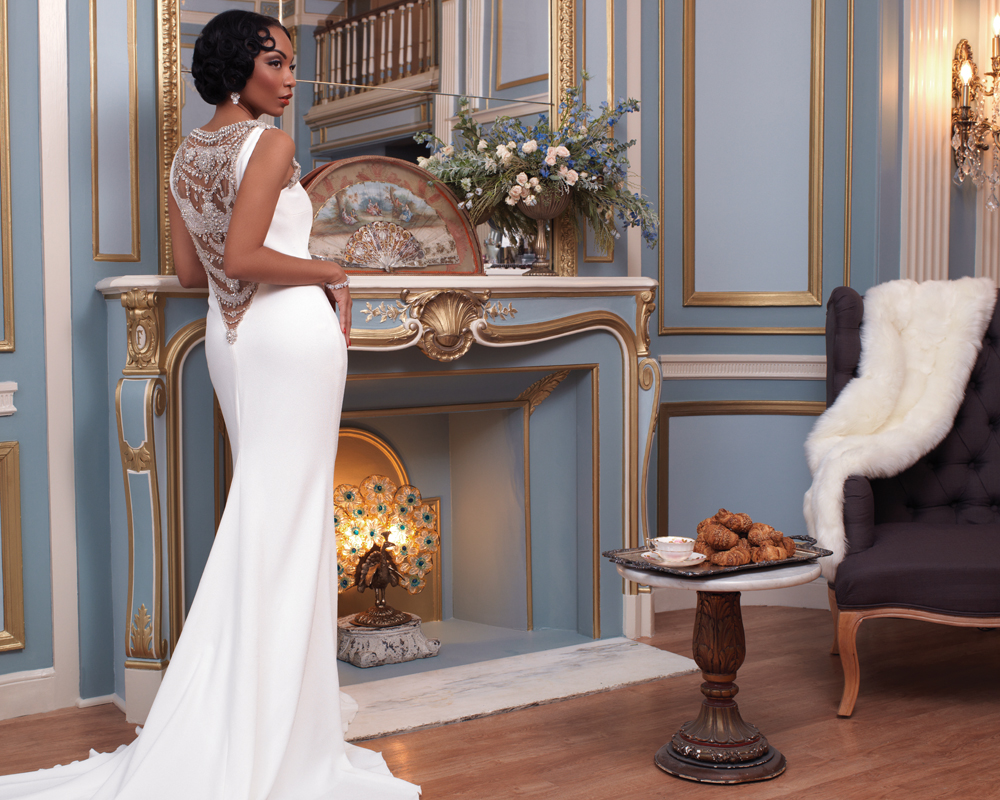 In Detail
Atelier Pronovias Rafia gown, $3,875, and Haute Bride earrings, $260, at L'amour Bridal; Malis Henderson bracelet, $177, at Piera's Bridal Couture
Coffee and Croissants
Stella Good Coffee: While fluorescent lighting and the redolence of soft pretzels typify suburban malls, Stella Good Coffee serves artisanal coffee blends and locally sourced pastries in a dimly lit enclave for a tranquil caffeine fix between purchases. 313-664-0400. Call for hours.
The City Bakery: Satisfy your appetite at The City Bakery. In addition to its menu of baked goods and flavored hot chocolate, the New York and Japan-based chain offers a catering service, perfect for intimate wedding events. Hours: Mon.-Fri. 7:30 a.m.- closing times vary.
Step Up
Watters Ferrera gown, $4,345, and AA Bridal hair comb, $75, at B. Ella Bridal. Malis Henderson birdcage veil, $95, at Piera's Bridal Couture. Sara Gabriel Chris bracelet, $257, and Sara Gabriel Alisha earrings, $87, at The Gown Shop
Nails
Vera Jane: A nod to its history as the Fisher's original phone booth, Vera Jane is dotted with vintage rotary phones in pastel hues. Stop into the cozy boutique for its romantic line of lingerie or beauty products like nail polish, face masks, candles, and more. 313-875-4588; verajane.com. Hours: Mon.-Sat. 11 a.m.-6 p.m.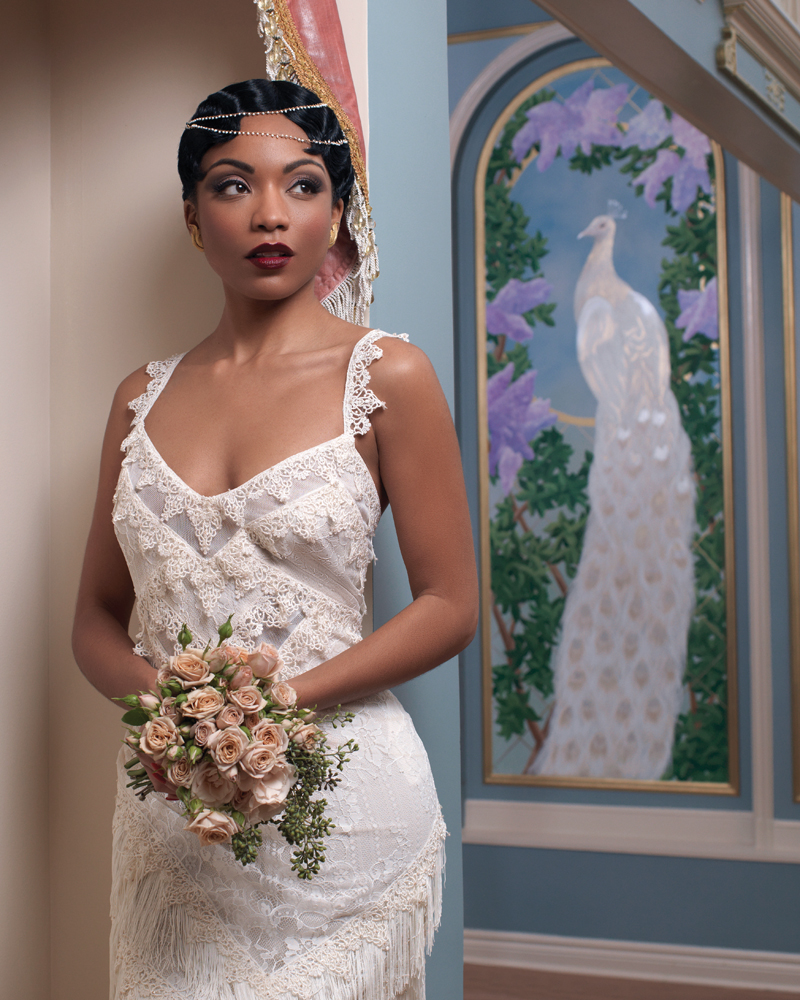 Flower Girl
Atelier Pronovias Yadarola gown, price upon request, at Beautiful Bridal with Keasha Rigsby, Detroit; 313-877-9037; beautifulbridalwithkeasha.com. Tapper's Estate Jewelry Collection 18K Yellow Gold Textured Leaf Clip Earrings, $5,800, at Tapper's. La Vie Parisienne white seed bead necklace (worn in hair), $70, at The Peacock Room.
Bouquet
Pot and Box: Allow Pot and Box to design bespoke arrangements for your wedding affair. Or for the DIY-inclined, sign up for one of the sustainable floral company's botanic workshops for a lesson in plant design. 313-212-1869. Hours: Tues.-Fri. 12 a.m.-6 p.m.; Sat. 10 a.m.- 4 p.m.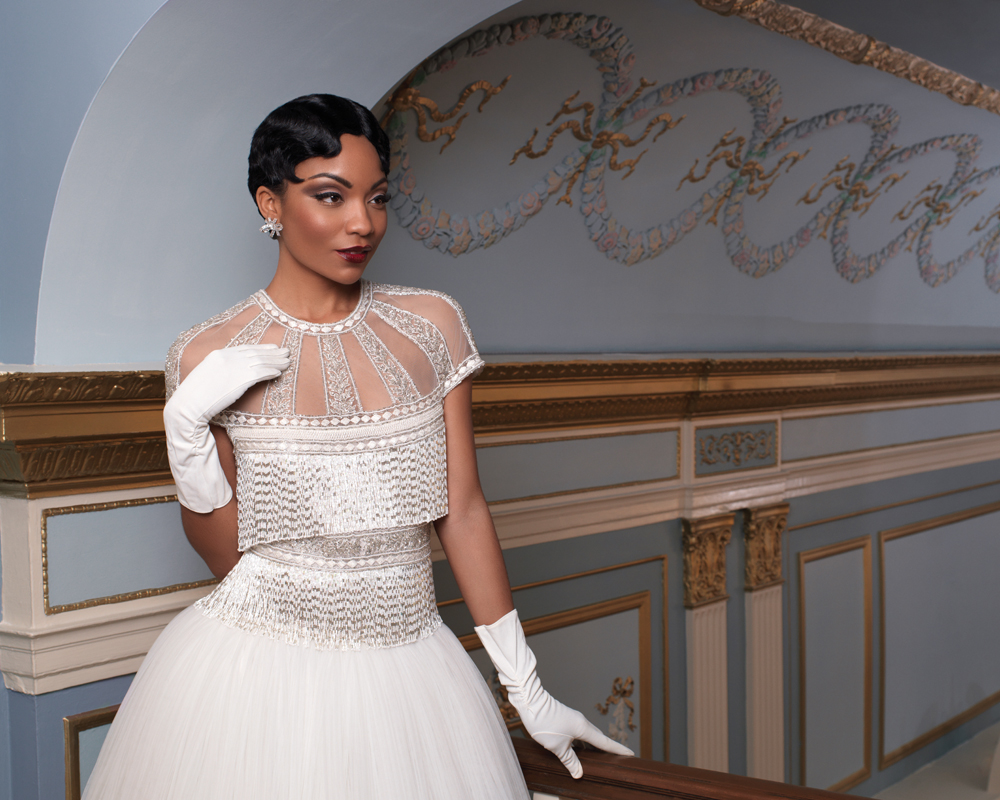 Silver Bell
Naeem Khan gown, $8,490, and Jardin Jewelry earrings, $330, at Roma Sposa. Vintage gloves, stylist's own
---
Credits
Hair Stylist: Kristina Beaty
Makeup Artist: Gjysta Nuculaj
Wardrobe Assistant: Jennifer Pickering
Photography Assistant: Garrett Maclean
Talent: Treshon & Sophie of D.M.M. LLC
Floral Stylist: Lisa Waud, Pot & Box
Special Thanks to The Peacock Room and The Fisher Building