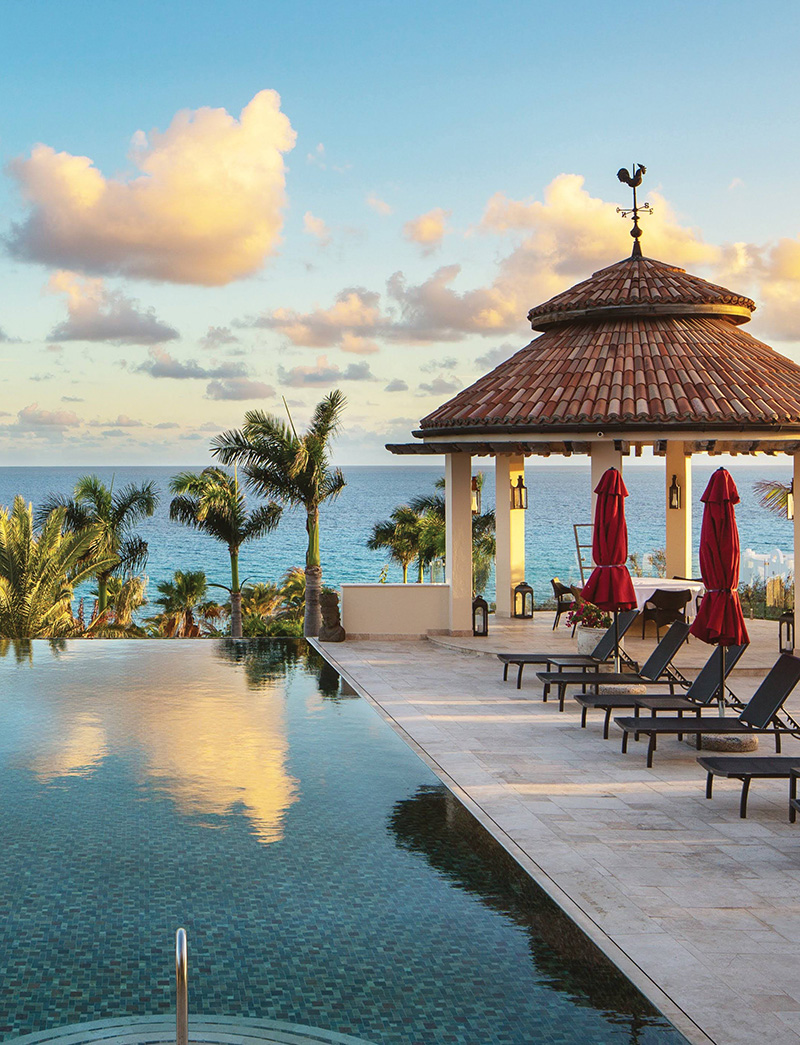 To say it was a long day is a severe understatement. Renowned trial lawyer Geoffrey Fieger was on the phone almost nonstop, waiting, checking again and again to find out how things turned out. The stakes were huge. 
Fieger, along with his wife, Keenie, this time was not agonizing over the jury verdict after a dramatic trial. It was September 2017, and the Fiegers instead wanted to know whether their uber-luxury Caribbean hotel had survived Category 5 Hurricane Irma. Yes, the Fiegers' hotel. Nearly 10 years in the making, this was not just any high-end hotel on the island of Anguilla, British West Indies, (popular among the likes of Paul McCartney, LeBron James, Robert DeNiro and, Fieger quips, "certain oil sheik royalty"). This venue, the Quintessence Hotel — known as the "Q Hotel" for short — redefined "high echelon." It was scheduled to open a few months after Irma hit, but that was postponed.  
And yes, the hotel did survive, a testament to its castle-like construction. All of this, Fieger adds with pride, enabled the Q Hotel on Jan. 1, 2018 to become the first hotel on Anguilla to reopen after that horrible catastrophe — a sign of hope for the island. It was then, and is now, also a sign of luxury and opulence, and Fieger pulls no punches about desired Q Hotel clientele. "We cater, honestly, to the super-discerning, where money is not an object. Anguilla is not for bargain hunters, period, and our hotel is not for bargain hunters."
Advertised as "a Tropical Grand Mansion," the Q Hotel features nine suites as large as nearly 3,000 square feet. Among its various amenities is Julians, a "tropical French bistro;" a Wine Spectator award-winning cellar that houses more than 1,600 bottles of wine — collected by the Fiegers over time; an infinity pool; a wellness spa; a fitness center;  a tennis court; a yoga pavilion; a life-size chess board; and Keenie's Bikini's and Beyond, a boutique Keenie helped design. Three of these amenities are named after the Fiegers' children. With ambience "created by artisans with museum-like quality," the Q Hotel features "classic Versailles floor patterns, vaulted cedar ceilings, hand-painted murals, and hand-crafted furniture," including Swedish mattresses and specially ordered vintage bamboo furniture. There's much more to describe, but you get the idea. Even though, to be blunt, the average traveler may never really manage a reservation. "Regular" rates begin at $750 a night and jump to $1,750 between Dec. 16 to Jan. 5. During these dates, the minimum stay is seven days. 
So, how did the man known for getting assisted suicide guru Jack Kevorkian acquitted three times, among other famous cases, end up in the fancy properties game? Fieger has two responses: First, he says, "it's my only hobby." Second? "Insanity." All kidding aside, it was really an evolution. The Fiegers began vacationing in the Caribbean shortly after they married in 1983. Little by little, they began to buy property. While they were building their first home there in 1995, Hurricane Luis paid a visit. In 1998, the home managed to withstand Hurricane Georges (pronounced "Zhorzh"). Undaunted, they continued buying, building, and vacationing on Anguilla. Keenie admits that when Geoffrey broached the idea of the hotel, "I said, 'Are you sure? Why are we doing this? Who's going to run the hotel? Who will oversee this project?' " But, she says, "everything kind of fell into place." What made the difference was hiring the right people, including Mark Wallace of Ausberg Interiors in Birmingham, who has done interior design for several Fieger properties. 
Inspired by the late Leon Roydon, and by his original Malliouhana Hotel, still a major destination, Fieger admits he knew next to nothing about the building and running of hotels. "I'm not ashamed to say what I don't know. I had to take a crash course in all of this. I didn't second guess myself. I was just afraid I had forgotten something." Apparently, he had not. Fieger says he has learned it takes three to four years of "real industry" experience to make the hotel profitable. The Q Hotel is in year two — and so far, so good. Real good. The hotel was designated almost immediately as a Relais & Chateaux boutique hotel, which is highly unusual, and recently was also designated a Virtuoso property, another jewel in its crown. The Q also has been featured in the likes of The New York Times, CNN, Forbes Travel Guide Four Star Hotel, CEOWorld, the Globe and Mail, among others. 
Life goes on as accolades pour in — hurricanes notwithstanding. If you ask Geoffrey if he'll soon retire to his beloved Caribbean, he'll laugh. The Fiegers are also raising three children. "We're never retiring," he says. "We go on 'vacations with responsibility,' " Keenie adds. She's not complaining, though. With responsibilities like this, who needs vacations?
Facebook Comments