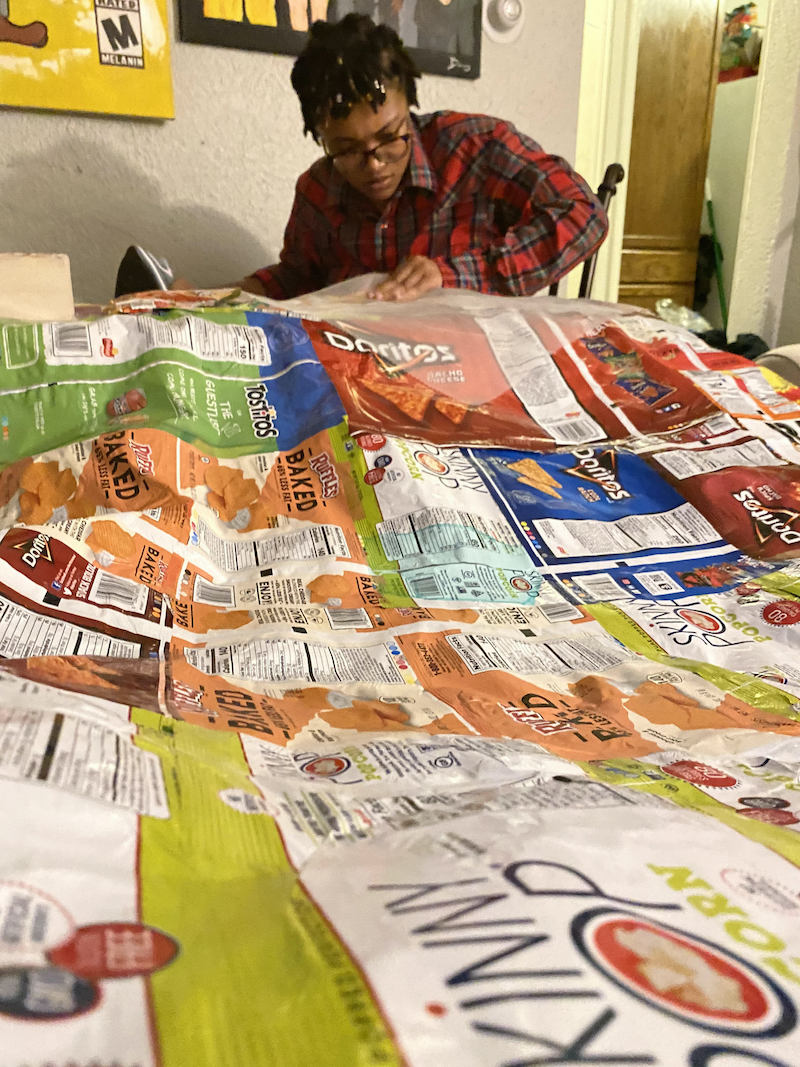 Before you throw out that empty bag of chips you just finished, maybe reconsider. That bag can be used to make sleeping bags for folks around Detroit who are experiencing homelessness.
This winter, Eradajere Oleita, a Detroit-based environmental activist, project manager, and social media manager, is accepting donations of empty, foil-lined chip bags of all brands and sizes. She's using the materials to make sleeping bags to distribute to locals.
The idea came to 25-year-old, Nigerian-born Oleita a few months ago when she came across a Facebook video of a woman in England showing viewers how to iron chip bags together to make sleeping bags. Inspired, she decided to use that method to make her own sleeping bags, and The Chip Bag Project was born in mid-December. The project, she says, combines her love for sustainability and her community.
"I've just been doing a lot of work around the city of Detroit, trying to get more people to talk about the connections between environmental justice and social justice, and really pushing on the topic of environmental racism," Oleita says. "And that's really why I wanted to do [The Chip Bag Project]."
Chip bags are durable, lightweight, and great insulators, Oleita says of her material of choice. Each sleeping bag requires 150 chip bags and takes around four hours to make. Oleita started off making the sleeping bags on her own, but she has since enlisted the help of some volunteers. Before they assemble the sleeping bags, they soak the chip bags in soap and hot water for a day. They then cut them open and iron them to seal the bags together. For comfort and more insulation, they use foam and padding in old jackets to line the inside of each sleeping bag.
Oleita's goal this winter is to collect 10,000 chip bags to create 60 sleeping bags. With the extra 1,000 chip bags, she plans on using those for another project yet to be announced. So far, the Chip Bag Project has collected more than 3,300 chip bags and made three sleeping bags.
In addition to empty chip bags, Oleita is accepting donations of new and used sleeping bags, umbrellas, socks, shoes, hats, and jackets to create "emergency packs" (new jackets will be given to those in need, and old jackets will be used to line the sleeping bags). She's also taking monetary donations, which go toward purchasing new items to pass out.
Oleita says she and her friends plan to have all 60 sleeping bags completed by Feb 1. Once they're ready, they'll drive around the city and distribute the sleeping bags and emergency packs to those they see outside. They'll also reach out to local shelters and youth organizations to donate goods. Specifically, Oleita wants to work with the Neighborhood Service Organization and the Detroit Phoenix Center.
"For me, I'm not trying to pass judgment. I'm just saying, 'Hey, if you want it, here's a sleeping bag, if you don't want it, let's give it to somebody who could use it,'" Oleita says. "And really just putting more humanity into a lot of the issues that we're talking about."
 Environmental activism has been an important part of Oleita's life long before she saw the video that inspired The Chip Bag Project. Over the last five years, she's served as an AmeriCorps Green School Coordinator for the Youth Energy Squad, a program through the Detroit nonprofit EcoWorks that educates youth on making their communities more sustainable. She also educates others on sustainable land and water use as a resident Ambassador for the Land and Water Works Coalition led by Detroit Future City
When Oleita thinks of environmental racism in the city, she refers to the air pollution and consequential health complications southwest Detroiters experience living in the 48217 ZIP code. Considered the most polluted ZIP code in the state, the area is home to Marathon Petroleum, one of the nation's largest oil refineries. She also thinks of the limited amount of affordable fresh food services available compared to the abundance of fast-food chains and liquor stores in Detroit, a city with a population that is nearly 80 percent Black.
Oleita wants others to understand that environmental racism, waste, and homelessness are not isolated issues — they're all connected. The very definition of environmental racism refers to communities of color being disproportionately impacted by environmental hazards such as toxic waste from landfills, power stations, and sewage systems due to racial discrimination in policymaking, regulations, and laws. And people who are homeless in these communities are even more vulnerable to these environmental hazards.
The Chip Bag Project, she says, is her way of raising awareness of these injustices that aren't always connected in mainstream conversations.
"A lot of people have been making noise, but I think it's time to make more noise and get people to talk about it in a different way, and kind of show connections between all of these issues," Oleita says. "That's why I wanted to talk about trash and homelessness because people never put those two things together in a respectful way."
The Chip Bag Project has garnered national attention. Within days of Oleita's first video explaining the project and asking for donations, which she posted to Instagram on Dec. 15, people from New York, Washington D.C., and California reached out to her wanting to learn how to make the sleeping bags themselves. She has since sent videos and curriculum to someone in D.C. so they can get started making their own sleeping bags.
Locally, people are asking how they can assist, and she's received advice and support from some environmental scientist friends. Oleita also reached out to the Frito-Lay and Better Made Snack Foods factories encouraging them to donate their defective and mislabeled bags to her cause, rather than letting them go to waste.
People can drop off their empty chip bags and other donations to the printing company SBOY Printing in Detroit and Regeneration New-Used Clothing in Pleasant Ridge. Donations can also be mailed to The Chip Bag Project's P.O. Box (info above), and monetary donations are accepted via PayPal at eradaoleita.com.
The Chip Bag Project will be an ongoing endeavor for Oleita. She plans to accept donations through the summer to make more sleeping bags for next winter. The Chip Bag Project is also teaming up with local art nonprofit SaveArtSpace to launch 10 billboards across Detroit, featuring the work of local artists that will inform individuals about both environmental racism in the city and the intersectionality of social justice and environmental racism. Billboards are slated to go up in April for one month, and a fundraiser to raise money for the billboards, artists, exhibit curators, and both SAS and The Chip Bag Project is happening through March 14.
---
For more information on how to support The Chip Bag Project, visit chipbagproject.com or follow @chipbagproject on Instagram.