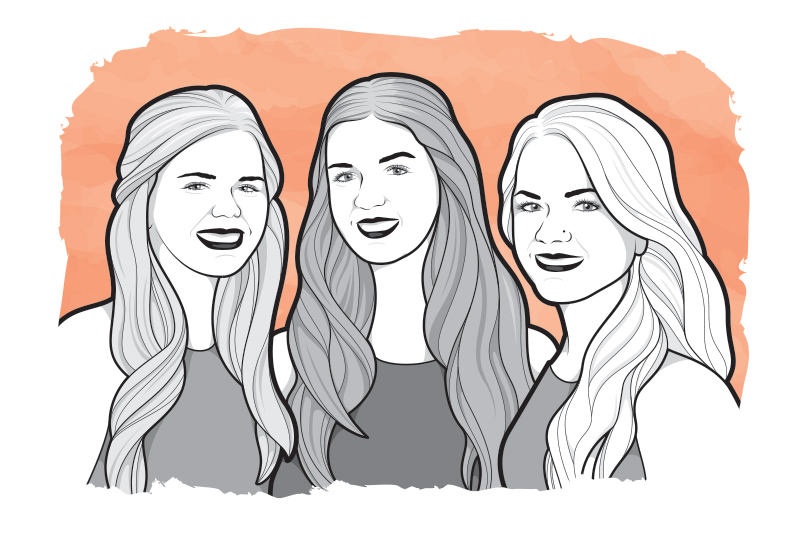 Each year, the Association of Fundraising Professionals' greater Detroit chapter honors southeastern Michigan's most dedicated volunteers, philanthropists, and fundraising professionals with its annual awards. Hour Detroit is pleased to partner with AFP to introduce 2021's slate of charity champions ahead of National Philanthropy Day on Nov. 21.
For sisters Riley and Breanna Patzer and their cousin Sophia Patzer, philanthropy isn't just something they do — it's in their blood: Their grandmother, Kyle Abbott, is the president of The Abrams Foundation, a Michigan nonprofit that gives grants to local organizations, and Riley and Breanna's parents, Shane and Marcy Patzer, actively serve on the foundation's board. 
"We've always gone to their events, and we've gone with my dad to different fundraisers," Riley says. "I'd never expected to be able to do it myself this soon." 
The trio are the foundation's Next Generation Grantmakers, and as such, have given away more than $90,000 to nonprofits over the past five years. 
Fifteen-year-old Breanna has focused much of her energy on Leader Dogs for the Blind, which trains service dogs. "I have a huge passion for animals," she says — so much so that she's hoping to become a veterinarian one day. Her grants have supported new veterinary equipment as well as supplies for dog training, and her family even took in a 7-week-old puppy, Harley, to train. It's a lengthy process, and the Patzer family spent more than a year preparing Harley for her guide dog career. Training Harley also opened up conversations about Leader Dogs with strangers everywhere they went. "People saw what we were doing and got to see how we help," Breanna says. 
Most of 19-year-old Riley's volunteer work and grants have centered on Special Olympics Michigan, which she was first exposed to in high school. "I've always had a special place in my heart for peer-to-peer classes and the special needs students," Riley says. "My high school was really big on inclusion." A softball player, Riley has volunteered at sporting events and skills competitions, running the bases with kids and helping them practice. "We try to get them involved," she says. "It's always fun."
Sophia, 18, has devoted her time and grant funding to several different nonprofits, including Camp Casey, which conducts "horsey house calls" and provides horseback riding opportunities to children with life-threatening illnesses; Sanctum House, which provides a home for women who survived human trafficking; and Soldier Support Group, which serves military members and their families.   
Both Riley and Sophia are pursuing careers to serve others: Riley is studying nursing at Saginaw Valley State University, and Sophia is studying social work at Grand Valley State University. 
"We both have that common denominator of wanting to help people," Sophia says. 
Her volunteer work and grants have played a significant role in her career aspirations, she adds: "Nothing opens your eyes more to the needs of a community than seeing how many different organizations are set up within a community."
---
This story is part of our Give Detroit package and is featured in the November 2021 issue of Hour Detroit magazine. Read more stories in our digital edition.