A century ago, President Warren G. Harding was sworn in on the promise that he could bring unto the nation "a return to normalcy." To Americans recovering from a devastating foreign war and a flu pandemic, that sounded awfully appealing.
As we roll into our '20s, we certainly can relate. And all signs do point to a somewhat kinder, gentler 2021. Our new president, love or hate him, is unlikely to generate daily drama and controversy. There aren't a ton of important elections to divide and consume us. And, God and/or Big Pharma willing, a workable COVID-19 vaccine will allow us to un-pause our lives.
Still, that doesn't mean we Michiganders can tune out — yet. Big decisions will — or won't? — be made by the prominent and powerful. Have a seat and take in these predictions from our crack team of pundits from across the state and the political spectrum. Then, perhaps, you can get back to your version of normalcy secure in the knowledge that you know exactly what to expect in the coming year … or something.
---
Meet the Experts
Dennis Darnoi is a Republican political consultant based in Farmington Hills.
Joe DiSano is a Democratic political consultant based in Lansing.
David Dulio is a political science professor at Oakland University in Rochester.
Mildred Gaddis is host of The Mildred Gaddis Show on KISS-FM (105.9) as well as a longtime fixture on Black talk radio in Detroit.
Matt Grossmann is a political science professor at Michigan State University in East Lansing.
Adrian Hemond is a Democratic political consultant and CEO of Grassroots Midwest based in Lansing.
Tom Ivacko is executive director of the Center for Local, State, and Urban Policy at the University of Michigan in Ann Arbor.
Nancy Kaffer is a columnist and member of the editorial board for the Detroit Free Press.
Jer Staes is producer and host of the Daily Detroit podcast.
---
Where will Gov. Gretchen Whitmer's approval rating stand by January 2022?
Above water.
While Whitmer surely would trade the pandemic and its human and economic devastation — not to mention the death threats against her family — for anything, few elected officials anywhere have benefited more politically in 2020 from their performance responding to COVID-19 than Michigan's 49th governor. It's hard to remember, now that she's a fixture on CNN and MSNBC, that she was little known nationally 11 months ago when she gave the Democratic response to President Trump's final State of the Union address.
By spring, when the pandemic took its deadliest toll on metro Detroit, Whitmer's firm and unyielding rules shutting down the economy and forcing everyone indoors brought her record-high job approval ratings and relentless attacks from Trump, which "the woman from Michigan" wore as a badge of honor. "She didn't allow pressure from the corporate community or any entity to force her to back down or dumb down the remedy and the process of getting Michigan's COVID numbers down," radio host Mildred Gaddis says.
Indeed, the panelists unanimously expect Whitmer to remain popular through 2021, although it's unrealistic to expect her to keep polling above 60 percent, says Oakland University's David Dulio, especially with Republicans in the Legislature hammering against her.
GOP consultant Dennis Darnoi predicts Whitmer's number will sit at about 55 percent because state Republicans have a disorganized and muddled message. "What is the Republican plan that is going to garner a majority of support while taking down whatever it is the Whitmer administration is going to put forward?" he asks. "Right now, it just appears as though the Republican strategy on COVID, both on a national level and then on a state level, is really just to kind of attack without a Plan B. Absent a unified plan that the Republican Legislature is going to pass and going to be able to advocate to the people, I don't see her taking a serious hit." Democratic consultant Joe DiSano agrees: "People trust and respect the governor's action on COVID-19. That's a tough bond for folks like [Senate Republican Leader Mike] Shirkey or other white, male Republicans to break."
Still, it's unclear whether Whitmer's super-high ratings were ever real in the first place, considering that that data came from much of the same polling that got the state's presidential and Senate outcomes so wrong. Still, Dulio says, "her approval numbers have been outstanding so far, and even if you dock them 5 or 6 points, they're still very good."
---
What will John James do?
Try, try again.
If you think becoming the only Michigan man ever to lose back-to-back races for U.S. Senate seats would be a disincentive to future political endeavors, our panelists say you don't know Republican John James. After losing by 6.5 points to Debbie Stabenow in 2018 and 1.7 points to Gary Peters in 2020, James will spend 2021 plotting his next move, be it taking on Whitmer, scoping out a redrawn congressional district to run in, or running the state GOP. "He's been turned back a couple of times now, and hope springs eternal, I guess," columnist Nancy Kaffer quips. Podcaster Jer Staes, too, sees an indefatigable appetite for office-seeking: "He desperately seems to want to win something. If there was a state dogcatcher, he'd run for it."
"There's so many options," Dulio says. "I could see him just going back to his business career and having had enough of politics for a while. Or I could also see him trying to run for something else. He didn't win, but he had a successful campaign, if that makes any sense." It makes sense to MSU political scientist Matt Grossmann, who says James "performed better than expected in both elections. He might decide to run for governor [in 2022] when people think it'll be a more favorable climate for Republicans" because the party out of power at the White House tends to do better in midterm election years.
Yet the fact that James refused to concede his loss to Peters within a conventional period of time and pushed the same baseless, debunked claims about widespread voter fraud that Trump pushed "diminishes his ability to do something next," says Darnoi, the Republican consultant. DiSano agrees: "James' behavior since the election has been without honor or dignity, and it's going to be hard to take him seriously as anything other than a political hack after this. He will try, but he can never get back what he lost since Nov. 3." His actions also place James back in Trump fanboy territory after a campaign aimed at shaking off his ties to the 45th president, urban policy expert Tom Ivacko says. "It was a pretty substantial loss, so contesting it just looks silly," he says.
Still, James does now have more statewide name recognition than almost any other Republican, and that counts for something, Democratic strategist Adrian Hemond says. "Maybe he becomes state party chair? The president was pretty clear before the election that he intended to get rid of the state party chair if he lost Michigan. And it's still Donald Trump's Republican Party until someone else emerges, particularly with him talking about running for president again in 2024."
Darnoi thinks James would excel at that as he's a prodigious fundraiser, but James likely would not challenge former GOP Chair Ron Weiser if Weiser wants the gig. "James has to let the dust settle a little bit, and really analyze what his best option would be in 2022, knowing full well that whoever he runs against will tag him as a two-time loser," Darnoi says.
---
Will Detroit police Chief James Craig still be in charge by 2022?
Maybe.
If there has been a lightning rod in the Duggan administration over the past year, it is the 64-year-old top cop who has served since 2013. Already treated with some suspicion by many Black residents because of his creation in 2016 of Project Greenlight, a program where the police installed cameras at gas stations in what was taken as an excess of government surveillance, Craig took a great deal of the heat when troubles arose during Black Lives Matter protests. While the BLM events in Detroit never reached the violent or destructive level of their counterparts in other cities, police here did make arrests and occasionally were seen as heavy-handed in crowd control. In one incident, a cop maced a Free Press reporter while the reporter livestreamed coverage of a demonstration.
Craig is defiant in the face of calls for his resignation, telling WJBK-TV in November, "I've said it and I'll say it again: No, no. I'm not leaving. You leave."
Still, DiSano and Staes think Craig's a goner, if only because he offended progressives by appearing a couple of times on Fox News to criticize what he saw as overly permissive police responses to BLM events in Seattle and Portland and to suggest that a "Marxist" cabal is coordinating and funding BLM activism across the country. Those appearances prompted President Trump to sing Craig's praises, which, in turn, only incited more opposition to him from local activists.
"Chief Craig won't be in charge by the end of the year," DiSano predicts. "Craig playing footsie with the far-right wing and [U.S. Attorney General] Bill Barr was noticed and it's disturbing. Craig didn't earn Trump's praise for nothing." Staes agrees: "I wouldn't be surprised to see Mike Duggan, if it becomes politically hot, find a landing space for Chief Craig."
Hemond, too, sees Craig as a political liability for Duggan, but noted that Duggan nonetheless "clearly has a lot of confidence in him." GOP consultant Darnoi says he can "see it going either way" and agrees Craig is "in the most jeopardy of not being in his position" by 2022.
Gaddis, however, is doubtful. She's alarmed by Craig's "missteps" — specifically arrests and attacks on journalists covering the protests — but she says beyond the BLM crowd, Craig is admired. "For the most part, I think that the Detroit community would very much be comfortable with him staying in that position," she says. Ivacko also thinks Craig will stay put, with this caveat: "It probably depends whether there are any significant new problems with police use of force either here or across the nation that lead to protests in the city."
---
Who will be affected most by congressional redistricting?
Probably metro Detroit.
Because of a Population dip, Michigan is expected to lose a House seat once the 2020 Census is completed. That means 14 districts will become 13. Much of the depopulation has taken place in the city of Detroit, which at present figures prominently in the state's two minority-majority districts now represented by Democratic Reps. Brenda Lawrence and Rashida Tlaib.
The current interpretation of the Voting Rights Act dictates the state still have two such districts, and the Department of Justice under President-elect Biden is unlikely to reverse that policy, Hemond says. But with Detroit's population slipping under 650,000 when each congressional district encompasses 750,000 people, the district lines will need to be very creative and circuitous to satisfy the racial quota demands. "My suspicion is one of the minority-majority districts will start in Detroit and go as far north as Flint," Hemond says. In the process, a number of existing districts, including those represented by Reps. Haley Stevens, Elissa Slotkin, Andy Levin, Debbie Dingell, Tim Walberg, and Dan Kildee, may
be shuffled.
Another wild card, though, is that the districts will be drawn for the first time by a nonpartisan commission of citizens as required by a 2018 ballot measure. Ivacko is optimistic that that will result in a more balanced map than the prior gerrymandered ones drawn by state Legislature partisans in the past. "It is an incredibly interesting experiment to see the commission try to find their way through very complex public policy process," he says. "My gut says we end up with districts that are relatively fairer."
Yet the commissioners will face a reality that will challenge their ability to dole out an even playing field, political scientist Matt Grossmann says. "Democrats are just so increasingly concentrated in large metro areas that even nonpartisan-drawn districts are just much more likely to benefit Republicans than Democrats, especially when the top priority is paying attention to majority-minority districts," he says. "That's going to mean you have the Democratic districts much more likely to be packed in," leaving Republican voters as majorities of more sprawling districts.
The thing to watch is whether any sitting House members will have to face off with one another in primaries. But any which way, the odds are high that, as Staes says, "Detroit's going to get the short end of the stick."
---
Will we hear much from Gary Peters again before 2026?
Yes, if he's smart.
In 2020, Michigan's junior senator came terrifyingly close to becoming a one-termer in large part because he'd done such a poor job since his 2014 election of remaining prominent. He began his race against James as the nation's least-known senator among his own constituents, handing his opponent an easy opening to define him as lazy and disengaged. When the Free Press endorsed Peters by saying he had "achieved more in his first term than many senators accomplish in their careers," the newspaper was doing for Peters what Peters himself had failed to do in explaining where he'd been for the past six years.
The question now is whether the 62-year-old retreats to anonymity for the first half of the 2020s or starts in 2021 building a more formidable and durable public image. "Gary Peters is a very hard-working senator," says Kaffer, a member of the newspaper's editorial board. "He's smart and capable and focused on getting the job done and not so much on patting himself on the back, which is actually a great trait for a working elected official and not such a great trait when you're campaigning. It would be great if he started to sort of blow his own horn a little bit more."
Ivacko thinks the near-death experience will wake Peters up: "This race should not have been this close. Democratic incumbent senators in Michigan do not lose. That was a scary campaign for him. It should not have been that close, and I suspect he will start to adapt his style a little bit to try to build some more sustainable name recognition."
Grossmann says he believes the Democratic Party will do better in Peters' coming term to help the swing-state senator burnish his reputation. "That might mean the party finds popular things to put his name on or distributes resources to Michigan in a way that he can claim credit for," he says.
One reason Peters has been less visible, Hemond says, is that he's been in the minority for his entire tenure. Still, he did have "plenty to brag about" despite those disadvantages, but he ran up against a 2020 election that came down not to policy victories but to "how you felt about the president," Hemond explains. "Gary is just not a tug-at-the-heartstrings kind of guy."
---
Will Mayor Mike Duggan be reelected?
Yes.
The one significant election this year around these parts is for Detroit mayor, but nobody expects the gruff, gravel-voiced Duggan to face any serious opposition. Duggan, 62, is gunning to be only the second mayor besides Coleman Young to win more than two terms since 1953, when the terms were expanded from two to four years.
"Mayor Duggan can be mayor as long as he wants to be mayor," DiSano says. Hemond, another Democratic consultant, agrees, noting that Duggan won his first race in 2013 as a write-in candidate. "He's an experienced campaigner and an outstanding fundraiser," Hemond says. "He'll have all the money that he needs to touch every voter that he wants to touch. That's not a guarantee of victory, but if somebody wants to run against [him], they better get in fast."
Gaddis says she's heard just one name floated seriously: Former Deputy Mayor Anthony Adams, a lawyer in private practice. Adams led the opposition to Proposal N, a $250 million bond proposal to pay for the demolition of abandoned houses. "If Anthony or some other challenger surfaces, they may not have much money, but if they organize people with a list of things supporters are disenchanted with, we could see one heck of a race."
Yet Proposal N — controversial because Duggan's demolition program has been one of the few sources of scandal during his tenure — passed overwhelmingly despite being "very unpopular in certain circles," Kaffer says. "That suggests Duggan still enjoys a lot of support in the city." Staes agrees that that margin surprised him. He thinks Duggan will win again because he has managed the COVID-19 crisis well while also "taking care of the little things. It sounds super silly, but in my neighborhood, people are so excited about those speed bumps. It's those very basic things."
Ivacko notes that Duggan did fail to deliver on a key promise, to grow the population of Detroit, but that "otherwise, the city is better off."
---
What will Justin Amash do next?
Think-tanking.
The 40-year-old four-term congressman from Grand Rapids was the only elected Republican in Washington to follow his renunciation of Trump to its logical conclusion by both abandoning the GOP and voting for the 45th president's impeachment. Then, reading the political tea leaves, he abandoned a likely fruitless independent campaign to retain his House seat (making way for Rep.-elect Peter Meijer, a Republican) and departed office both uncompromised and unbeaten.
For now, at least, the panel thinks he'll stay out of elective politics, if only because "he certainly can't run for office as a Republican anymore, at least not while Donald Trump has a Twitter account," Hemond says.
Instead, the guessing game centers on what sort of intellectual endeavor the hard-core small-government and constitutional purist pursues. Ivacko suggested Amash should go to work for the Reason Foundation, Hillsdale College, or the Mackinac Center — all havens for libertarian thinkers. Darnoi says if Amash wants to stay in D.C., perhaps a berth at the similar-leaning Cato Institute or the American Enterprise Institute would appeal. Staes hopes Amash stays visible by popping up on the irreverent, polarizing libertarian comic Joe Rogan's influential podcast while developing a national following akin to that of failed Democratic presidential candidate Andrew Yang.
Either way, Amash has retained his credibility and is young enough to bide his time while Trumpism runs its course, Hemond says. "Whether you approve of what he did — I generally do and find it hilarious — he went out with double birds in the air."
---
Will Line 5 actually be shut down?
Probably not.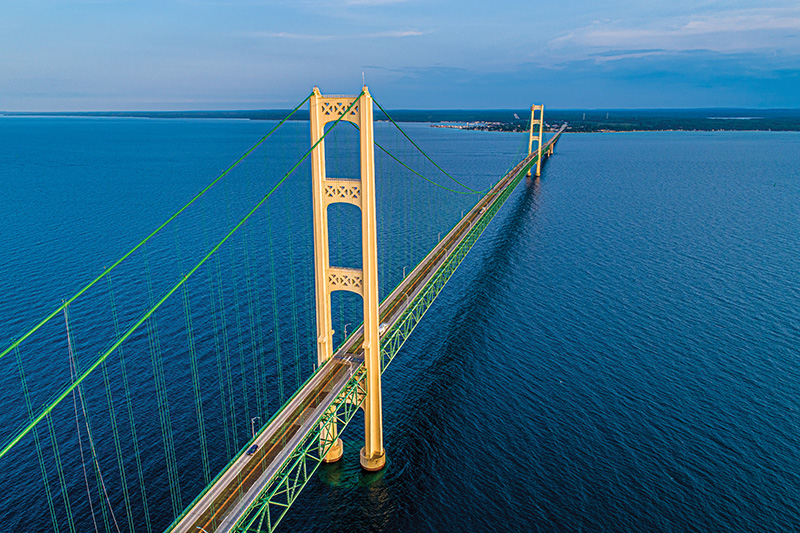 Whitmer closed out 2020 with her most direct effort yet to halt the flow of oil and liquefied natural gas through the pair of 67-year-old pipes owned and operated by Canadian energy giant Enbridge that run under the Straits of Mackinac. The governor told Enbridge she would terminate the company's rights to use the underwater easement and has demanded Line 5 shut down by May 2021.
Nobody, though, believes that's the end of the story. "Enbridge has really deep pockets, they really want keep it open, and they're very good at slow-walking things," says Kaffer, the Free Press columnist. "I wouldn't underestimate Enbridge's ability to fund the fight or their commitment to it."
Staes is a lone anti-Enbridge optimist in the group, if only because he thinks Enbridge is starting to sweat. "They're really a little bit worried about their position," he says, noting the company is blanketing the digital space with advertisements promoting how Line 5 is safe, keeps energy costs down, and provides jobs. "There's enough political opposition there. Will it still take a while to actually wind down? Absolutely. But the clock is ticking on Line 5. Everyone understands that if something does go wrong, it's a real bad thing."
---
2020 Hindsight
We asked most of the same panel to weigh in last January on a range of questions about 2020. Spoiler alert: Nobody predicted a global pandemic, mass racial unrest, or all three female constitutional officers getting sucked into separate public feuds with the president of the United States. So, obviously, what good is this bunch?
Well, let's look back and see anyway. The only thing more fun than speculating wildly is seeing how right — or wrong — we are. Here's how our 2020 prognosticators fared:
Will Democrats take back the state House?
The panelists said maybe, with Adrian Hemond laying out the path while still remaining skeptical. In the end, the House remained precisely in the same 58-52 spread in favor of Republicans.
Who does Dana Nessel own in 2020?
The pugilistic attorney general did not disappoint. Our gang said "everyone," and they were right. Most notably, she stared down Trump in a Twitter feud in which the president called her a "wacky do-nothing attorney general" because she said he was a "petulant child" and "a ridiculous person" when he refused to mask up on a visit in May to a Ford plant in Ypsilanti. She slapped back that he had a problem "with all 3 women who run MI as well as your ability to tell the truth." To which Trump said, uh, nothing. Still, Nessel also showed her pithy, humorous side with the Halloween-themed video she made in which she opens as a scary ghost, doffs the mask, and says, "It's me! Dana Nessel! Michigan attorney general! You know what's scarier than Halloween? People not voting!"
Does Shri Thanedar become a House member?
Our pundits said yes, and they were right. The 2018 Michigan Democratic gubernatorial also-ran won his race in a Detroit-area district handily and without ever having to respond to the kinds of tough questions about his role in live-animal research testing that helped sink his prior foray into elective politics.
Do the damn roads get fixed?
Last year at this time, nobody could have imagined just how low a priority this classic Whitmer campaign promise would feel. But the group did correctly say no — and they're no more optimistic about it happening this year, either. "No one's going to give her that political win heading into the elections of 2022," Dennis Darnoi says. Plus, David Dulio notes, COVID-19 has decimated the state budget. "The Republicans weren't terribly interested in finding new revenue last time around. Are they going to come around on that? I would not be too optimistic about anything major happening in the next couple of years."
Does Betsy DeVos serve Trump's entire first term?
As predicted, she did. In fact, in a White House of historic personnel turnover, the Amway heiress and school-choice activist from Holland, Michigan, was one of just six original Cabinet secretaries to stick around with Trump through the 2020 election. That's remarkable considering she had one of the more humiliating confirmation hearings and was so controversial she couldn't visit public schools without a big hullabaloo. The GOP base loved her, though, for her efforts to boost private and parochial schools and her moves to make it more difficult to expel men accused of sexual misconduct on college campuses.
Who's the worst Democrat to put up against Trump?
Our pundits named Elizabeth Warren, but this is one for which there is no answer without parallel universes. Given that centrist Joe Biden squeaked to a narrow victory and still managed to make some moderate voters nervous by tapping Kamala Harris as his VP while the Democrats lost a bunch of House seats, it does appear that the safe choice was the right one.
Who gets the credit for auto insurance rate reform?
After all the sturm und drang over this issue and the herculean bipartisan accomplishment of getting this law passed in 2019, it all went into effect silently while most of us were hunkered down trying to avoid COVID-19. The panel said the credit would go to whoever supported it, but ultimately, this matter was irrelevant as a 2020 campaign issue. Perhaps if the pandemic is defeated and politics return to a more usual rhythm, we'll hear about it more in the 2022 gubernatorial race.