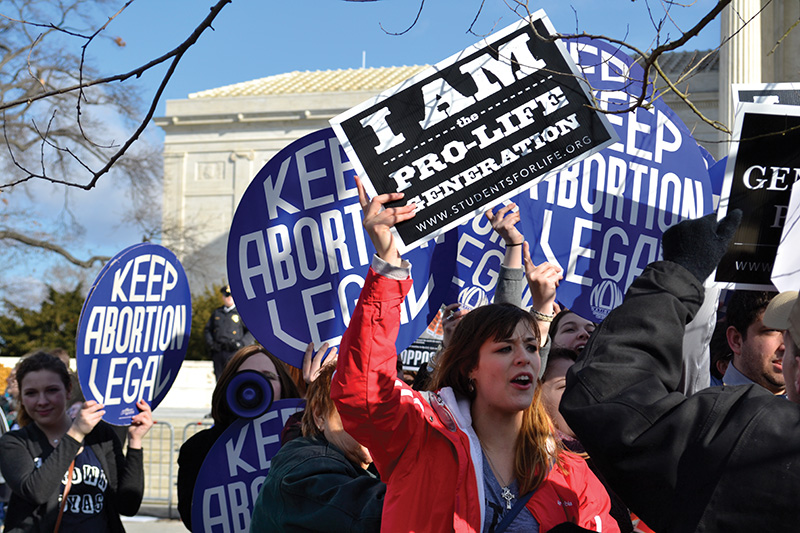 Michigan is home to one of the strictest abortion bans in the country — a ban that was originally penned in 1846 and remains on the books to this day. The only barrier to its enforcement is the 1973 U.S. Supreme Court decision Roe v. Wade, which declared such bans unconstitutional. 
That could change in the next two months as the Supreme Court rules on Dobbs v. Jackson Women's Health Organization. The case calls into question the constitutionality of a 2018 Mississippi state law that banned abortion after 15 weeks of pregnancy. A ruling in favor of Mississippi could overturn Roe v. Wade and launch Michigan's abortion ban back into effect.
According to Michigan Department of Health and Human Services records, some 26,000 abortions were performed in the state each year from 2010 to 2020. If the ancient law goes back into effect, only those abortions imperative for the mother's survival would be permitted. Violators would face a possible 15-year sentence for felony manslaughter.
Will that happen? Many experts say yes. "From everything I've read and observed about this court, I think this is the opportunity that many conservatives have been waiting decades for," says Jeff Timmer, former executive director of the Michigan Republican Party and senior adviser for anti-Trump PAC The Lincoln Project.
Even if the court's prospective endorsement of the 15-week ban doesn't amount to a full reversal of Roe, Timmer says, a "serious chipping away" at the precedent — which would embolden other states to shrink the timespan during which abortion is legal — is equally likely. 
"In either case, I expect it to unleash abortion as a galvanizing issue in this year's elections," Timmer says. In Michigan, that will only be compounded by a proposed amendment to the state's constitution, intended to safeguard abortion access, that likely will appear on the ballot in November. "Whatever the Supreme Court does is going to be like throwing gas on a fire."
Genevieve Marnon, legislative director for Right to Life of Michigan, agrees. A Roe reversal would be the prize her group has sought for nearly 50 years, but it would simply shift, not end, the fight. "At that point, it comes down to a state law, and state laws can be changed," Marnon says. "We'll be playing defense."
Marnon's goal this year is to keep anti-abortion majorities in both chambers of the Michigan Legislature and oust Democratic Gov. Gretchen Whitmer, a staunch abortion rights advocate, "to create a firewall against pro-abortion legislators simply passing a law that makes abortion legal."
Timmer says Marnon is mistaken if she thinks criminalizing abortion is a winning message. GOP opposition to abortion proved a useful tool in motivating the party's evangelical base while there were no real-world consequences, but the general Michigan population — including most suburban Republican-leaning women — supports legal abortion.
Michigan's abortion ban would reopen the doors for the criminal prosecution of patients and doctors involved in terminating a pregnancy — an outcome opposed by more than 70 percent of Michigan voters, according to a survey by Public Policy Polling. "There's no public appetite for that. None," Timmer says. "If that happens, Republicans will face slaughter at the ballot boxes."
That's exactly what abortion advocates are counting on. Acknowledging the likelihood of a conservative Supreme Court ruling, the area's abortion rights organizations are going on offense. The ACLU of Michigan, Planned Parenthood Advocates of Michigan, and Michigan Voices banded together to form the Reproductive Freedom for All coalition, with the sole objective of passing the aforementioned constitutional amendment.
According to ACLU policy strategist Merissa Kovach, the initiative would not only nullify Michigan's existing but dormant abortion statute but also protect against future restrictions. "It's the most decisive way to close the issue, once and for all," she says. "It would establish abortion as a constitutional, fundamental right for every single person in Michigan."
While the coalition works to collect the more than 425,000 signatures required to secure a spot on the ballot, Planned Parenthood of Michigan also is bracing for the worst. Chief Medical Officer Dr. Sarah Wallett says the organization is exploring ways it could help Michiganders seeking out-of-state abortions — likely in Illinois or New York, where abortion is protected by law — if they became illegal on the home front.
Wallett says travel can be complicated and burdensome. "It takes a lot of privilege to travel," she says. "In addition to money, people need a job that allows them time off; they need childcare, in some cases." Such difficulties are even more common among populations already struggling with access health care.
"People with low incomes, people of color, people in rural communities, LGBTQ individuals, minors — these are the people who will be most affected by additional barriers to abortion."
---
This story is from the May 2022 issue of Hour Detroit. Read more stories in our digital edition.