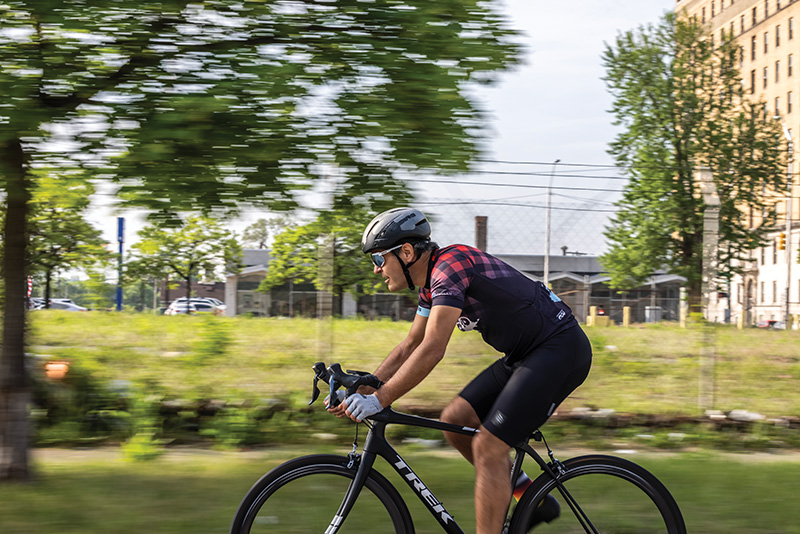 Itching for a summer bike tour, but not quite ready for next month's 120-mile-a-day Tour Da Yoop adventure? You're in luck. Southeast Michigan is blessed with an abundance of trails that can challenge riders — and still be tackled in a single day.
River Raisin Heritage Trail (7.5 miles)
A short route that connects two parks in Monroe, linking up with the downtown Riverwalk and passing beside the Raisin River National Battlefield along the way.
Kiwanis Trail (8 miles)
Another shorter trail, running between Tecumseh and Adrian, that is concentrated in woods and fields rather than a city center, though bikers who are in the zone can easily extend the ride through Adrian, a picturesque college town in miniature. 
Border-to-Border Trail (20 miles)
This year the unfinished B2B trail comes 4 miles closer to its goal of 35 uninterrupted miles connecting Ypsilanti, Ann Arbor, and Dexter along the Huron River. Additional goals include eventually growing the trail into a 70-mile artery of the statewide Iron Belle Trail, which is intended to connect Detroit to the U.P. by bike path. For now, riders can start on the southeast side of Ford Lake and make their way to Bird Hills Nature Area to the northwest of Ann Arbor.
Lake Erie Metropark to Lower Huron Metropark (20 miles)
This path is technically a series of loosely linked separate trails, but they easily blend into a seamless ride. The trail originates in marshy shores of Lake Erie Metropark, and crosses an urban environment (with a defined bike trail), before bisecting two scenic Metropark landscapes. 
North Coast Inland Trail (28 miles)
At more than an hour outside Detroit, this north-central Ohio trail is a bit of a drive, but worth it to cyclists looking for a smooth, spacious journey dotted with historical landmarks. Highlights include a swing by the Rutherford B. Hayes Presidential Home and Library in Fremont and a journey through the heart of Clyde, which served as model for hometown writer Sherwood Anderson's book Winesburg, Ohio.
Bridge to Bay Trail (37.5 miles)
This distance marks the finished portion of a planned 54-mile route from Blue Water Bridge at the bottom of Lake Huron to Anchor Bay and the top of Lake St. Clair. Going north to south, riders can take a mostly intact trail as far as Marine City, hugging the St. Clair River the entire way. 
Check out traillink.com for more information about these and other bike trails around Michigan.
---
This story is featured in the July 2021 issue of Hour Detroit magazine. Read more stories in our digital edition. 
Facebook Comments