I like to hike. Apparently, so do a lot of other people. In the past two years, we have discovered that a walk in the woods is the best path to safety and solace during this pandemic we're in.
Despite being closed for two months in 2020, Sleeping Bear Dunes National Lakeshore still set an attendance record for the year with more than 1,718,000 visitors. Last year, the park broke that record again when 1,723,000 people showed up.
"People are taking advantage of trails during the pandemic to get out of the house and enjoy nature," says Kerry Kelly of Friends of Sleeping Bear Dunes, whose volunteers serve as trail ambassadors. "I think the more people experience trails, the more they will build that into their lifestyle, and trail use will continue to be high."
But where to go if you need to get out?  
You have quite a choice. Michigan is home to more than 13,000 miles of state-designated trails, including 4,020 miles of footpaths. More mileage lies in our three national forests, five national parks, and countless county parks and nature preserves.
Here are my choices for the top trails in Michigan, no matter what kind of footpath you're looking for. You might say I've been down that trail.
---
Best

Day

Hikes
Three longer trails lead you to some of Michigan's most unusual scenery and history.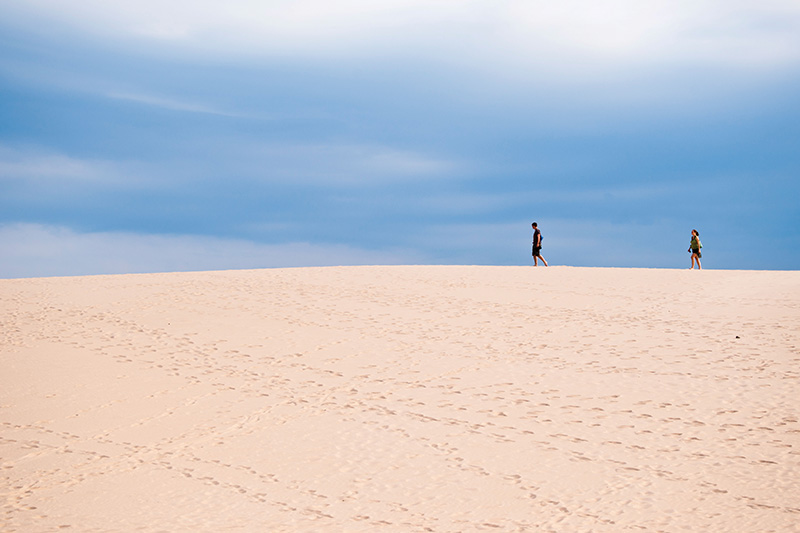 Porcupine Mountains Wilderness State Park, Ontonagon and Gogebic counties, Upper Peninsula 
This is the crowning jewel of trails not only in Porcupine Mountains Wilderness State Park — our state's largest and the only one with mountains in its name — but across all of Michigan. The Escarpment combines a high rocky bluff and alpine-like vistas of the rugged Porkies and the park's centerpiece: Lake of the Clouds. Scattered along the way are remnants of the area's copper mining history.
The only drawback is that the 4.4-mile Escarpment is a point-to-point trail (it starts and ends in different locations). There is a spur to return to M-107 after 2 miles, but it would be a shame to hike one of the most awe-inspiring trails in the Midwest and not finish it.
Learn how to get there: michigantrailmaps.com
George Mason River Retreat, near Roscommon
Auto magnate George Mason loved fly-fishing in the Au Sable River's South Branch so much that he purchased 1,500 acres surrounding the trout stream and bequeathed it to the state upon his death. Paralleling the west bank of the South Branch in the Mason Tract is this 8.7-mile trail.
With trailheads on M-72 and Chase Bridge Road northeast of Roscommon, the pathway moves in and out of view of the river and passes numerous historical sites. The most famous is the remains of Durant Castle, a 54-room mansion with ties to the automaker who founded General Motors Co. Tackle the trail in early evening and you can watch trout feeding on hatching insects or, even better, an angler delicately casting to rising rainbows. 
Learn how to get there: michigantrailmaps.com
Silver Lake State Park, Mears, south of Ludington
This state park is best known for sand buggies and the famous Mac Wood's Dune Rides. But the majority of the park's dunes comprise a large pedestrian area, where hikers follow ridges of open sand for more than a mile out to Lake Michigan. There's not another hike like this in Michigan because no other stretch of dunes is so barren.
For many, the hike continues south along a wide and beautiful Lake Michigan beach for 2.4 miles to historic Little Sable Point Lighthouse. After an extended break, take the adventurous loop back through the open dunes to the pedestrian trailhead for a 7-mile day.
Learn how to get there: michigantrailmaps.com
---
Best Overnight Hikes
Trails where you can pitch a tent and spend an evening counting stars.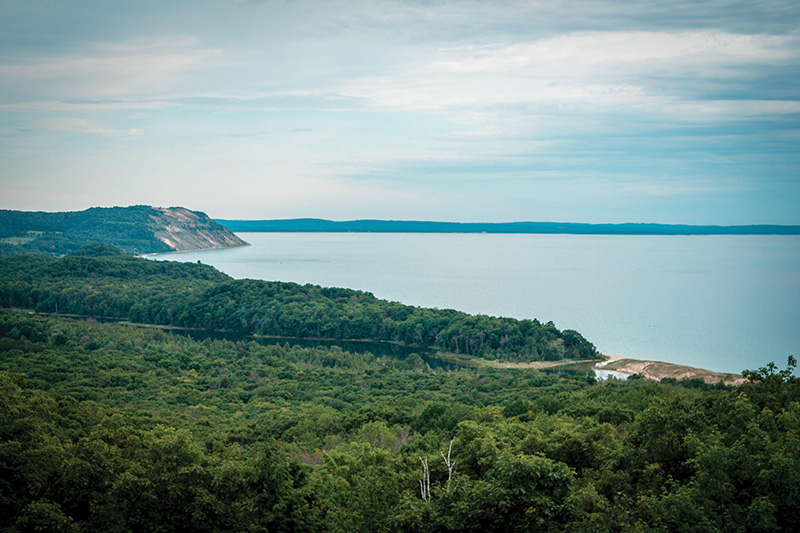 Pictured Rocks National Lakeshore, Alger County, Upper Peninsula
In one of Michigan's most spectacular places, Pictured Rocks National Lakeshore, you can hike 42.4 miles between two towns: Grand Marais and Munising. This classic trail includes a lighthouse, shoreline shipwrecks, and colorful sandstone cliffs with waterfalls leaping into Lake Superior. Most backpackers spend four to five days trekking, with nights spent at backcountry campsites they reserve in advance. 
But Alger County Transit Authority — ALTRAN — will drop you off at various places along the trail to shorten the outing. Just don't miss hiking around Grand Portal Point. Simply spectacular.  
Learn how to get there: michigantrailmaps.com
Sleeping Bear Dunes National Lakeshore
You begin this adventure in Leland by boarding a ferry and crossing Manitou Passage to a 14,753-acre island in Sleeping Bear Dunes National Lakeshore. North Manitou is laced with 30 miles of trails, many of them old two-tracks that wind past historic buildings, logging camps, and other remnants of its intriguing past.
Arrive prepared; no services, lodging, or supplies are available on this wilderness island. Backpackers often spend three or more days camping on bluffs and beaches, where their evening entertainment is a fiery sunset dissolving into Lake Michigan followed by a shower of meteorites.
Learn how to get there: michigantrailmaps.com
Manistee National Forest, Mesick, between Frankfort and Cadillac
Just south of Mesick, the Manistee River flows uninhibited and free for 13 miles before encountering a road. Unmolested by bridges, cottages, or dams, this wild stretch of Michigan's third-longest river appeals to hikers as much as paddlers. On the east side of the river lies this 11-mile trail that rarely strays away from a view of the water while passing more than 20 walk-up campsites. 
Backpackers then use Coates Highway to cross the river to a portion of the North Country National Scenic Trail. Together, the two trails form the most popular weekend backpacking trek in the Lower Peninsula, a 23-mile loop in Manistee National Forest.
Learn how to get there: michigantrailmaps.com
---
Best Family Hikes
These are easy and short interpretive trails with informational signs so your children can hike and learn.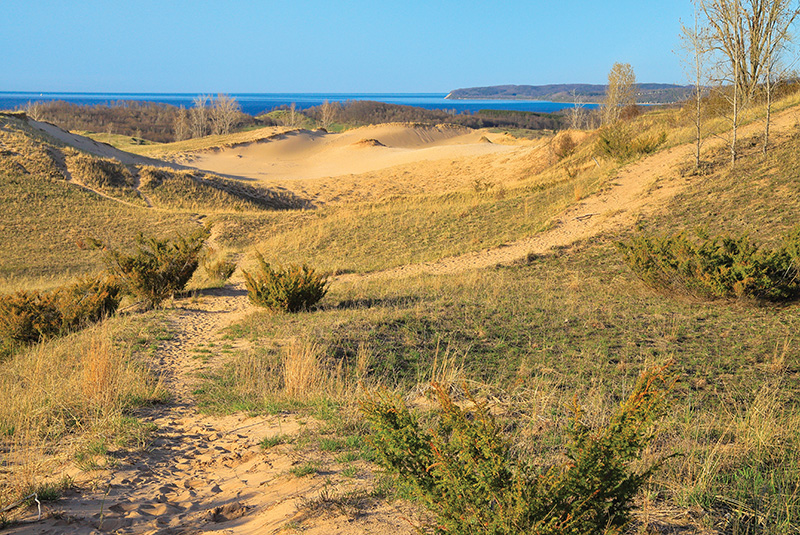 Fitzgerald County Park, Grand Ledge 
This 1/3-mile hike near Grand Ledge (just west of Lansing) was made for kids, combining an easy walk beneath ancient sedimentary outcroppings with a chance of seeing rock climbers in action. The trail begins in Fitzgerald County Park and skirts the Grand River along the base of the cliffs. Within a half-mile, you reach a good vantage point to watch those daredevil climbers across the river.
These ledges are the only place in the Lower Peninsula — other than climbing walls — where somebody can lace up a pair of rock shoes, dip their fingers into a chalk bag, and hit the cliffs. If climbers are out, wrap up this adventure by driving to the city of Grand Ledge's Oak Park on the north side of the river to watch them up close tackling routes with names like Rocket Man and Second Thoughts.
Learn how to get there: michigantrailmaps.com
Hartwick Pines State Park, just north of Grayling 
Michigan's rich logging history is best seen along this 1.25-mile loop. Begin at the park's visitor center, filled with kid-friendly, hands-on exhibits about Michigan's amazing forests, and then head out the back door and start hiking.
The trail is best known for the 300-year-old white pines and hemlocks that tower above you. But tucked into the old-growth forest are a reconstructed logging camp, turn-of-the-century "big wheels" that lumberjacks used to transport the trees, and interpretive signs everywhere.
Learn how to get there: michigantrailmaps.com
Sleeping Bear Dunes National Lakeshore, Leelanau and Benzie counties
Taking Pierce Stocking Scenic Drive at Sleeping Bear Dunes with a hike along this 1.7-mile trail is the best way to see and learn about Michigan's trademark sand dunes. There are interpretative brochures for the 7.4-mile road — with its amazing overlooks perched above Lake Michigan and the Cottonwood Trail (stop No. 4 on Scenic Drive) — that winds through the dramatic beauty of those shifting hills of open sand. 
The trail is short, but remember that trudging through soft sand can be tiring for little legs. Best to plan lunch at adjacent Picnic Mountain for after the hike.
Learn how to get there: michigantrailmaps.com
---
Top

 

Trails

 

in

 

Southeast

 

Michigan
Get details on the can't-miss trails close to home. 
Crosswinds Marsh County Park, New Boston
Boardwalks and wetlands, Wayne County's most interesting hike. 
Learn how to get there: michigantrailmaps.com
Pinckney Recreation Area, Pinckney
A 1,000-foot ridge that overlooks lakes and marshes is the highlight of this 5.1-mile loop.
Learn how to get there: michigantrailmaps.com
Bald Mountain Recreation Area Lake Orion
There's no Bald Mountain, but there is this 3.6-mile loop past a half-dozen lakes.
Learn how to get there: michigantrailmaps.com
Highland Recreation Area, White Lake
A 4.8-mile hike through the sanctuary where Edsel Ford escaped the pressures of being Henry Ford's only son. 
Learn how to get there: michigantrailmaps.com
Island Lake Recreation Area, Brighton
A 5-mile loop that includes three lakes and the Huron River. 
Learn how to get there: michigantrailmaps.com
North Bay Park, Ypsilanti
Walk the water — because half of this 1.5-mile trail is composed of boardwalks
and bridges on Ford Lake. 
Learn how to get there: michigantrailmaps.com
Rochester
An 8.9-mile rail trail where you can listen to the gurgle of a trout stream or stop at a trailside cider mill.
Learn how to get there: michigantrailmaps.com
Independence Oaks County Park, Clarkston
You'll be amazed how rugged Oakland County can be on this 3.2-mile hike.
Learn how to get there: michigantrailmaps.com
Holly Recreation Area, Holly
This 5.2-mile loop is not wilderness, but it is an escape from the urban sprawl spreading toward Flint.
Learn how to get there: michigantrailmaps.com
Waterloo and Pinckney Recreation areas
Our only backpacking trail, a 33.9-mile hike between Chelsea and Pinckney.
Learn how to get there: dnr.state.mi.us
---
Michigan's

 

Toughest Hike
Need we say more? This is for the adventurous.
Isle Royale National Park, Lake Superior
This 29-mile trail is so remote that most backpackers need two days just to reach it in the middle of Isle Royale National Park. Carrying six days of food and fuel is a heavy price to pay to hike along a rocky ridge where the only indication you're headed in the right direction is an occasional rock cairn.
For enduring sore shoulders and an occasional blister, your reward is frequent sightings of wildlife — especially moose — great views of Lake Superior and Canada, and fewer encounters with other hikers. In other words, true wilderness.
Learn how to get there: michigantrailmaps.com
---
Jim DuFresne is the author of 20 books, including Isle Royale National Park: Foot Trails & Water Routes, 50 Hikes in Michigan, Backpacking in Michigan, and The Trails of M-22.
---
This story is from the July 2022 issue of Hour Detroit. It has been updated for the fall of 2022.