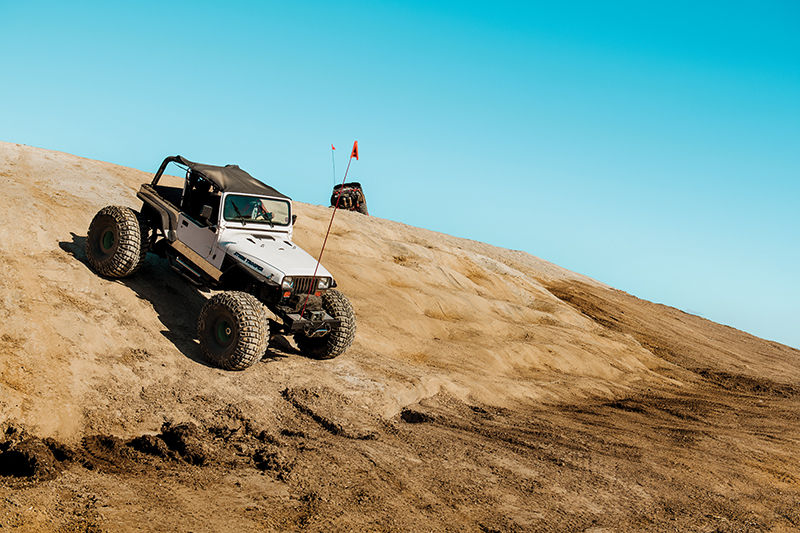 The rear wheels of Tom Sabourin's 1986 Ford Bronco spin in the mud, creating russet splatters across its white paint, as it struggles to haul a 350 Chevy from a trench. After pausing to reposition the vehicle on a drier, sturdier patch of earth, Sabourin finally gets the traction he needs to dislodge the vehicle's oversized tires from between the dirt walls.
After dragging the Chevy over the embankment and shaking hands with its owner, James Wilson of White Lake, Sabourin loads the nearly severed tow strap into his now-filthy Bronco and smiles. An off-roader since the age of 16, the now 51-year-old Flushing resident is squarely in his element.
Like many mud-loving metro Detroiters, Sabourin, who lives in Flushing, had been taking frequent trips out of town, to get his fix. Despite being home to the highest percentage of licensed off-road vehicles (ORVs) in the state, Oakland County had, until recently, no place for riders to legally enjoy them. The rest of southeastern Michigan is similarly barren, rendering The Mounds ORV Park in Genesee County and Bundy Hill Off Road Recreation in Hillsdale County the nearest options. Others, who want more than just a day of play, opt to trek farther north for weekends at a time.
Luckily, the state Department of Natural Resources had been itching to create local off-roading accommodations nearly as badly as riders had been itching to cruise them. To achieve this long-term goal, the agency recruited the Oakland County Parks and Recreation Department, which would help operate the park. Then, in 2017, the DNR purchased 235 acres of sand and gravel mines off I-75, in Holly. It would take three more years of planning before Holly Oaks ORV Park would finally open to the public on Sept. 17, and with mining still underway on a portion of the property, the full 235 acres won't be accessible until 2023.
But local riders seem more than content to make do with the park's current 113 acres. ORVs of all types — full-size, side-by-sides, ATVs, and dirt bikes — rolled through the newly opened gates that afternoon, carrying die-hard off-roaders anxious to test out the trails.
Sabourin and longtime four-wheeling buddy Wayne Hudik of Clarkston were among the first in the park. Over 40 years, the mudding fanatics have thoroughly explored Michigan's off-road offerings, as well as many outside the state. But Florida's 500-acre bogs, they say, don't compare to their own hometown terrain. Michigan's trails reign supreme because of their diversity — a quality that, with its dirt trails, water crossings, and sand and gravel pits, Holly Oaks delivers in spades.
After only an hour on the trails, they were hooked. "Love it," Sabourin says of the new facility. "I'm usually playing in the mud or in the sand, so this is something different for me, and I enjoy that."
But most important: The park is situated roughly 10 miles from their homes. When Sabourin lived out of state, the pair managed to hit the sand dunes only a couple times a year, but the convenience of Holly Oaks means they'll be able to more than make up for lost time. "This gives us an opportunity to go a couple times a month easily," Hudik says. "After playing around in so many different places, it's just nice to have someplace so close to home."
Hartland's Abby Siwarski, who has been practicing motorsports since before she can remember, couldn't agree more. An avid rider, she'd take her Yamaha YZ125 motocross bike out on the trails every weekend, braving a nearly hourlong drive to The Mounds. So, when the much closer Holly Oaks finally launched, she knew she had to be there on opening day "to rip up the new track."
After shredding to her satisfaction, Siwarski knew she'd found her new stomping grounds. Naturally, she's partial to the park's single-track dirt bike trails, but with ample hills for ATVs and rocky crawls for jeeps, she says, there's something for everyone. In her experience, other local trails don't compare.
"Holly Oaks is a lot better. And it's cheaper." But when it comes to her favorite aspect of the park, Siwarski stands in solidarity with the rest of southeastern Michigan's off-roading population. "It's right down the street," she says. And with no long trek impinging on her ride time, she plans to hit the trails almost every day.
---
Know Before You Go
Heading to Holly Oaks ORV Park? Make sure to get your trucks in a row.
>> The park is located at 14551 Shields Road, Holly.
>> Tickets for each day go on sale at 9 p.m. the night prior, on the Oakland County Parks website. They cost $15 per vehicle — not per person. Any leftover tickets will also be available upon entry, although currently, Holly Oaks is capping sales at 500 per day. Our advice? Don't chance it.
>> All vehicles require ORV and ORV Trail stickers, which will run you $26 and $10 respectively, before they'll be allowed to hit the dirt. You can purchase the stickers on-site or visit michigan.gov to find nearby vendors.
>> Check your muffler — vehicles lacking one or emitting noise above 94 decibels will not be permitted.
>> Thinking about bringing the kids? Children 12 and over are allowed to operate ATVs and dirt bikes at Holly Oaks but require adult supervision at all times. And don't forget their state-issued ORV safety certificates.
>> Holly Oaks plans to extend its hours of operation to include weekdays, come spring, but for now, the park is only open on Saturdays and Sundays. Hours are not static, so check before you go at oakgov.com.
>> For the time being, masks are required when using the restrooms or entering Mt. Holly to purchase tickets on-site.
Facebook Comments