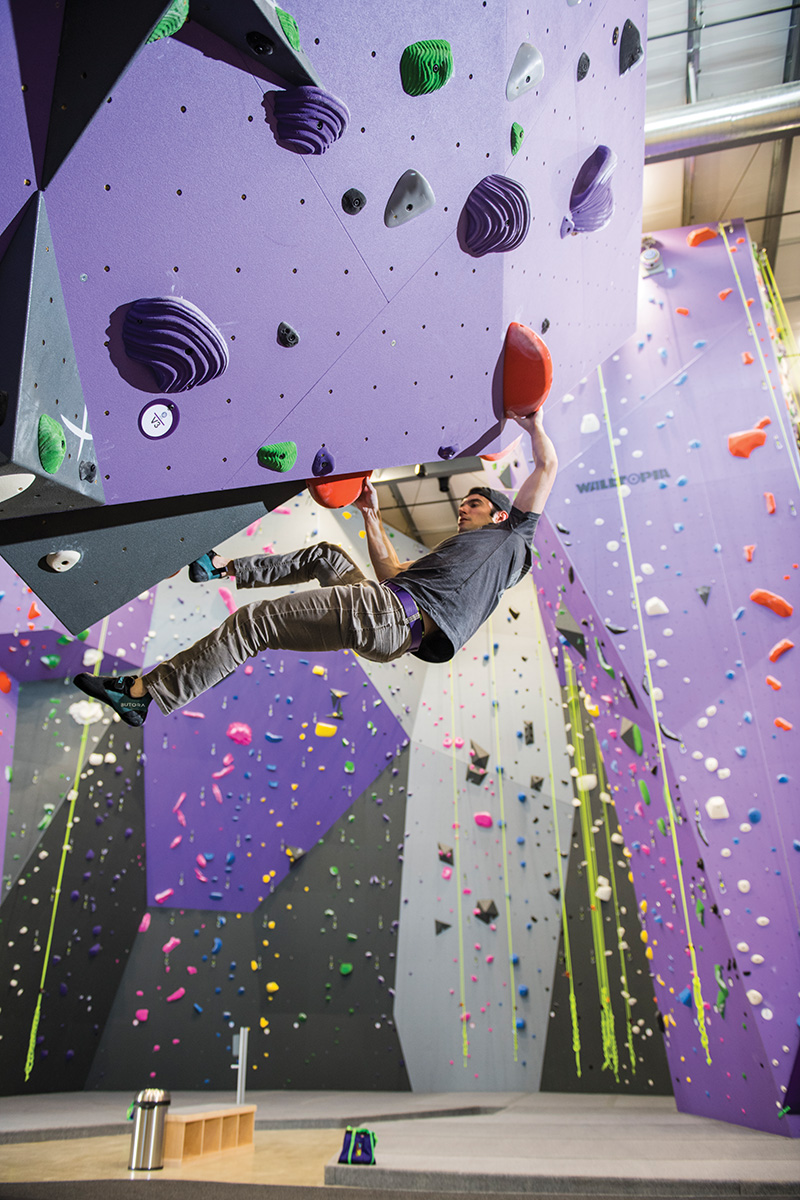 Mid-March found Dino Ruggeri marveling at how his five-year vision to bring an indoor climbing gym to Detroit was on the cusp of becoming a reality. What was once an empty 5-acre parcel at the corner of Mack Avenue and Orleans Street near the Dequindre Cut is now home to Dyno Detroit, an 18,000-square-foot climbing gym, fitness center, and yoga studio. Both Wayne State and the YMCA on Broadway Street offer climbing walls, but Dyno Detroit is the city's only gym dedicated to the sport. 
"We're super pumped to provide greater access and opportunity for people of all backgrounds to experience the thrill of climbing and the fitness lifestyle and sense of community that comes with it," says Ruggeri, the gym's founder and owner. "I see climbing as an incredible level playing field with something for all skill levels, body types, and fitness levels."
Dyno Detroit opened in early April with limited access and a plan to open to the general public at a later date. Online reservations will be required as long as state COVID-19 restrictions remain in effect. 
About 12,000 square feet of the space is dedicated to rope climbing, featuring 75 routes on walls ranging from 30 and 47 feet high. There's also 4,700 square feet of bouldering space for those who want to go rope-less. "I always recommend rope climbing for beginners because they can start on less-challenging routes with a trained person assisting them," Ruggeri says. 
Dyno Detroit instructors are trained by American Mountain Guide Association member Kevin Shon, who has guided for the famed American Alpine Institute and taught at Eastern Mountain Sports Climbing School in New Hampshire.
The gym's climbing structures were designed by Jason Kehl, the 2006 winner of the Everest Award for climbing. He gained fame through his first ascents (or first bouldering ascents) of climbing routes in places like British Columbia and Japan.  "Jason is a giant in the industry and put a lot of thought into every angle and panel," Ruggeri says. 
A lifelong athlete, Ruggeri grew up snowboarding and lettered in hockey at Grosse Pointe North High School. He fell in love with climbing when he was a senior at the University of Michigan after friends invited him to go climbing at Planet Rock. 
After graduating with an environmental studies degree in 2011, Ruggeri served as a children's ski instructor in Telluride, Colorado. He moved back to Michigan in 2016 to be closer to family. Two years later he began working to create a climbing gym. 
"One day, a friend asked if there was any indoor climbing in the city of Detroit and I'm like, 'There is none.' It began as simply as that," he says. "I immediately wanted to make that happen."
But the process of making it happen wasn't immediate. Ruggeri first found space in an old church in the Jefferson-Chalmers area, but he wasn't able to negotiate a deal. Then he inquired about an old freezer building in the Eastern Market area, but it ended up being leased out to, logically, the Michigan Farm to Freezer produce company. That same landowner also owned a vacant lot next to that building and offered part of it to Ruggeri. Three years ago, Dyno Detroit broke ground.
"We just kept plugging away and are fortunate to have a great building contractor, great investors, and a forward-thinking landowner who stuck with us," Ruggeri says. "It's been more than worth it."
---
About Dyno Detroit 
Location: 3500 Orleans St., Detroit
Hours: 9 a.m.-10 p.m., Monday-Saturday, and 9 a.m.-6 p.m., Sunday.
Getting in: Online reservations are required. 
Pricing: Recurring monthly memberships are $79 for adults and $69 for students in addition to a $50 enrollment fee. Recurring family memberships are $79 for the first adult, $59 for the second, and $25 for each child under 18. 
Annual memberships are $869 for adults and $759 for students. Family annual memberships are $859 for the first adult, $649 for the second, and $275 for each child    $175 for anyone 15 and older and $120 for those under 15.  
Facilities: About 12,000 square feet of rope-climbing space and 4,700 square feet for bouldering (climbing without ropes); a 2,000-square-foot fitness center open to anyone 14 and older; and yoga studio. A 2,000-square-foot restaurant attached to the main building will open later this year.  
Info: dynodetroit.com or 313-444-0161
Facebook Comments