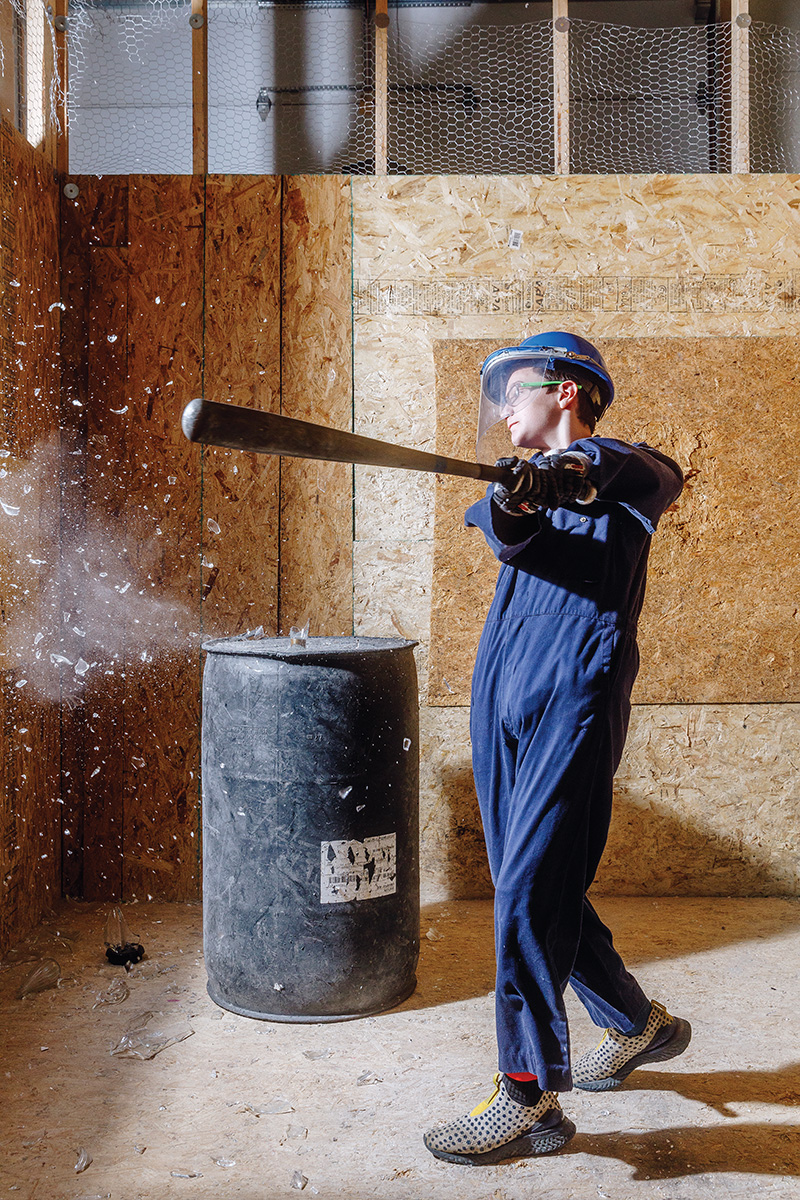 Just a few years ago, the phrase "rage rooms" would have meant little to most Detroiters. The businesses — which allow patrons to destroy objects in a controlled setting — first cropped up in Japan and quickly established themselves along the East and West coasts of the U.S. Rage rooms have been slower to take hold in the Midwest, however. Even now, there are just two in the metro area: Destruction Depot, in Whitmore Lake, and Escape Room Zone's Madison Heights location.
Still, the rage rooms that have put down roots in metro Detroit seem to be gaining steam — although Rachel Crawford, who co-owns Destruction Depot with her husband, says that wasn't the case when they initially launched in 2018. "It's taken some time for the industry to take off. When we first opened, we often had to explain in detail what we did." Coverage on social media and television, as well as word of mouth, have helped.
Escape Room Zone co-founder Kimberly Elliston had a similar experience when she started Michigan's first rage room earlier that same year. It didn't truly take off until this year, she says. But the experience gained popularity so rapidly that Elliston has bumped her facility's rage rooms from one to four.
It was while demolishing the former laser tag space that would become Escape Room Zone's seventh location that she got the idea. She and her team had shown up prepared for a day of hard, physical labor. They soon began to enjoy ripping out the fixtures and tearing down the walls. "We actually found ourselves having fun, while also getting our frustrations out," Elliston says.
A member of her team who had visited a rage room while traveling compared the two experiences. Unfamiliar with the concept, the others were intrigued. Elliston knew she had to share the rage room phenomenon with her community. 
And I knew I had to try it out for myself. 
Sitting in traffic on my way to Madison Heights this spring, I contemplated what I might experience. As one who carefully seals intense emotions beneath a controlled exterior, I didn't expect the exercise to do much of anything for me.
When I arrived, I filled out a waiver on my phone, where I was also given the option to choose a "team name." I stuck with the one that was auto-generated for me — The Smashing Barbies. After gearing up in a protective suit, goggles, and gloves, I was escorted to a rage room and briefed on some basic safety rules, given a baseball bat, a mallet, and a crowbar and left to my own devices.
Before beginning, I attended to the ambiance, plugging the aux cord that dangled from the ceiling into my phone. I chose an old-school playlist featuring the kind of stuff my high school friends and I would play far too loud while driving far too fast. Breaking Benjamin's "I Will Not Bow" soon blared from the room's speakers.
I felt hesitant as I began pulling vases, dishes, and figurines from a bin, as though I were preparing to demolish my grandmother's precious glassware. But then I launched the first piece at the wall and felt a sense of satisfaction as I watched it shatter. As I continued, I was reminded of another teenage pastime: My friends and I would head to the lot behind our local Kroger with a cache of empty beer bottles (not our own, of course) and chuck them against a brick wall to blow off steam.
That's when I realized what makes this whole smashing-stuff thing so appealing. It's the freedom to let go in a way you normally can't — at least not without the cops showing up. At a rage room, you're not just allowed, but encouraged to revel in that liberating moment when glass shards rain down around you.
By now, I'd forgotten all about my initial apprehension. And soon, when I reached into the bin for my next victim, I found I'd crushed and catapulted my way through my entire stock. And I was kind of bummed. Still, as I walked out of the room, I found myself feeling a little lighter than when I'd entered. As I removed my protective gear, a staff member asked what I thought of the experience. "You know," I said, "I think I actually needed that." 
Escape Room Zone, 31401 John R. Road, Ste. B, Madison Heights, $40+, escaperoom-zone.com, and Destruction Depot, 11048 Hi Tech Drive, Whitmore Lake, $20+, destructiondepot.com
Facebook Comments