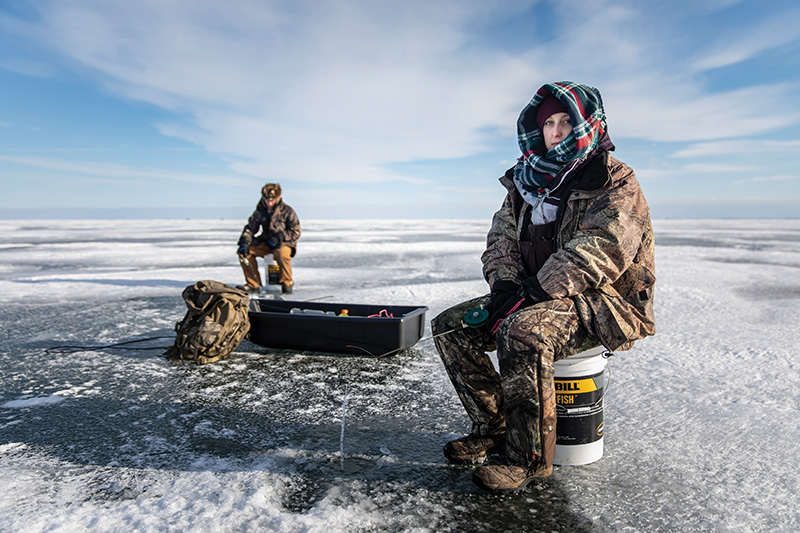 As they eagerly await the next nibbles at their lines, John Bacarella and his ice fishing buddies sometimes pause to take in the serenity and stillness of being out on a frozen lake. Whether in a cozy shanty or, on milder southeast Michigan winter days, out in the open, they marvel as the lake glistens in the glow of spectacular sunrises and sunsets. At times, only the birds and the breeze are audible.
Even more special for Bacarella, owner of Sportsmen's Direct in Harrison Township, are the occasions when at least some of his children join him for what he considers the ultimate family activity.
These are just some of the perks Bacarella raves about when discussing the sport he's been passionate about since childhood. But he also emphasizes the sometimes overlooked, up-close nature of ice, which sets ice fishing apart from casting a line from the shore or a boat. "For me and other guys I regularly fish with or have introduced the sport to, ice fishing is special because the fish you catch are directly below you," he says. "In a shanty, many times you can see them like you were fishing an aquarium."
Still, Bacarella knows ice fishing can be a tough sell to newcomers who question the appeal — and the wisdom — of spending hours out in winter's chill engaging in a potentially dangerous activity. He immediately stops people who talk like that, tackling those preconceived notions one at a time.
First off: You won't be cold, he assures newbies. Shanties, both wooden and collapsible, offer effective protection from the elements, as do layers of clothing and insulated boots and gloves. Plus, some common-sense steps and safety equipment will nearly eliminate any risks.
"I tell everybody who complains about being stuck inside during Michigan winters to try ice fishing," Bacarella says. "I guarantee you'll be missing it when winter is over. I've found that to be true among many people I've talked into giving the sport a try."
And Bacarella has persuaded his fair share of people, both in his private life and through his work. A longtime competitor on the North American Ice Fishing Circuit, he founded Sportsmen's Direct nearly 12 years ago with a group of business partners. It started as an online-only gear shop and grew to include a 10,500-square-foot retail store near the shore of Lake St. Clair.
Don Murray, a charter fishing boat captain and membership secretary for the Lake St. Clair Walleye Association, offers skeptics one more reason to give ice fishing a try: It's a lot easier than you might think. "Anybody can do it, really, because things like portable, collapsible shanties, electronic drills, and the devices that allow you to see fish under the ice more clearly have simplified ice fishing," he says.
The Michigan Department of Natural Resources' upcoming Free Fishing Weekend (Feb. 13 and 14) is a great time to give the sport a try. No license is required. (Details are available at michigan.gov/dnr.) In the meantime, here's a rundown of ice fishing basics.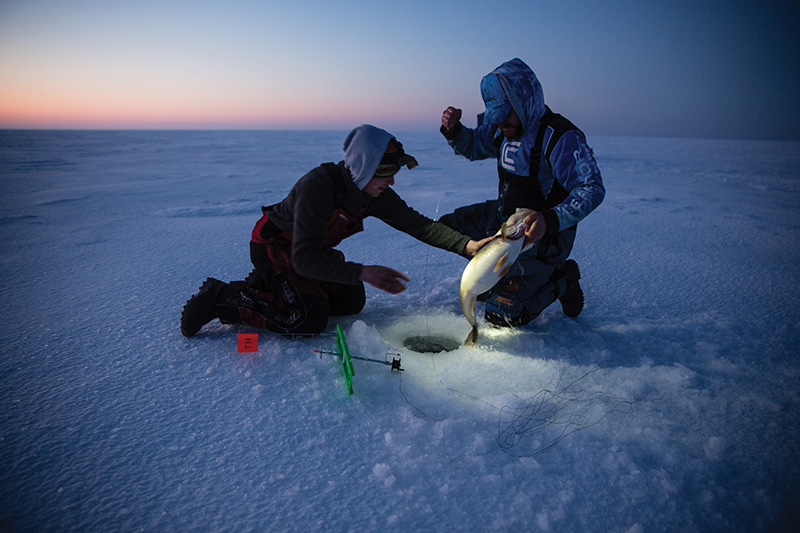 Getting Started
First things first: Unless it's Free Fishing Weekend, you're going to need a license. They're available online for $26 at mdnr-elicense.com.
With that out of the way, make sure you're prepared to dress for the cold. Bacarella's advice will sound familiar to anyone who's survived even a single Michigan winter: He urges ice fishing novices to wear warm layers that can be peeled off or added on as the temperature fluctuates. That's often the difference between an enjoyable outing and a miserable one. Avoid cotton and wear thermal clothing, including socks and underwear, that wicks away moisture. Insulated rubber boots and waterproof gloves that allow manual dexterity are ideal. Boots should be equipped with a traction aid such as safety spikes. Also, be sure to leave a dry set of clothes in your car just in case.
Next, you'll also need to buy or borrow some basic gear. There are shorter rods and lines specifically designed for ice fishing. Another option is to use tip-ups, which feature small reels submerged in the water. When fish bite, a flag pops up, signaling it's time to pull the line. Most anglers use live bait such as minnows, maggots, or worms. Bright-colored lures and jigs are the best artificial bait. Don't forget a bucket or folding chair to sit on. A skimmer is also needed to remove the icy slush that forms at the top of fishing holes. A float suit or life preserver provides extra protection in case of a fall through the ice.
Once you've geared up and are out on the ice, Bacarella suggests using a spud bar (ice chisel) to check ice thickness if you're fishing in the early and later parts of the season and an auger if it's midseason, when ice is likely thicker.
For a more successful outing, you might want to invest in specialized equipment. Electronic gear such as underwater cameras and flashers, like the Garmin Echomap Plus 73SV, which can locate schools of fish under the ice, makes finding fish much easier. "Watching fish on the screen like that is a good way to keep kids occupied if you bring them along for the experience," Bacarella notes.
Remember that an ice shanty provides ideal protection against the elements. Portable ones that fold up, like the Eskimo Quickfish 6, are available online and through many outdoors shops. Eventually, if you get hooked on the sport, you might want to deck out a wooden shanty with creature comforts such as a portable heater, grill, and comfortable benches.
Precautions
Murray and Bacarella both stress that a little common sense can go a long way toward preventing dangerous situations: Never fish alone; always have a charged cellphone handy; pack an extra pair of gloves and ice picks, along with at least 20 feet of rope, in case of a fall through the ice. Don't fish on ice less than 4 inches thick. Clear ice with a blue tint is strongest, while weaker ice appears milky or slushy. Avoid ice that is under snow. "Even if ice is around 4 inches thick everywhere that you've cut a hole, you still could step into an old hole and break a leg or ankle," Bacarella notes.
"On larger bodies of water like St. Clair, the ice you're on can break away from the main ice, but just pay attention to the wind," he adds. "If it's blowing toward shore, ice is not going anywhere. If it's blowing away from shore, that could be dangerous."
Getting trapped on an ice floe usually requires rescue by Coast Guard helicopter. Murray says he's heard about such incidents happening in Saginaw Bay and to a lesser extent on Lake St. Clair. One important thing to keep in mind: "They rescue people, not equipment," he says. "You will leave all that behind."
One last bit of advice that probably goes without saying: It's a good idea to pack a thermos filled with a hot beverage as well as some bottled water to keep yourself hydrated.
Or … Just Hire a Pro
If all of that is more than you're ready to take on, you might want to consider booking a guided outing, though local options are limited. 
MI Guide Service, run by veteran Michigan fisherman Jeremy Ullmann, offers ice fishing outings on Lake St. Clair. Shanties, heaters, gear, and bait are provided. Details can be found at miguideservice.com.
Otherwise, Murray and Bacarella suggest searching for guides who serve Saginaw Bay or Ohio's Lake Erie shore. "The Ohio shore, especially between Toledo and Cleveland, is less developed than Michigan's Lake Erie waterfront," Murray notes. 
Facebook Comments