Last March, Detroit-area restaurants went dark. Quite literally, any local eatery that couldn't quickly muster up takeout and delivery services, turned out the lights and closed its doors while the powers that be determined best practices for operating a hospitality business during a global health crisis. Such was the case for Detroit Shipping Co., the Cass Corridor food hall and beer garden erected out of shipping containers. On March 16, 2020, the company announced a full closure, suspending all six vendors from operating their restaurants until late May.
Though the closing meant Coop, one of the original stalls at the food hall, would be without a home base, the Caribbean fusion restaurant's chef and owner Maxcel Hardy phoned a friend with a local commercial kitchen and continued crafting dishes with islandic flair. 
"I eat, breathe, and sleep cooking," Hardy, a Detroit native with Bahamian roots, tells me on a frigid January day. We're seated in the front vestibule at Jeds Detroit, Hardy's new pizza shop on Detroit's northeast side. "I don't know anything else. When I wake up in the morning, I'm ready for 7 a.m. to get here so that I can start cooking."
In Detroit, 48 percent of households are food insecure, and that percentage will more than likely increase due to hardships created or exacerbated by the pandemic. With a surplus of food from Coop that would otherwise have gone to waste during the shutdown, Hardy sought to support those in need. Horatio Williams, founder of the Horatio Williams Foundation, a nonprofit that works to support the betterment of Detroit's inner-city youth, provided the kitchen space for Hardy to do what he does best. Often in a hoodie and a backwards baseball cap — typically with the Old English "D" or Detroit Pistons logo embroidered above the bill — Hardy prepared trays of dishes such as pork ribs slathered in sticky barbecue sauce and crisp Panzanella salad. The first day, he and Williams delivered 200 meals to residents at Operation Get Down, a housing facility for individuals experiencing homelessness, mental health illnesses, and drug addiction or substance misuse. Soon enough, more chefs chipped in to contribute meals using their restaurants' leftover ingredients, and over the course of four months, Hardy and a team of restaurateurs provided 60,000 dishes for various organizations across the Detroit area. The endeavor would become known as "Too Many Cooks in the Kitchen for Good," garnering media attention from local and national outlets, including CNN. 
In moments of emergency, it's only natural — advised, even — to strap on your oxygen mask before helping others, and a vast number of restaurateurs have heeded that advice throughout the COVID-19 pandemic. But Hardy's instinct to help usher his community through the challenges was a reflex that could have been expected by anyone who has followed his body of work through the years.
Hardy's philanthropic efforts can be traced back to 2010 when he founded the One Chef Can 86 Hunger Foundation, a nonprofit that works toward eradicating food insecurity and teaching underserved individuals how to cook for their families. His passion for giving back to folks in need is deeply personal. 
"Growing up, I went without a lot," he says. "Seeing so many other people help me and give to me was something that I loved, and so I wanted to be able to give back." He recalls the late Dr. Anderson, the mentor who helped fund his high school education, and Chef Edward Bujarski, who sparked Hardy's interest in cooking while he was nursing a high school basketball injury. "I really wanted to be a blessing to others as they were a blessing to me," Hardy says. 
A glimmer of excitement flashes through his otherwise cool and collected demeanor as he tells me about the most rewarding experience of his career. Over the past six years, One Chef Can 86 Hunger has taken its giving global by partnering with the I Am Hope Foundation, a Christian organization that hosts mission trips around the world. A group of up to five missionaries visits impoverished villages in places such as Nairobi, Kenya; Ghana; Nevis; and Puerto Rico. While other participants provide mentorship and spiritual guidance during these trips, Hardy, not surprisingly, is on kitchen duty. "I try to give them dishes they're not used to, because normally they're just eating rice or porridge," he says, adding that he often provides a well-balanced meal and a snack.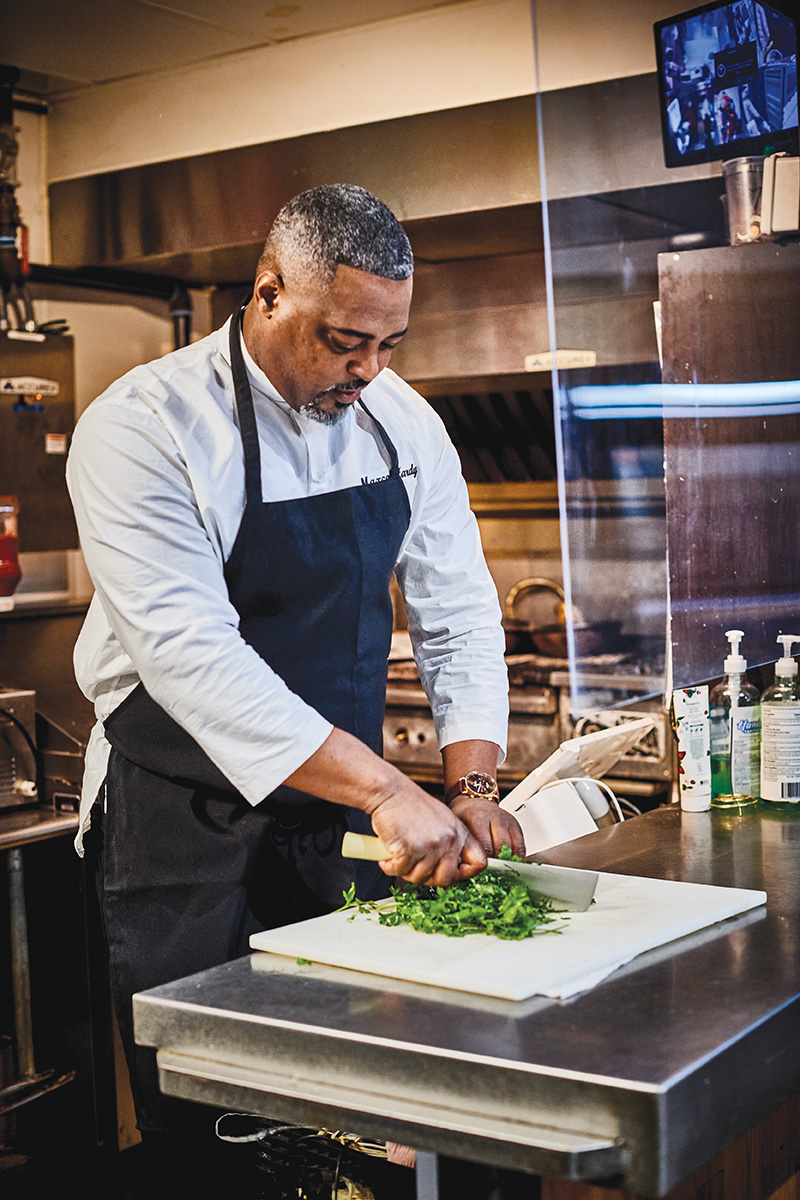 Hardy's selfless nature is a driving force behind his work as a Detroit restaurateur overall. In each project, underserved communities are his highest priority. With his first restaurant, River Bistro, Hardy aimed to bring a fresh perspective in design and taste to a culinarily bland neighborhood. Set among Grandmont Rosedale's fast-food joints and multinational chains, the sleek, modern-eclectic interior at River Bistro featured communal tables and dishes with Caribbean influence, such as jerk ribs and coconut curry shrimp. 
A graduate of the prestigious culinary arts program at Johnson & Wales University-North Miami, private chef to a star-studded clientele, two-time cookbook author, and runner-up on season 18 of Food Network's wildly popular Chopped series, Hardy could have joined the ranks of acclaimed chefs opening glossy restaurant concepts in downtown Detroit, Midtown, West Village, or Corktown — neighborhoods championed as part of the city's culinary renaissance. Instead, when he returned home to Detroit after seven years in New York City,  he intentionally chose a neighborhood that could use healthier menu items and a new look and feel. He sought to create a place that residents could be proud to have in their community. 
"I think we were a little ahead of the ball there," he says with a laugh. River Bistro closed its doors in the fall of 2019 and I get the sense it's taken him some time to find humor in the lesson learned. "I don't know if the community was ready for that," he says. "But I didn't want to come back and shoot downtown and have everyone think I sold out. Financially, that would've worked, but if 80 grand is what it costs to give a younger chef the willpower to do what I've done in their community, I think it was worth it."
Recognized by The New York Times as one of the 16 Black chefs changing food in America, Hardy has no interest in introducing diners to some lofty concept or self-indulgent pipe dream. Today, his skill is in meeting Detroit where it is. Jeds Detroit, for example, diversifies the landscape in the area adjacent to Detroit's Grixdale neighborhood and Highland Park without ringing pretentious. Here, coney islands reign supreme and a bistro concept could be perceived as overdressed. "I wouldn't do another bistro over here, so let me give them what they want," Hardy says. The dressed-down takeout spot and Ohio-based franchise opened last December, giving diners what everyone wants: crispy, chewy, cheesy deep-dish pizza and split wings in more than 20 flavors. 
It also gives Hardy the opportunity to get playful, introducing diners to new concepts without veering too far off course. Jed's Fireballs, for example,  are a fan favorite. Boneless chicken tenders are tossed in a range of sauces and topped with cheese and various other toppings. The Caribbean Balls, Hardy's signature, are drenched in a sweet-spicy mango habanero sauce and topped with bright, citrusy pineapples and shredded cheese. "I just want to bring concepts to the areas that need the most love and stuff that's a little more fun."
Out west, Hardy is working on a summer opening for What's Crackin', a seafood restaurant poised for Detroit's Avenue of Fashion. A collaboration with Ron Bartell, chef and owner of Kuzzo's Chicken and Waffles, What's Crackin' is intended to serve a neighborhood whose primary source for seafood is Mr. Fish. Seafood boils will be the highlight here, allowing diners to choose their seasoning blend and assortment of fish and shellfish. "Again, I wanted to open something that's sustainable and that's not over the top. Just your neighborhood seafood joint that's really fun, with great flavors and really fresh seafood for the community." 
Though these neighborhood projects are his priorities, Hardy does have plans to join the downtown Detroit scene in the future. Honey, an Afro-Caribbean restaurant and speakeasy, is in the buildout phase and positioned to open in Harmonie Park. The project is currently on hold as Hardy reevaluates the best timing to move forward amid the pandemic.
There's also the Chef Max line of spices and a cutting board — kitchen essentials for those learning ways to cook up healthy meals for their families at home. He's also working on a third cookbook, this time breaking into a new industry: the cannabis industry. Anticipated to be released by the holidays, the collection of recipes for dishes infused with CBD and cannabis is designed for anyone interested in learning more about Michigan's growing marijuana industry and the health benefits of the plant. "Cannabis has always been intriguing to me," Hardy says. "I started taking it for anxiety and it's helped a lot, so I thought, 'What better way to use my platform than to show people how to put it into food to help them as well?' " 
I tell Hardy that I'd scoured the area near Jeds for a cup of coffee. It's early afternoon, and I arrived for our meeting in time to stop into a nearby Tim Hortons first, only to learn that said Tim Hortons is no longer in operation. I'd circled the area to no avail and finally settled on a small coney island as a last resort. Within minutes, he's mentally surveyed the area within a 2-mile radius and arrived at the same conclusion: There's no decent coffee shop nearby. He thinks of the working-class folks he's been committed to serving at Jeds, and again we arrive at the same destination: "Maybe that's next." 
---
Hardy's Home Base
Inside Detroit Shipping Co., the shipping container turned food hall that houses Chef Maxcel Hardy's Caribbean fusion stall, Coop
As the saying goes, the apple doesn't fall far from the tree. It makes sense, then, that the company that shelters Chef Maxcel Hardy's longest-standing Detroit eatery aligns with the Coop chef's vision for a fun, casual, community-serving food scene. 
Opened in 2018 by co-founders Jonathan Hartzell and James Therkalsen, and designed by architect Dominic Walbridge, Detroit Shipping Co. was intended to bridge the gap between the already developing neighborhoods of Midtown, downtown, and the Wayne State cultural center. The multi-concept project would innovate a way to mold 21 stacked shipping containers into a food hall, art gallery, event space, and outdoor beer garden. 
"First, we wanted to invest in the city of Detroit," Hartzell says. "Our belief is that metro Detroit is a diverse region, and we wanted to represent the community around us. We also wanted to create a space that felt interesting beyond the food. We combined a stage, art, podcast containers, and indoor and outdoor retail [shops]. We wanted people to turn corners and find new spaces." 
Diners can stop in for Coop's Motor City Spicy Chicken Sandwich slathered in guava barbecue sauce and topped with crisp coleslaw with Caribbean flavors. You can order up a snack serving of Momo Cha's steamed or fried Nepalese dumplings and French Fry Chat coated in mint, tamarind, and yogurt sauces; or indulge in a cup of creamy Fresh Strawberry Basil liquid nitrogen ice cream from -320 Degrees. You might even peruse the walls of the space to admire the work of local artists. 
Over the past year, Detroit Shipping Co. has swiftly adapted its offerings. When indoor dining was suspended, the team transformed a parking lot into a 10,000-square-foot beach. Hartzell says the development was always a goal for the team; the pandemic just sped up the implementation. "We live in Michigan, a four-season state, and we love experiencing all of them. We plan to improve on what we started and will have more in the coming year." The Summer Oasis boasted sand, beach chairs, games, as well as socially distanced booths for outdoor dining service.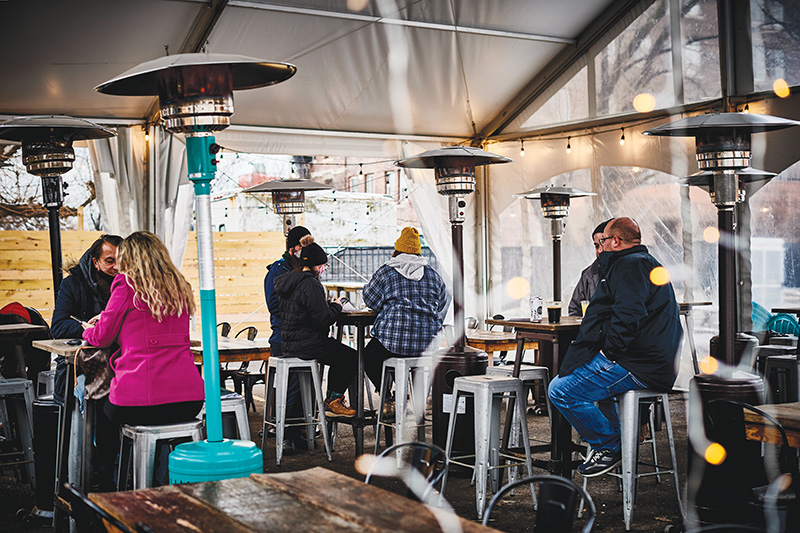 When Black Lives Matter protests erupted, Detroit Shipping Co. shared its solidarity with the African American community and its allegiance to supporting Detroit's Black creatives. In June, the company announced that a retail space in the building would be donated to Black-owned businesses over the next year. They'd also dedicate their gallery space to Black artists in the community. "We have operated from the beginning as a space that is diverse and have worked to make sure that our food operators and staff represent the diverse culture in metro Detroit," Hartzell says. The team felt they could take it a step further by using a new retail shop to amplify Black businesses. The shop grew from conversations with Filthy Americans Arts and Cultural Preservation Center, a hub that celebrates Detroit's contribution to hip-hop and techno music. "Filthy Americans had been running pop-ups and shows at Detroit Shipping Co. since we opened, and we really wanted to do more with them."
As a collective, Detroit Shipping Co. and its vendors actively support communities in need. Chef Petro Drakopoulos fed frontline workers early on in the pandemic. For Thanksgiving, the company continued its annual tradition, partnering with the Michigan Restaurant and Lodging Association and Detroit Restaurant and Lodging Association to host Full Plates, Full Hearts, an initiative that allows them to feed those in need. 
And, of course, Hardy's efforts are ongoing. "Max is constantly on the run from event to event, feeding group after group. He puts the hours in," Hartzell says. "The teams we have at Detroit Shipping Co. work hard and sacrifice to make our space a community. This has been a difficult year for all, but we have a unique space where six different staffs share common space in close quarters, and it's been great to see everyone working through difficult scenarios. They all have done an amazing job to keep the kitchens going."
Detroit Shipping Co., 474 Peterboro St, Detroit; 313-462-497; detroitshippingcompany.com
Facebook Comments