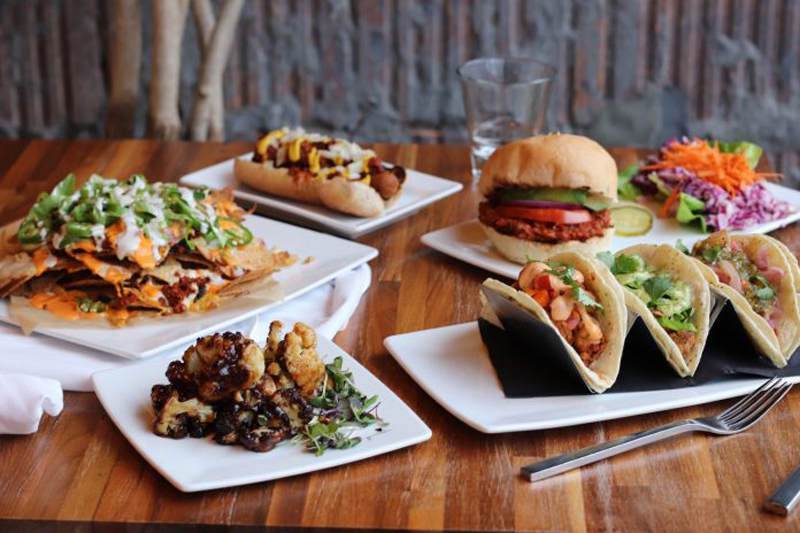 Co-owners Joel, Karen, and Daniel Kahn of GreenSpace Café, the Ferndale plant-based eatery and bar, have expanded the location's menu to include hearty comfort food dishes and snacks for the holiday season. While the restaurant's newest plates like the Bac'n Cheezburger or Loaded Nachos, may sound sinful, their ingredients tell a different story.
"Our comfort food is geared to those who may be visiting a plant café for the first time," says Joel, a Beaumont Hospital cardiologist and co-owner of Royal Oak's GreenSpace & Go. Among the dozen-plus new options is the Al Pastor Cubano made with pineapple-marinated jackfruit, a three-bean Sloppy Joel, and dairy-free milkshakes with pumpkin spice, chocolate raspberry, and strawberry matcha flavor options — alcohol add-ins are optional. Fattening as they sound, the dishes are made with nutritious ingredients that are sourced locally and ring in at a lower calorie count than most comfort food.
Desserts are also slated for the bill of fare: think pumpkin crème brûlée, Michigan apple pie with drizzled date caramel, chocolate chip cheesecake and Superman ice cream made from pea milk. On the brunch menu, avocado eggs benedict, tofu huevos rancheros, and French toast are paired with fingerling potato hash, purple jacks, and country biscuits with gravy. GreenSpace also offers allergy-friendly, gluten, oil, soy, and nut-free options, as well as healthy dishes for children to enjoy.
The Kahns' decision to add these healthful offerings came after the success of their Taco Tuesdays and happy hour snacks. "You'll still find the Superfood Salad, the Brussels Fattoush, Farmer's Board, and other favorites," Joel assures us. "At our core, we're about healthy, whole, local, and delicious food. We honor the opportunity to introduce newcomers to tempeh, jackfruit, legumes, and other staples and to show how tasty plant-based eating can be."
---
Related: Restaurant Hazel, Ravines, and Downtown Opens in Birmingham