Folk's pandemic story doesn't begin with Folk at all. Nor does it start during the pandemic. Instead, to chronicle the evolution of the once go-to spot for fluffy almond waffles topped with whipped pistachio butter, you'll have to start at the suite next door and what once was The Farmer's Hand.
In the fall of 2016, Rohani Foulkes and Kiki Louya opened The Farmer's Hand to fill a void in Corktown. The specialty market with an emphasis on farm-fresh, locally sourced goods became a staple for shoppers seeking a convenient neighborhood spot for produce, meats, and artisanal homeware. Foulkes' and Louya's commitment to supporting local businesses would show up not only in the brands and products they offered at The Farmer's Hand, but also in the way they compensated their partners. "We work directly with farmers and producers," Foulkes told The Detroit News not long after the market's opening in 2016. "So we're taking four steps out of that distribution process, meaning that we return 70 cents out of every dollar directly back to the partners that we work with." That was more than 50 cents above the national average of return at the time.
In 2018, the duo opened Folk, a natural extension of The Farmer's Hand. Just next door from the specialty market, Folk would operate under the same ethos of providing fresh, locally and ethically sourced ingredients through an all-day brunch menu. Soon, the adjacent businesses provided a unique oasis for guests to grab a latte or gelato, and shop for specialty groceries. With Lady of the House just a stone's throw from the strip on Trumbull, Foulkes and Louya were helping to carve out a new culinary hub in the Corktown neighborhood.
As sweet and savory toasts and pastel-colored milks infused with blue butterfly pea powder, pinky rose, and golden turmeric began to take off at Folk, so did business for the co-owners. In May of 2019, Foulkes and Louya partnered with another star-chef duo to launch a hospitality group. The joint venture, named Nest Egg LLC, comprised Ping Ho and Sarah Welch, co-owners of the West Village meat-forward restaurant and butcher shop Marrow. But as projects under Nest Egg LLC developed, The Farmer's Hand fizzled. In the summer of 2019, after a three-year run, the market closed its doors.
The duo continued operating Folk, introducing new menu items, including rice bowls and unique brunch hits, like a housemade pound cake French toast served with miso maple syrup. Under Nest Egg, the dynamic team would eventually open Mink, an intimate, dinner-only eatery serving up fresh oysters and sake in the space that previously housed The Farmer's Hand. But the idea to reopen the boutique market concept never escaped them. "The Farmer's Hand was always intended to return, and the irony of course is, yes, it took a global pandemic to accelerate that process," Foulkes laughs. 
In March, just before the pandemic triggered a nationwide shutdown, Louya announced her departure from Folk, Mink, and Nest Egg. Still, at the time, Folk was on the upswing. "In March, we were kind of busy!" Foulkes says. "I'd say it was the first first quarter I've experienced in four years of business that was looking promising," With big events such as the North American International Auto Show and annual music festivals on the horizon, she says there was a lot to look forward to in 2020 as a small-business owner. "But then March hit and we lost a lot. It was a terrifying time, but our team experienced all of it together, and now we have a stronger relationship than we might ever have had if we hadn't championed through this."
Drawing from her experience opening and operating The Farmer's Hand, Foulkes, along with head chef Jessi Patuano, quickly transformed the cozy brunch spot into a marketplace. "At first, we offered staple grocery items — everything down to sugar, salt, and flour. There was also a yeast shortage at one point, so we were able to get our hands on a big bulk order of yeast and sell it, since so many people were looking for it." Beyond combating food shortages, the new marketplace was even able to pivot to offer everyday essentials that were scarce, too. "I remember putting toilet paper on the shelf and being like, 'Yep, we're selling toilet paper over here at Folk!' " she laughs. "My thought was that if we're really going to do this, if we're going to offer a service that people need, then we've got to sell things like toilet paper."
Once shortages and shutdown restrictions eased, Foulkes says she and Patuano had to think critically about how they would distinguish Folk from Kroger and other major grocery stores. "Eventually, we took toilet paper off the shelves and started replacing it with things like our housemade granola and waffle mix and expanding the wine list. People will always go to the grocery store, but they can also come to us for particular things."
Today, Folk has adopted a hybrid café and market model. In addition to an assortment of pastries and waffle sandwiches available for pickup only, guests can also count on the café for a selection of eggs, pasta, artisan jams, and oils, as well as soaps, candles, and woven baskets and bowls.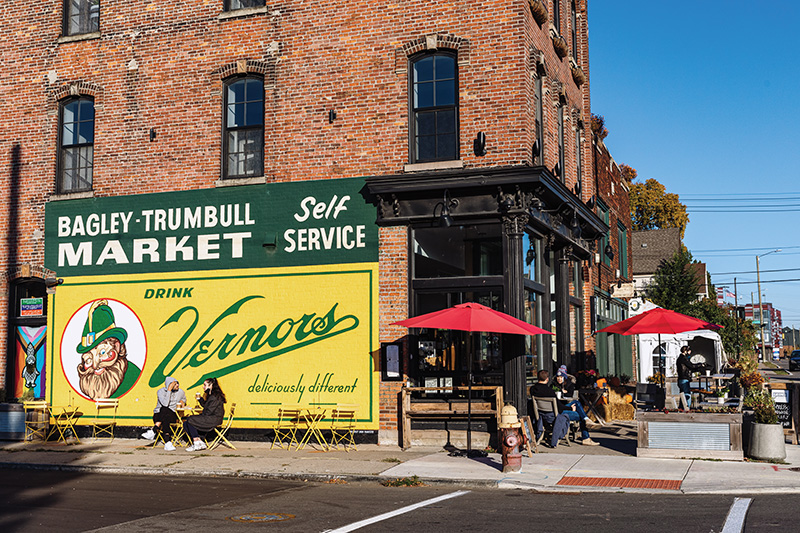 "I had no thought of closing temporarily during the pandemic," Foulkes says. "I asked myself, 'What is it that we do, and how can we still provide a service to our community?' At Folk and at The Farmer's Hand, there's always been more to it than running a business for financial gain." Folk's strength, Foulkes decided, was its partnerships with Michigan-based businesses, as well as its guiding principle to source organic, ethical, sustainable,  and eco-friendly products whenever possible. "Why wouldn't we continue providing food for people?" she asks. "It just looks different. Instead of putting it on a plate, we're going to put it in a grocery bag."
The new iteration of Folk seems to achieve what neither The Farmer's Hand nor the original Folk could pre-pandemic. It creates a single environment that provides a farm-to-table experience while simultaneously addressing the needs of the community in a way that aligns with the business's core values. "We love what we do here at Folk, but something needed to change — albeit we didn't envision it being as drastic as this, but we want to carry these changes forward."
With support from a grant award, Folk will undergo interior renovations, which Foulkes says will give the space the face-lift it needs to become a more functional hybrid model. "When people ask whether we think we'll go back, my answer is a hard 'no.' We're not going back to what Folk was pre-COVID. The long-term vision for Folk is to continue as it has been, operating as a hybrid café market."
Folk, 1701 Trumbull Ave., Detroit; 313-742-2672; folkdetroit.com
Facebook Comments