A year ago, ambitious culinarians scrambled to do whatever was necessary to keep their businesses alive. Establishments typically heralded for indoor dining service quickly accommodated takeout and delivery orders. Carryout joints moonlighted as fashion retailers — branded apparel hung just above plastic utensils and to-go containers. They were praised for the pivot. Restaurant owners nearly became martyrs to save their culinary endeavors and the workers they employed. For many, though, limited service and spinoff revenue streams, such as virtual cooking classes and gift cards, could carry them only so far. 
As of Feb. 1, restaurants were free to open their dining rooms at 25 percent capacity after the state's second lengthy restaurant shutdown. And while some jumped at the opportunity to pick back up where they left off, others opted to ease into things. Well into spring, restaurants are still sorting through the challenges of re-opening their doors, from rebuilding the front and back of the house to reestablishing relationships with industry partners. Here, local food entrepreneurs chronicle their journey to re-opening.     
Re-Staffing
Gov. Gretchen Whitmer announced the reopening of restaurants on Jan. 22, giving restaurateurs just 10 days' notice to reassemble staffs that had suffered various rounds of layoffs over the previous months. Job postings for bussers and servers, line cooks and managers flooded employment sites. Help-wanted fliers populated social media feeds. Most employers, like Aaron Belen, owner of The Morrie, a restaurant and performance venue with locations in Birmingham and Royal Oak, say they retained long-term, dedicated workers who were excited to roll up their sleeves and get back to work. Yet it was more of a challenge for owners to bring entry-level employees back. Those who'd lost their jobs either had found employment elsewhere or were able to get by with government assistance. "The entry-level associate tends to be OK with riding out expanded unemployment as long as possible," says Belen, who, at press time, was gearing up to reopen The Morrie in early March. "It's a double-edged sword. I'm happy that while we were not open, our people were getting money from the government — but then you want them to come back to work when you need them."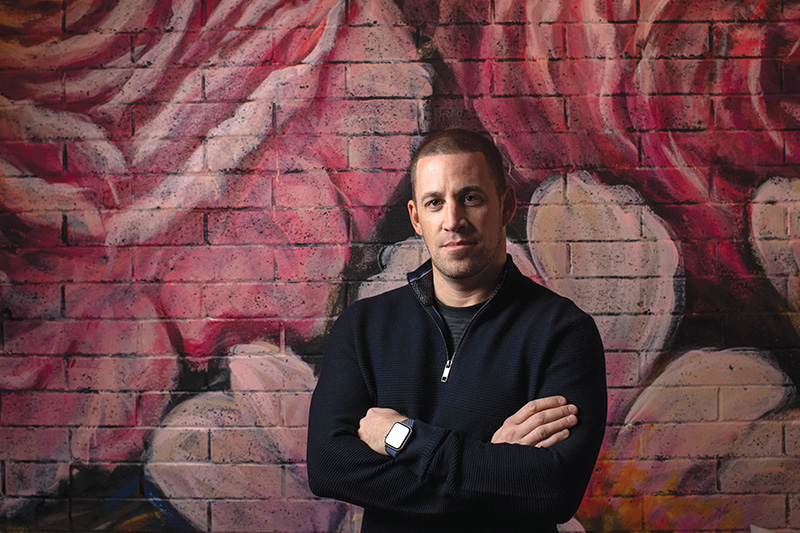 There's also the need to train new and existing staffers to meet evolving service guidelines. "It's very similar to opening a brand-new restaurant," says Adam Merkel, owner of Pinky's Rooftop, Diamonds Steak & Seafood, and other restaurants in metro Detroit under the Adam Merkel Restaurants umbrella. "Everyone's a little rusty from being down for three months, so we run through our practices and go through our training to make sure servers are up to date with the menus and our cooks are versed in some of the new stuff that we're doing. So, it's not just a one-day thing, it's a two-week thing." Merkel made the decision to surveil the landscape before reopening each location in his portfolio and used the time to make improvements to his establishments. When Pinky's reopens this month, it will welcome Bohemia and Pearl's Deep Dive, two new restaurant concepts, on the main level.
Creating a Safe Environment
Some, like Samy Eid, owner of Detroit's Lebanese hotspot Leila and the Birmingham staples Forest and Phoenicia, were able to weather the tight turnaround, reopening the week of Feb. 1, but not without challenges. "The most complicated part about reopening was trying to motivate staff to come back and to make them feel safe — that was the toughest hurdle," Eid says. 
In recent months, essential workers in the food industry have risked their health to serve others. They've also experienced unprecedented hostility from the very people they serve. Discrimination and sexual harassment toward tipped employees have become increasingly common, and belligerent diners who refuse to wear masks properly have become widely problematic. Eid says wearing a mask is "just common respect and decency for the people around you. I'm losing 25 percent of my restaurant and closing my doors at 10 p.m. I'm making the ultimate sacrifice just trying to be a team player — independent of whether or not I think it's fair. We're just asking people to do the simplest thing, but they have a very hard time understanding, and that is baffling to us." Restaurant owners like Eid have taken extra steps to protect their staff — including hiring security.
The day following the opening of dining rooms across the state, Detroit Mayor Mike Duggan announced a vaccination plan that would allow food-service workers to receive the COVID-19 vaccine. Many restaurant owners say this has helped quell lingering anxieties among their staff about contracting the virus in environments where people have to remove their masks to eat and drink. Chef Kate Williams, owner of Karl's at The Siren Hotel, which she aims to reopen this month, says employees who had previously expressed concern about returning to work began reaching out to take on shifts once they'd started the vaccination process. "As soon as the new year hit and we saw health care workers start to get the vaccine, I got emails from former staff members who had not felt comfortable coming back to work, saying, 'I know you guys are taking all the precautions, so I'm ready to come back whenever you have time for me,' " Williams says. "Another few employees said, 'Hey, my first vaccine is this date, my second one is this date. I would love to come back after that.' So, I think the vaccine was a big reason my staff started to feel more comfortable with the idea of returning to work." 
Ordering Inventory
A less publicized challenge of reopening a restaurant is the relationship between eateries and their various purveyors. "When you put a restaurant to sleep, there's a lot that goes with it," Merkel says. "From your linen deliveries to your food service, there are a lot of logistics with purveyors to line up to get food and supplies in the building." There are farmers and butchers and wholesale providers — and the entire supply chain has been affected by COVID-19. "It's so much deeper than just opening up dining rooms," Williams says. She explains that during the shutdown, vendors went from booming businesses to watching all of their clients shut down except for to-go orders, "which are really just a fraction of the sales that you would do in a dine-in service," she says. 
Still, restaurateurs across the board share a refreshed optimism as they charge forward. "I don't think there's any way to be other than optimistic," Merkel says. They're also masterminding ways to build a better future for a food industry whose weaknesses were exposed by the pandemic. Merkel and his team have updated their training manuals and plan to host a two-day hospitality training and culture course as an educational event for their staff this year. As for Williams, though leasing challenges led her to close the doors of the former acclaimed, James Beard Award-nominee Lady of the House, she intends to open a smaller concept with the same beloved essence down the road. In the meantime at Karl's, she says, she plans to implement a four-day workweek. "The goal is not to wake up and jump back into the rat race again," she says. "It's to reevaluate what our future looks like individually, as a business, and as an industry, and I hope that's the silver lining to come out of this."  
Facebook Comments