The Ambassador Bridge. Boblo Island. Faygo. The Lions, Tigers, Pistons, and Red Wings. There are certain things in this world we'll always associate with Detroit. Now think restaurants that have defined how Detroiters have chosen to dine out over time.
With that in mind, we've pieced together a pantheon of restaurants — beyond our Coney Islands and pizza places — that have served this city dutifully and deliciously over decades, so much so that they offer a taste of Detroit as essential as our riverfront skyline and the Motown sound.
---
Al Ameer Restaurant
Founded in 1989 
At first, it may appear that your basket of fresh-made pita is overstocked. Once the award-winning Lebanese food starts to arrive and you can't stop dipping, sopping, scooping, and ultimately scraping your plates clean, you'll see how the generous bread service made practical sense.
And whether you're walking in or waddling out, please do peruse the many distinguished awards mounted on the foyer walls of Al Ameer's east Dearborn digs. They're definitely worth noting, bestowed by the James Beard Foundation, Food & Wine, Food Network, and the United States Congress, just to name a few. And the cuisine warrants every word of commendation and praise it's been earning since the late '80s.
Sure, Middle Eastern fare is everywhere in the southeast Michigan market. Still, Al Ameer's kitchen's flair feels somehow singular — from tender, spit-roasted shawarmas and plump, savory stuffed grape leaves to all the as-God-intended go-withs (the world's most refreshing tabbouleh and hummus that just seems swept from some higher, creamier cloud).
Al Ameer's more than a signature experience in its category. It heads a class that's made a metro Detroit restaurant community and culture all the richer for its melting pot membership. Kudos to founding partners Khalil Ammar and Zaki Hashem, who had the foresight to feed us food from where they came from.
Al Ameer Restaurant, 12710 West Warren Ave., Dearborn (also located in Dearborn Heights; the Canton restaurant is currently closed); 313-582-8185; alameerrestaurant.com.
---
The Whitney
Founded in 1986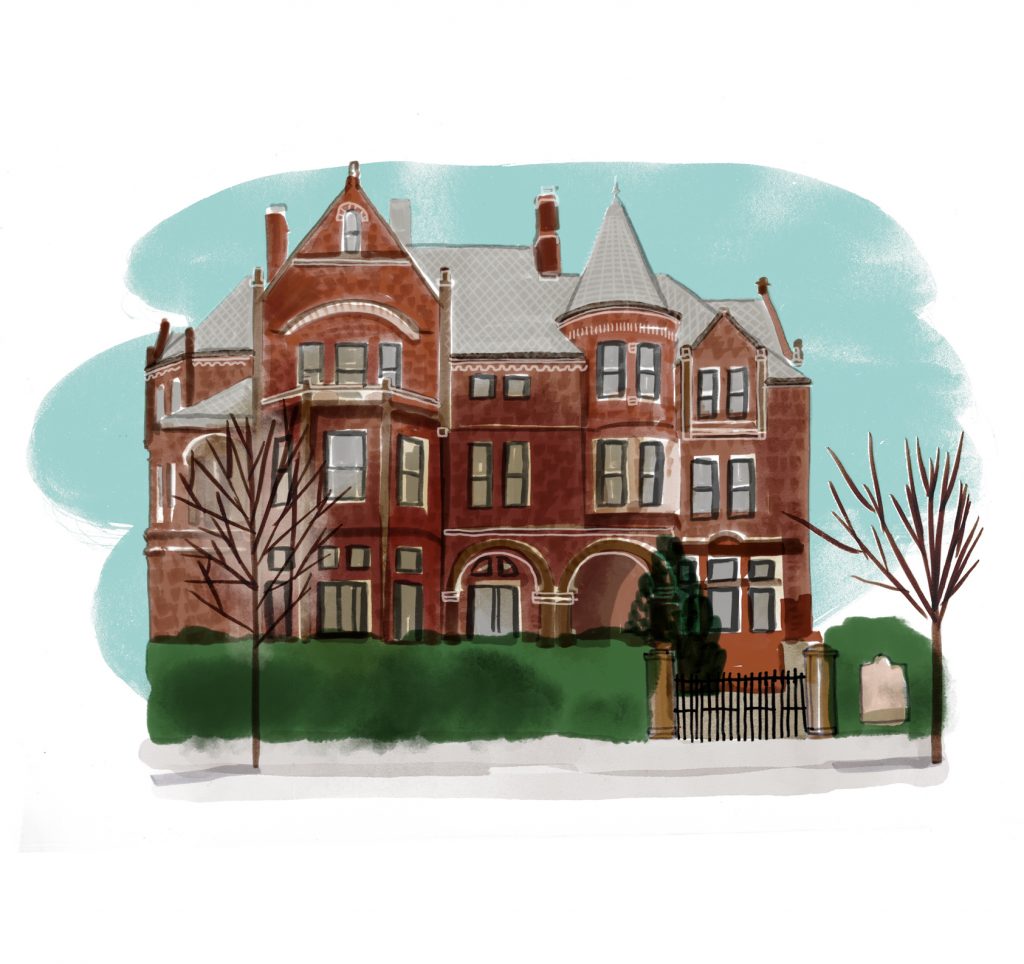 This mansion was built as a proper home for lumber baron David Whitney Jr. at the close of the 1800s, and newspapers of the day called it everything from appropriately palatial to downright pretentious. Go see for yourself what a $400,000 construction cost (in 19th-century money) afforded ole man Whitney.
These days (since 1986), The Whitney's become a special-occasion dining destination, a place to celebrate friends, family, love, and life's milestone events over hors d'oeuvres and beef Wellington. While you're there, feast on the opulence: dozens of dining rooms (each with a fireplace, of course), a piano on every floor, Tiffany stained glass, and a grand staircase straight out of the movie Titanic. Happily, the only ice I experienced there floated in my beveled cocktail glass.
Whether yo go for a first-class formal dinner, a weekend high tea (with Champagne), a summer meal with music at the Garden Party, or drinks at the Ghostbar (well, sure, the place is purportedly haunted), a visit to The Whitney is a trip back in time to horse-and-carriage Detroit and a house that stands in testament to the storied and strong-spirited history of our city.
The Whitney, 4421 Woodward Ave., Detroit; 313-832-5700; thewhitney.com.
---
Giovanni's Ristorante
Founded in 1968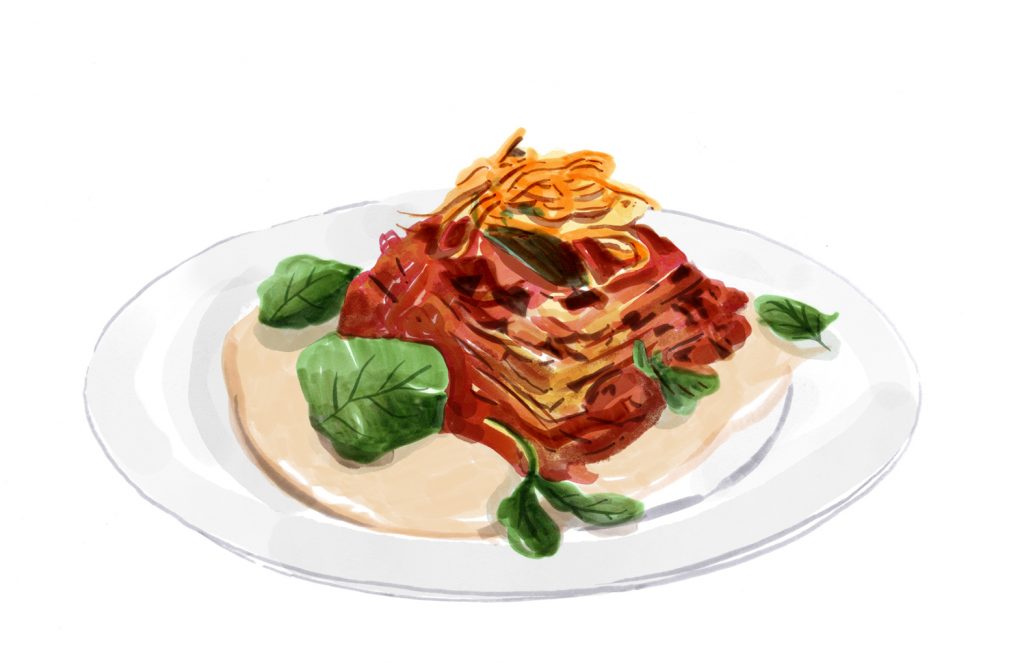 Where Detroit borders south Dearborn, two can't-miss monuments to Michigan-made entrepreneurship stand: the Ford River Rouge plant property and, right there in its legacy shadow, Giovanni's, which opened as a humble pizza parlor when Ford Motor Co.'s Mustang was just a few years into its success story.
Like the now-iconic car model, this restaurant — redesigned and refined over time — still sets a certain standard for the discriminating consumer in search of finely tuned Italian cuisine and high-performance service. For starters, the steak-cut calamari (in capered lemon beurre blanc) and anchovy-charged Caesar salad should take the checkered flag in any competition among their class. Pillowy, ricotta-fluffed gnocchi might float off plates if not for their swaddling sauce blankets (several choices available), and off-menu features like pistachio-crusted halibut with risotto or a large-block rib eye painted pretty in wine sauce burgundy red offer truly luxe options.
Italian food comes in myriad styles and sticker prices. This we know. But for those in the market for something sleek and elegant in that category, everything Giovanni's serves shimmers like a showroom model.
Giovanni's Ristorante, 330 Oakwood, Detroit; 313-841-0122; giovannisristorante.com.
---
Golden Fleece
Founded in 1970
I'd never dined in Detroit's longest-standing restaurant in Greektown before leaving Michigan for Arizona in '83. Thankfully, the fates saw fit to return me home and let me feast in this Balkan bistro's cozy confines, which were updated in 2021 to add a bar area, a new menu (with vegan and vegetarian options), and a more modern interior design.
Destined for deity status on our list, the restaurant has been deemed deserving by generations of devoted downtown diners. Is it a moth-to-flame attraction to on-fire food (saganaki) and gregarious Greek service? By the gods, yes. Bravo to the lamb, octopus, souvlaki, calamari, and gyros in all their bright Mediterranean incarnations. And then there's the ouzo. Opa!
Here's to Golden Fleece, one of our long-treasured traditions in epicureanism, handed down by way of Mount Olympus.
Golden Fleece, 525 Monroe St., Detroit; 313-962-7093; goldenfleecedetroit.com.
---
Baker's Keyboard Lounge
Founded in 1934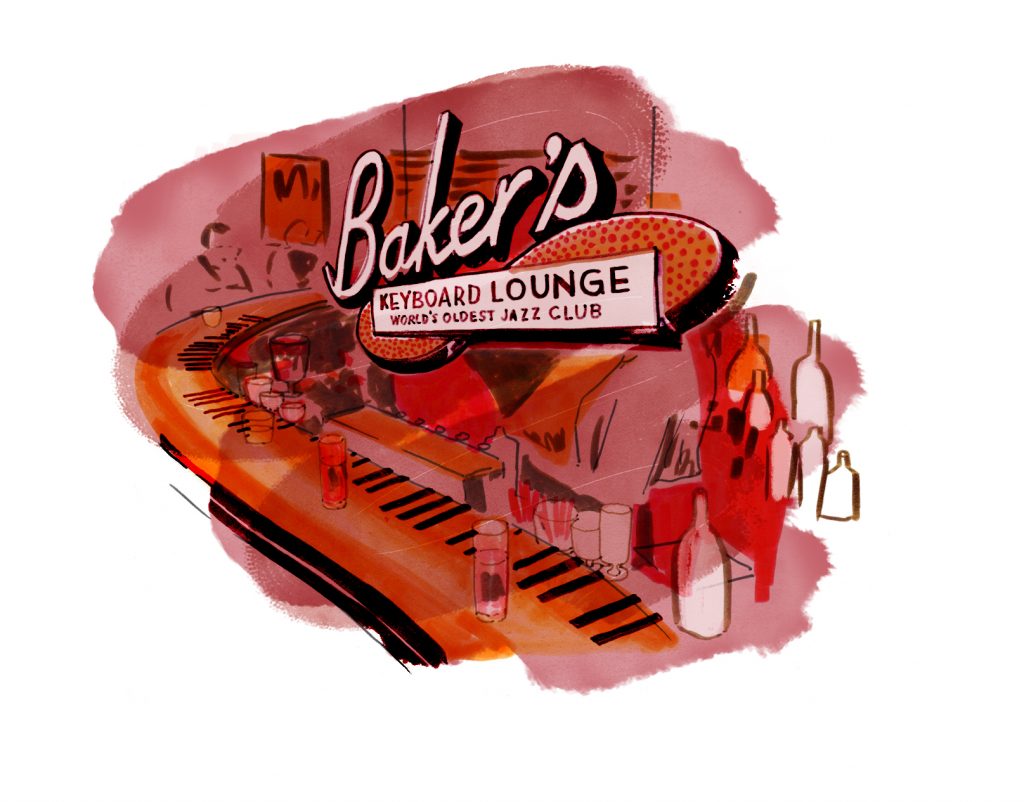 Do you read music? Follow these notes: Miles Davis. George Benson. John Coltrane. Billie Holiday. Charlie Parker. Les Paul. Nat King Cole. Dizzy Gillespie. Those are just a few of the more noteworthy names of who's taken the stage at Baker's — which claims to be the world's oldest jazz club — over nearly 90 years.
Playing no second fiddle to premier performance venues Pine Knob and the Fox Theatre when it comes to booking big-time talent into our town, this cool-cozy little club on the corner of Eight Mile and Livernois has as much to contribute to Detroit's chapter in the American jazz story as a Ken Burns documentary. Scenes from the 2012 movie Sparkle (starring songstresses Whitney Houston and Jordin Sparks) were shot here. Famed scat man Eddie Jefferson got gunned down outside Baker's after a set in 1979. Betwixt and between, the likes of Roberta Flack and Earl Klugh, Chick Corea, and Lou Rawls all made the scene here.
I hope they had the fried chicken (a headliner on the club's soul/comfort food menu). Accompanied by soft, silky collards and some for real black-eyed peas, it's spotlight-worthy, too. These days, the music still plays from 8 to 11 p.m., save for Mondays (comedy night). Head on in. Have a listen and some supper. Be cool.
Baker's Keyboard Lounge, 20510 Livernois, Detroit; 313-345-6300; bakerskeyboardloungedet.com.
---
Joe Muer Seafood
Founded in 1929 
Detroit's patron saint of all things seafood, restaurateur Joe Muer departed too soon but left behind a lasting legacy. With his holdings now in the more-than-capable hands of the Joe Vicari Restaurant Group, Muer's signature victuals and vision sail on.
To illustrate, let's start with the bread service, which in itself might warrant some James Beard Award consideration. Assorted slices from crusty, yeasty loaves and lavash crisps come accompanied by dill-flecked smoked salmon mousse and a bright and bracing great northern bean relish. And that's just for on-the-house starters. Do yourself a favor from there. Buy a big bowl of lobster bisque. Resist the urge to lick it clean.
Maybe distract yourself from that temptation by taking in the panoramic view of the Detroit River and the Windsor waterfront, or by listening to the talented live pianist, who makes the musical score from Disney's The Little Mermaid sound like Mozart.
Once you're ready to cast your attentions over the main course selections, you'll see they've swum in from everywhere: Great Lakes walleye and whitefish. Georges Bank sea scallops. Scottish salmon (from the Faroe Islands). Mediterranean branzino. Alaska's treasured king crab.
In my heaven, it'll always smell of butter-basted lobster, just like Joe Muer's restaurants. And if truly blessed in the hereafter, I'll be moved in next door to Muer himself and spend eternity accepting his invitations for dinner. Amen.
Joe Muer Seafood, 400 Renaissance Center, Suite 1404, Detroit; 313-567-6837; joemuer.com.
---
Dakota Inn Rathskeller
Founded in 1933 
This month, Detroit's beloved German beer hall celebrates its 90th year in business. After its annual July hiatus, an Aug. 2 midday celebration is planned, which will include lively Deutsch music and sing-alongs as well as beer prices from 1933 (which I won't quote for fear of starting a stampede to the inn).
I confess to having been tired and cranky when I popped into the Rathskeller for a Friday night look-see. Ten minutes later, taken in by the convivial vibe of communal tables filled with stein-swinging customers swaying to pianist Gerry Ferry's playlist (everything from Oktoberfest fodder to Neil Diamond's "Sweet Caroline"), I found my second wind — thanks also in part to jovial bartender Eric's suggestion that I try a Little Bier: an ice cream sundae-tasting shot of Licor 43 (vanilla liqueur) foamed with a floater of heavy cream.
An hour later, after polishing off a classic pretzel and potato pancakes that tasted exactly like the ones my Polish grandmother used to fry up for me, I found myself closing the place and sharing old neighborhood reminiscences with third-generation proprietor Karl Kurz (his grandfather founded the business), Gerry, Eric, and Katie Priskorn, who also tickles the ivories and leads the chorus at the Rathskeller. That's just the kind of place this is.
Wherever your head's at when you walk in, you'll leave feeling the brauhaus love, no doubt. And just to make sure, have one or two of those Little Bier thingies while you're rubbing elbows. Prost!
Dakota Inn Rathskeller, 17324 John R Road, Detroit; 313-867-9722; dakota-inn.com.
---
Mon Jin Lau
Founded in 1969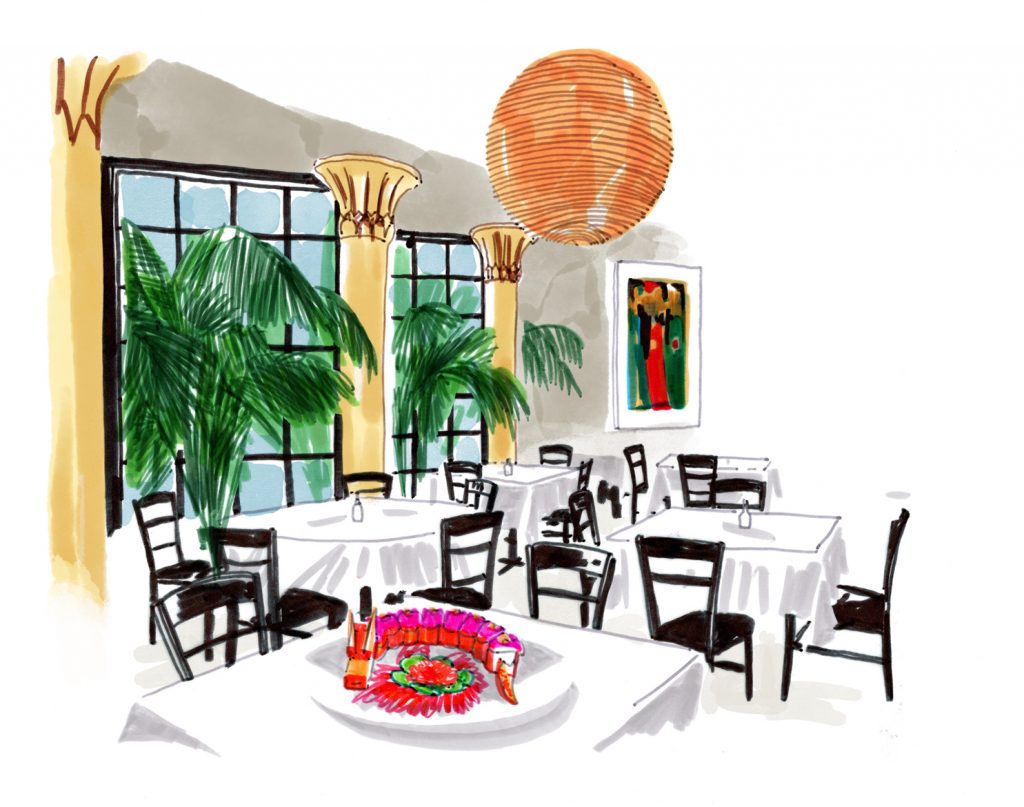 "Escape/Enjoy." That's what the menu here first suggests on its flap. And for 50-plus years, Detroiters with a yen for Chinese cuisine have taken that advice and made countless pilgrimages to this East Asian food temple in Troy. Talk about good chi. Mon Jin Lau offers all the elements that feed into a restaurantgoer's sense of well-being.
There's atmosphere: dimly lit dining rooms, a bar twinkling in tea lights, serenity garden-style patios, and sultry mood music. Service is detailed and deftly toes that fine line between pester and neglect. Servers were steaming water spots from wine glasses on the afternoon of my visit, while former and longtime owner Marshall Chin offered pearls of leadership wisdom to the day's management team.
And then there's the food and beverage part of the equation. What started as a "chop suey restaurant" (as it's described on its website) has been on the forefront of what the current owners, Bryan and Brandon Chin (founders Jin and Mon Chin's grandsons and Marshall's sons), call "Nu-Asian" cuisine for most of its existence.
It's a big, beautiful menu. Give it a good read. If you like how something sounds, you'll love how it translates to taste. Looking for specific recommendations? The chili pepper calamari is downright ethereal, and the pineapple carrot cake makes for a perfect finish to a meal here. Also of note is the wine list. It's impressively eclectic and approachable.
Mon Jin Lau absolutely proffers the "Escape/Enjoy" experience it promotes. I've never tasted better truth in advertising.
Mon Jin Lau, 1515 E. Maple Road, Troy; 248-689-2332; monjinlau.com.
---
Café Cortina
Founded in 1976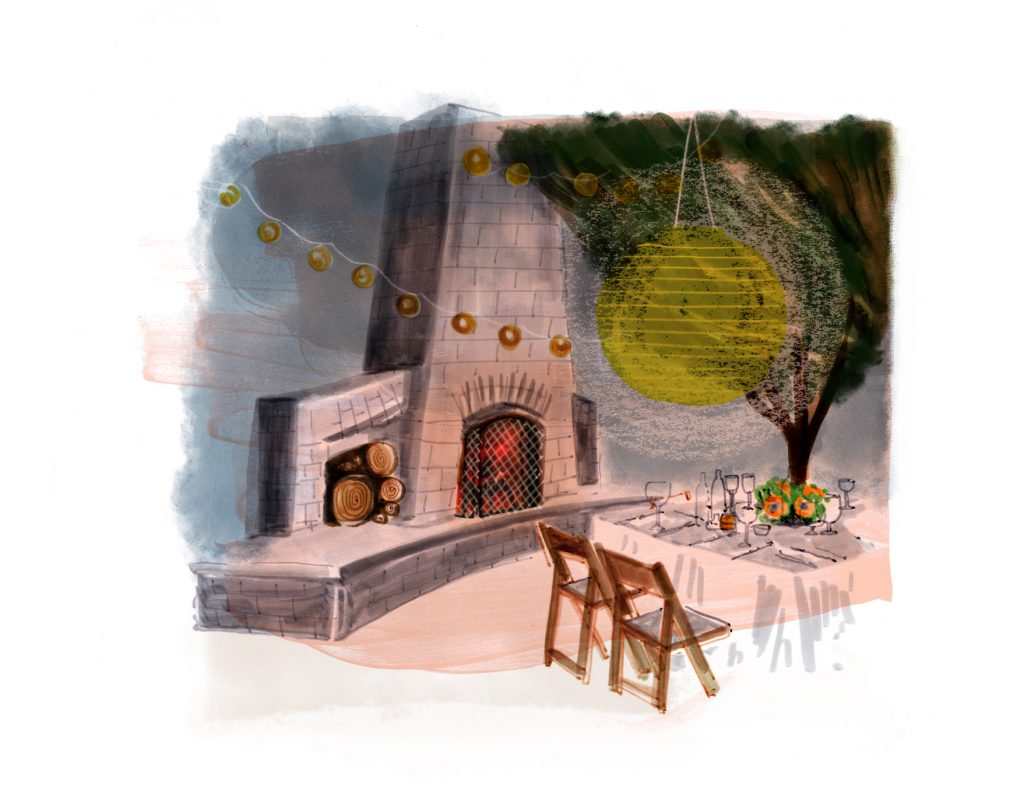 Big things were happening in and around Detroit in 1976. Michiganders joined in the celebration of our nation's bicentennial. A legendary Tiger, Mark "The Bird" Fidrych, came out of nowhere to pitch a season for the ages. And at the site of an old apple orchard in Farmington Hills, the Tonon family planted Café Cortina, an absolute peach of the Italian variety that's borne its beautiful fruit for all of us ever since.
When weather permits, request a table on the gorgeous garden patio. Give in to the serenity of rustling leaves and let the restaurant's layered and precise service take over.
Share some beautifully done bruschetta gilded with fresh-grilled artichoke heart, wilted arugula, and impossibly yet perfectly ripe tomato. Order the tagliatelle Bolognese to remind yourself of how delicate and delectable foodstuffs like handmade pasta and veal are when handled in Italian kitchens helmed by true culinary maestros. Refresh your palate between courses with an intermezzo of raspberry granita. And, by all means, finish with a few precious spoonfuls of fig gelato drizzled with caramel.
With its arresting ambiance and warm, blanketing hospitality, Café Cortina makes surrender to a sublime dining experience a simple matter. Just reserve a table, show up, and let the restaurant see to the rest. I sat there being spoiled rotten for some two hours. Never checked my cellphone once. Seriously. Mille grazie, Cortina.
Café Cortina, 30715 W. 10 Mile Road, Farmington Hills; 248-474-3033; cafecortina.com.
---
London Chop House
Founded 1938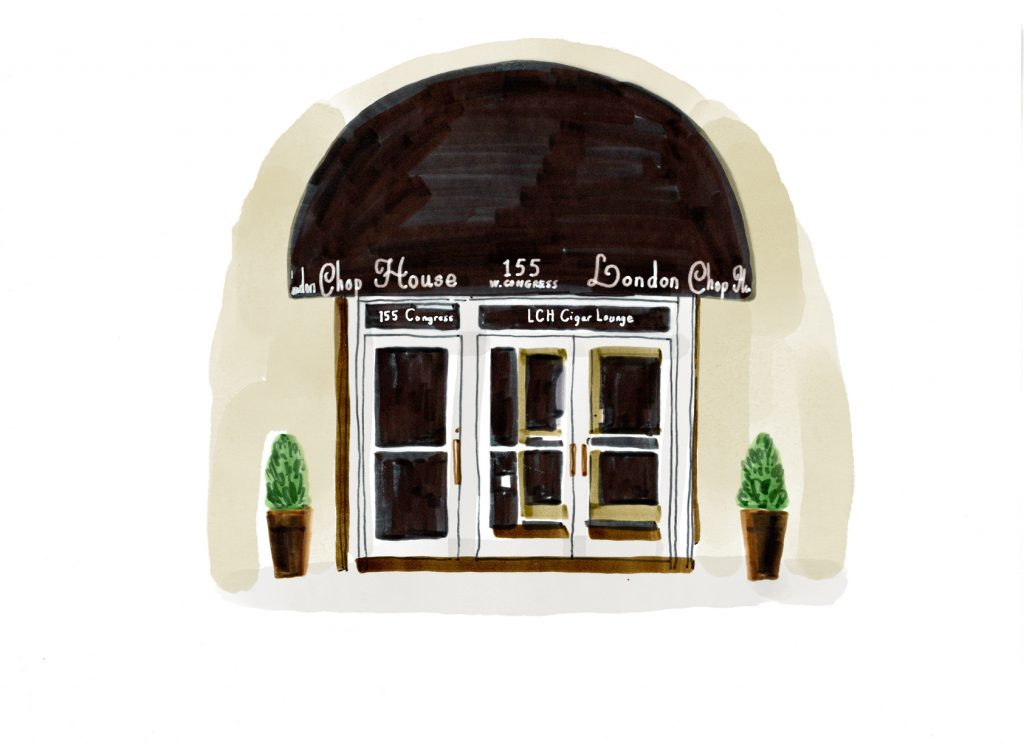 Like Detroit itself, this historic downtown supper club has seen some decidedly up and down decades. Boom times brought accolades (it was named one of the nation's 10 best restaurants by the James Beard Foundation in 1961) and a high-profile clientele (Henry Ford II, Frank Sinatra, Mickey Mantle and his Yankees friends, et al.).
During the '80s bust, Lee Iacocca team executives nursed drinks there while licking corporate wounds and plotting survival strategies. Then, the storied restaurant's run seemed to end when it shuttered in 1991. A multimillion-dollar renovation and 2012 reopening now finds London Chop House restored to its former luster.
The decor is man cave immaculate; the service immediate, attentive, and polished (kudos, Claire). Believe me when I say that big martinis garnished with blue cheese-stuffed olives taste even better when your butt's on a cushy, hand-upholstered barstool. Once you sit down to dinner, consider the steak tartare: a pristine presentation for the purist carnivore, at once primal yet refined. If that's too raw a recommendation, try the French onion soup. The veal stock is as rich as Rockefeller.
Whatever your tastes tend toward — red meat or seafood — rest assured, they'll be more than satisfied here. London Chop House remains a signature steakhouse with all the expected sizzle. The record shows, it took the blows and did it Detroit's way.
London Chip House, Murphy-Telegraph Building, 155 W. Congress St., Detroit; 313-962-0277; thelondonchop.com.
---
Sinbad's Restaurant and Marina
Founded in 1949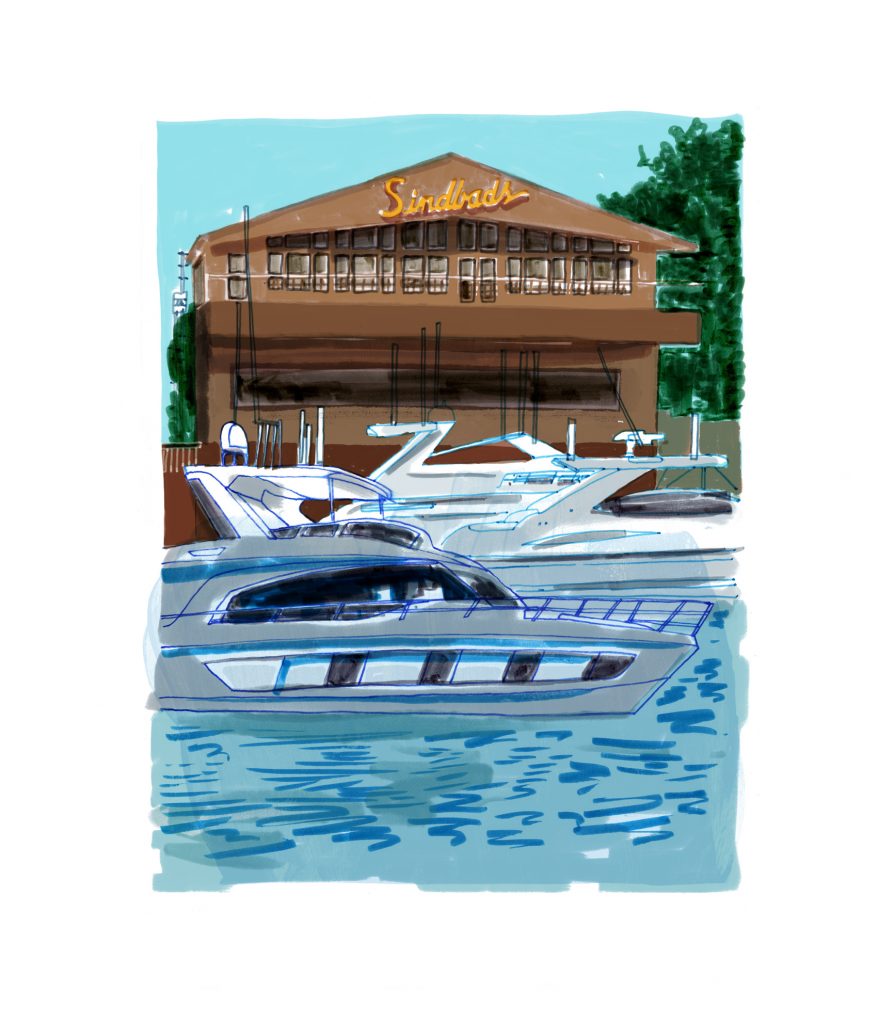 Like the lore of the restaurant's ancient mariner namesake, Sindbad's story as a riverside Detroit eatery and watering hole lives on. In the hands of its founding family (the Blanckes) since 1949, the restaurant continues to help tell a storied tale of days gone by, when summer speedboat racing drew raucous crowds dockside and a couple of lovable old steamships ferried us time and again to the enchanted island of Boblo.
Want to relive a few magical memories that will leave you refreshed and thankful to tears for experiencing life as a Detroiter? Head to Sindbad's.
Have some signature chowder and one of Van's fresh-fried perch or pickerel sandwiches. Maybe sit at the bar and rub elbows with a cast and crew of longtime, regular customers and decades-tenured staff who are more than happy to spin a few Sindbad yarns for old times' sake.
And at some point, take a walk down to the docks, smelling the freshwater air with every step until you reach the end. Then, look hard to port (left), and you'll see it: the shell of the SS Ste. Claire (Boblo boat), moored just upriver from the restaurant, in the midst of a long renovation. Just stand there and soak that all in for a few.
That's what Sindbad's still so graciously offers us these days: not just tastes of what it's been serving there on the waterfront for 74 years but a whiff of what it means to stay connected to our heritage as Detroiters and the river that runs through our city.
Sinbad's Restaurant and Marina, 100 St. Clair St., Detroit; 313-822-8000; sindbads.com.
---
This story is from the August 2023 issue of Hour Detroit magazine. Read more in our digital edition.