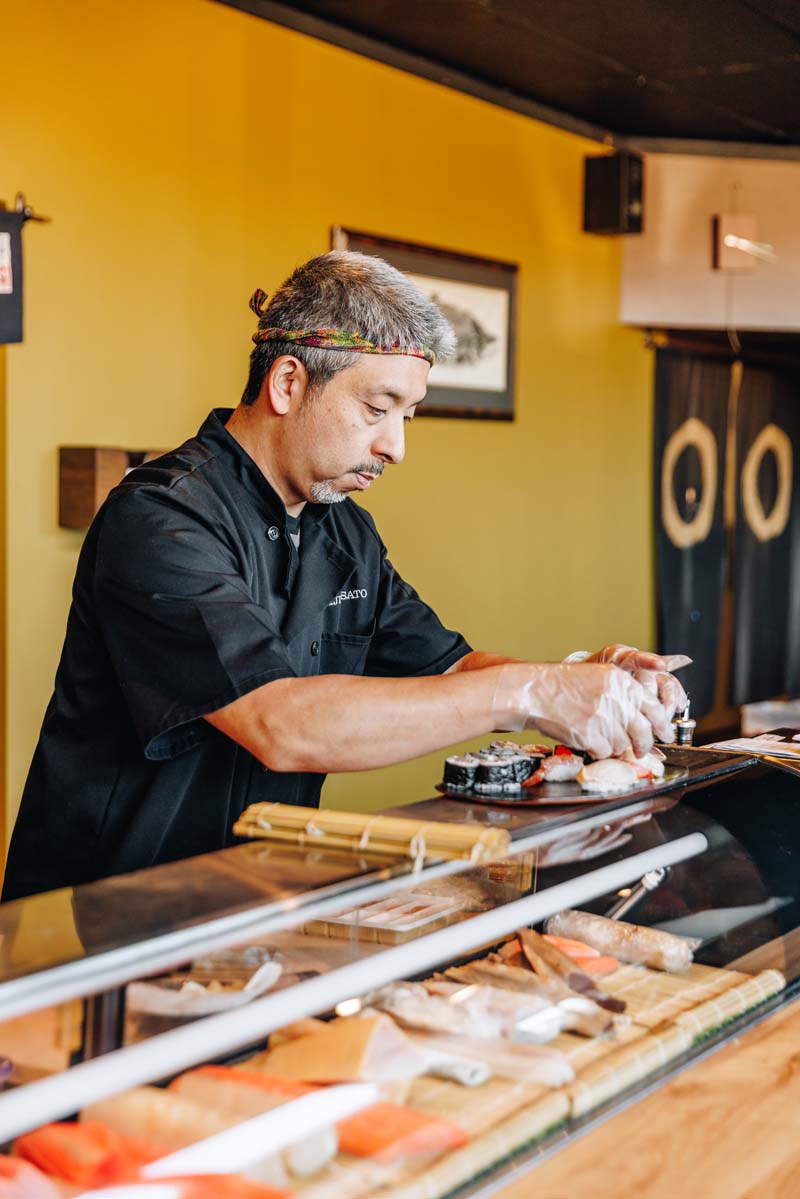 Midway through our dinner at Sozai, a sustainable sushi restaurant in Clawson, a jaw-dropping sashimi course comes to our table. Slices of tiger-orange char, thick triangles of skipjack — dark red in the middle, gray on the outside, signs of a well-executed sear — and coins of ankimo (monkfish liver pate) are artfully arranged on a wooden platter. A verdant seaweed salad, crisp julienned cucumbers, and batons of pickled carrot punctuate the plate.
This is the kind of sustainable sushi — made with seafood raised and caught responsibly in a way that does not hurt the environment — chef Hajime Sato is trying to introduce to diners in his new home state of Michigan.
"Some people tell me, 'You don't have California rolls; you don't have cream cheese,'" says Sato, who ran and operated sustainable sushi restaurant Mashiko in Seattle for 25 years before moving to Michigan a couple of years ago so his wife, who was battling cancer, could receive treatment. "Some people get mad and call me names and leave — that's fine. They can go somewhere else. But if they're open to new things, then I'm more than happy to explain." 
We take sushi for granted, but it wasn't so long ago that it was "exotic." In the 1960s, Kawafuku Restaurant, which is considered by many to be the first sushi restaurant in the U.S., opened in Los Angeles. Not long after, Tokyo Kaikan was one of the restaurants to lay claim to the California roll, which brought sushi to the mainstream.
Sozai offers safe bets like tempura and chicken karaage and rolls with more familiar ingredients like avocado, cucumber, tuna, and cilantro. But to fully witness Sato's mastery (and that of his fellow sushi chef, Brian Agacinski), you need to sit at one of the 13 seats at the custom-built bar and order the omakase, which is only available at the bar. The seats are often occupied, if that's any indication, so call ahead. The sustainability dedication goes beyond seafood — the bar is made from reclaimed wood from abandoned homes. Sato collaborated with Ferndale's Wall Woodworking to design the sleek light and dark wood bar and countertop, which also has a glass case where you can see all of the seafood that will go into your meal.
According to the State of World Fisheries and Aquaculture, global consumption per capita of seafood is expected to rise by 2.2 pounds per person by 2030. Amid increasing demand as well as the growing threat of climate change, the Food and Agriculture Organization of the U.N. says nearly 35 percent of all catches are being sourced at "biologically unsustainable levels." 
Sustainability also means using fish not usually synonymous with sushi. For example, instead of freshwater eel, which is endangered, Sato makes an unagi alternative with invasive blue catfish from fisheries dedicated to restoring balance to the waters.
Sato is also trying to raise awareness of the omakase concept, which isn't as common in Michigan as it is in New York or L.A.
As my friend and I take our seats at the bar, other than her shrimp and scallop allergy, our minds and stomachs are open.
The meal begins with a hearty miso soup. I'm normally not a fan of miso soup because I've had a lot of disappointing bowls, or as Sato puts it "basically MSG, scallions, and some cubes of tofu." Sato saves fish bones and simmers them for hours for the stock. The miso soup will change based on what's available. Today, there are chunks of tofu, potato, and onion in a rich halibut stock.
This is the traditional way to make miso soup in Japan, says Sato, who hails from the Tochigi Prefecture, north of Tokyo. His parents were often away at work, so he spent a lot of time watching his grandmother cook with whatever was available (this is his cooking philosophy to this day: What would Grandma do?). 
The soup is followed by bowls of toothsome squid lightly marinated in soy and spiced up with shishito peppers (this comes in a bowl that Sato created himself), and the poke of the day, which brings my friend back to a trip she took in college to Hawaii. The poke is made with ono — a mild and delicate fish from Hawaii that is deemed one of the best choices for seafood by the Monterey Bay Aquarium — embraced by seaweed and garnished with macadamia nuts.
The highlights of our sashimi course include fresh Spanish mackerel that doesn't have that dreaded fish-oil taste that comes with fish that's past its prime, and a soft and delicate Alaskan marbled king salmon. For the fish plate, we are served halibut again, this time as lightly charred and tender halibut cheeks with blanched spinach in a miso- and sesame-laced sauce. 
Omakase is a curated experience, and chefs even change direction midway. And it's rarely the same experience twice. 
I return the following week with new companions who can eat shrimp and scallops and settle in for another ride. Our meal starts again with miso soup, but this time I notice different vegetables such as pieces of eggplant. A bowl of sake-poached East Coast oysters follows, the sake lending a whisper of acidity. The nigiri platter this time boasts Canadian spot prawns two ways: fresh and translucent butterflied shrimp and then golden and crispy fried heads in all their savory glory. Another treasure on this platter are the fresh scallops, the sweet flesh opened like a book and with a morsel of rice inside. The highlight is the house-cured salmon roe, the marinade so potent that after I eat a single bead with a few grains of rice I could've walked away satisfied. 
We also see some local seafood with fried Lake Erie smelt, served cold with the crispy exterior tamed by a flavorful sweet ponzu sauce. The meal crescendos with a showstopping fried halibut collar smothered in an umami-rich mushroom gravy. 
Between the two meals, the highlight for me was a small roll that was stunning in its simplicity — and one that seemed to be made for me. Hiramasa, tempura onion, and jalapeno were rolled into nori. One bite, and I am convinced of Sato's sushi sorcery.
"I've never made this roll before," he says, and I have never felt more seen.
You can also confidently place your trust in Sato, a certified sake adviser, to make sake recommendations to pair with your meal. I know little about sake, but I know what I like in white wine: crisp, dry, and no sweetness. From these few adjectives, Sato and our server suggest the equivalent in sake with clean and classic flavor profiles. The biggest surprise is the Nanbu Bijin Junmai. I was put off by the sweet description, but Sato says it is a personal favorite and that I should try it. He was right, again.
Running a sustainable sushi restaurant in his new home state far from the Pacific Northwest, where he formed longtime relationships, is hard, Sato says. But "at this moment, I want to be on the right side of history. I want to know that I did OK when I was alive. Do I have a bright future because [I'm] one person doing a little restaurant in Michigan? I don't know. But knowing what I know … I wish more people would pay attention."
Sozai, 449 W. 14 Mile Road, Clawson; 248-677-3232; sozairestaurant.com; open 5-9 p.m. Tue.-Sat.
---
This story is featured in the January 2022 issue of Hour Detroit magazine. Read more stories in our digital edition.
Facebook Comments