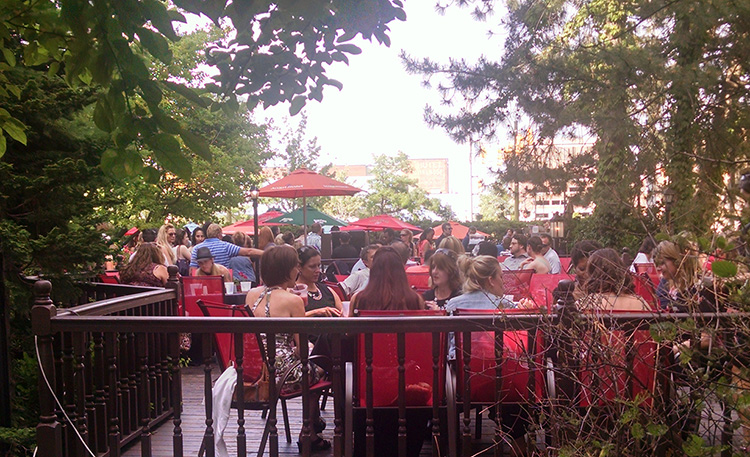 For 30 years, the Whitney has served city dwellers and visitors alike a taste of their history through a one-of-a-kind fine dining experience. And for as long as it has been a restaurant, the Whitney has held its now-signature Garden Parties every Thursday through June, July, and August.
"The whole thing is designed to be casual and easy," says Dave Duey, director of operations at the Whitney. Duey has been working full-time with the landmark eatery for five years. "People pay a $5 cover to get in — we know when they get in there, they're gonna stick around a while … We want them to. And we want to make those two hours interesting for them while they're here."
The recently renovated grounds boast new flowers and lush greenery, significantly improved within the last five years. The events also offer live music, fresh eats, and a place to mingle and mix, above all else. Event-goers may order off the regular dinner menu, but creative party plates — like the dry salt burger, made with wagyu beef from Fairway Packing in Eastern Market — are grilled just for the garden.
This "upscale grill" aesthetic wasn't always in place, though. According to Duey, the parties have endured a variety of changes over their 30 years of existence. "I remember the first time I came to one, which had to be 15 years ago, it was promoted by some local rock 'n' roll station, and the band was playing this sort of ear-splitting garage band music. And they had a free food buffet, which was so un-Whitney-esque; it was deep-fried mini tacos and cheese sticks," Duey says. "They were packed, for sure, but it was kind of a different sort of event than what it's evolved into today."
On a Thursday night this summer, eyes are quick to notice floral sundresses, hats, and comparably snazzy male attire. "The opening night Garden Party [this year] was the best-dressed looking group of people that I've ever seen outside," Duey says. "From the days that I remember 15 years ago, when it was tank shirts and flip-flops, it had graduated into a really, really nice display of Detroit hipsters that were looking for a reason to get dressed up and be outdoors."
Duey cites local booking agent, Detroit News reporter and Small's owner Melody Malosh for upping the ante. Malosh finds the talent, which is an integral part of the parties' allure.
"A year ago was her first year, and with the improved acts and bands, we immediately saw an improved attendance — both in the quality of attendees and the number of people," Duey says.
Now, the events are more financially successful than ever. And though they still experience growing pains, failure is not in the Whitney's vocabulary — sooner than later, new features begin to run like well-oiled parts in a decades-old apparatus.
"This year, we added a frozen drink machine, thinking people would love that. Well, they loved it too much the first week. We couldn't keep up with them," Duey says. "We figured out a way to get better at it: we've reduced the items on the menu, and now we're able to do that successfully, and it's a nice touch."
This tenacious spirit has certainly helped keep the parties alive for 30 years, but Duey considers their heart and soul an entity much more tangible and timeless: the people who come.
"It's the varying mixture of suburbanites, every age group, every ethnicity," Duey says. "By the end of the day, you're talking to the people next to you, and you're having a conversation with people at the bar. It's a good mixing bowl of all the different aspects of Detroit."
The Whitney Garden Parties are 6 p.m.-9 p.m. every Thursday during the summer, 4421 Woodward Ave., Detroit; thewhitney.com.
Melina Glusac is a summer editorial intern. As an aspiring music journalist, she geeks out over all things MC5, Mariah Carey, and Meat Puppets.
Facebook Comments