As a young girl in Korea, Ji Hye Kim loved eating a popular street food called tteokbokki, seared rice cake batons bathed in a gochujang sauce. When she didn't have the money to buy it from the street cart, she would barter for it at school (which was against school rules) — and then got blackmailed by a classmate who found out about her scheme. She then had to do his homework in exchange for his silence. It was quite the web of deceit, but Kim was willing to go to great lengths for tteokbokki.
Even if you never meet Kim, you get to know her on a personal level at Miss Kim in Ann Arbor's Kerrytown, where — like the tteokbokki — there's a story behind every dish. The food is approachable and lends itself well to mixing and matching. While the menu is well edited, there are still a lot of choices, so your best bet is to have your server guide you as you choose your adventure. Personally, I say the way to go is to order a couple of items from each category and share everything, because Miss Kim — and Korean food in general — is convivial in nature and meant to be enjoyed with others.
The menu is categorized into snacks and salads, appetizers, and entrees. Banchan, or side dishes, mark the beginning of any Korean meal. On the night we dine at Miss Kim, the complimentary banchan is a bowl of koryo carrot salad. The floral and citrusy coriander seeds add a fresh pop of flavor against the sweet, crisp carrots kissed by a vinaigrette. The smashed potatoes are crushed and fried, then covered in a sweet and savory mix of Korean chili flakes, pepper, salt, and sugar. The crispy fried exterior embraces a soft and creamy interior. One salad that skews more toward a Michigan sensibility is the beet and avocado salad, with roasted beets (which come from local farms like Ann Arbor Seed Co., Goetz Family Farm, and Prochaska Farms) lightly dressed in a chili pepper vinaigrette. A must is kimchi, which doesn't just mean napa cabbage. Pretty much any vegetable can be turned into kimchi, which Miss Kim does in-house. When we went, there was napa cabbage and "moo" radish (mu is Korean for radish). The kimchi strikes the perfect balance of heat, sweetness, tang, and savoriness.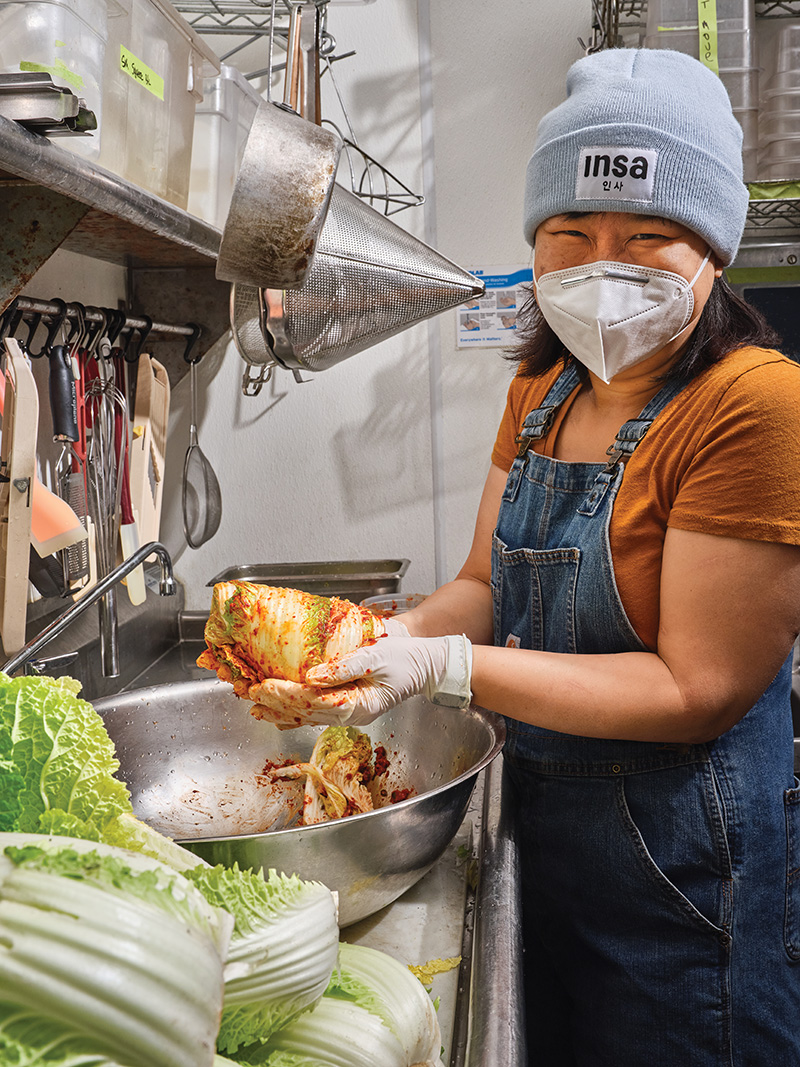 On the appetizer side, the standouts were the crisp broccolini in fish caramel and sweet chili baby back ribs, both dishes with assertive flavors leaping off the plate. The broccolini is densely layered in flavor, with an umami-rich fish sauce caramel that stands up to the char and bitterness of the broccolini, and has multiple textures with the crispiness of the vegetable and the crunch of cashews, highlighted by the brightness from fresh cilantro. The ribs are tender, every morsel permeated with flavor and a sticky glaze that begs to be licked off your fingers. 
Hopefully by now you have saved room for the entrees. There are only a few dishes, but with different variations, including options for vegetarians, there is a lot to dig into.
 Tteokbokki is prepared three different ways here: royale (vegetarian), street (with gochujang, a spicy fermented pepper paste; scallions; pork belly lardons; and slow-poached egg), and kimchi pork (similar to street-style with the addition of aged napa kimchi). We got the street-style (the kimchi pork was not available when I went), and the plump rice cakes had a satisfying bouncy chew that made them fun to eat and a perfectly balanced sauce enhanced by the yolk of the poached egg.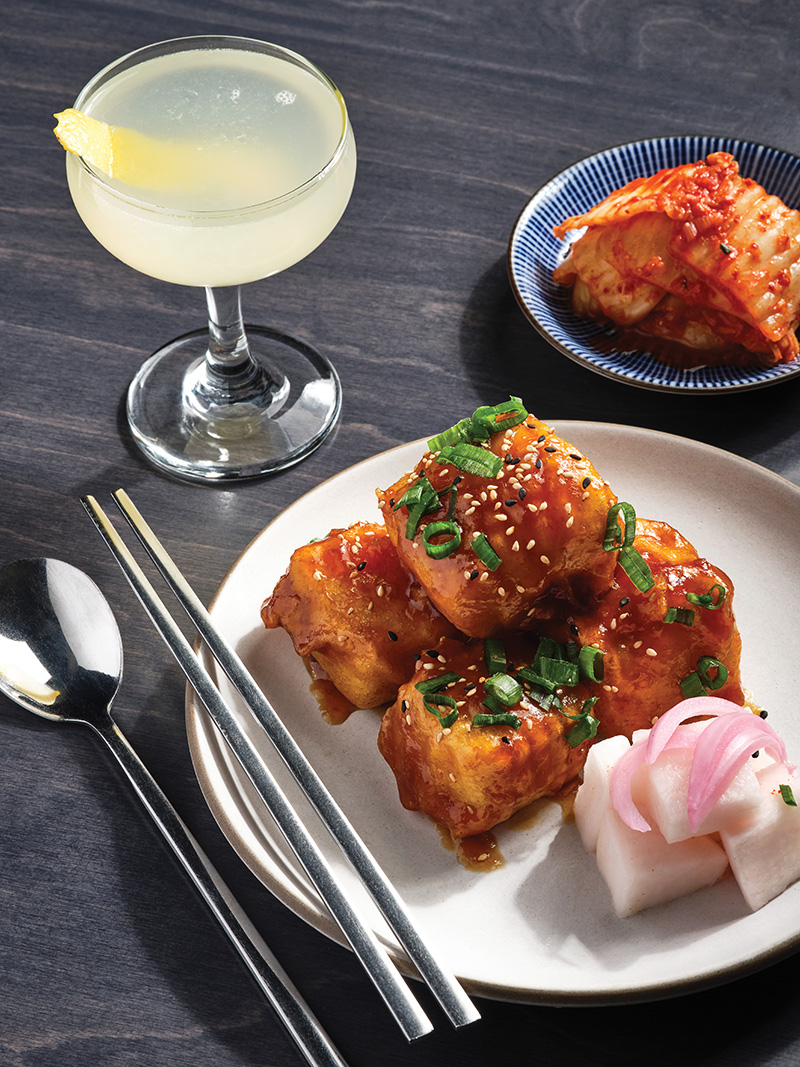 The tteokbokki is one of the dishes that captures what Kim is trying to do at the restaurant. The inspiration comes from a place of deep respect. Kim diligently researched the dish to trace its roots to how it was prepared in the 18th century. She then combined that faithful research with those days growing up in Korea when she lied and bartered for tteokbokki. It all comes together on the plate, creating a dish that is firmly rooted in the tradition and honesty of Korean cooking but with Kim's personal touches and vision to showcase Michigan produce.
 Korean barbecue is often seen as the path for people not familiar with the food to get on board. Korean fried chicken also figures prominently on the list of gateway dishes, and Kim's version is a worthy one. With a light and crunchy exterior, the Korean fried chicken is executed flawlessly, but it's the sweet and savory soy glaze that you'll crave after the dish is long gone. Tofu can often be a sad and bland afterthought, especially as a vegetarian alternative to a meat dish, but at Miss Kim, the Korean fried tofu is on the same level as the fried chicken. Cubes of silken tofu are lightly battered and fried to crispy clouds of perfection.
 Bibimbap, which translates to "mixed rice," with bibim meaning "mixing" and bap meaning "rice," looks minimalist and deceptively simple, but that belies the amount of work that goes into one bowl. Like its name suggests, bibimbap is meant to be mixed up prior to eating, so each ingredient needs to be prepared in a way that draws out its flavor, texture, and color. Each component is carefully chosen to harmonize with the others. Miss Kim's version features fresh arugula, pickled cucumbers, seasoned bean sprouts, julienned carrots, and a poached egg on top of rice. Housemade gochujang sauce ties it all together. Protein options include grilled chicken, pork, and beef on the meaty side, as well as mushroom, tempeh, and avocado on the plant-based side.
As I prepared to tuck into my bibimbap, I offered a slice of pork belly to my dining companion. After she took a bite, pure joy spread across her face. And when it was my turn, my face was a mirror image of hers. Experiencing the pork belly's crisp exterior enveloping the buttery and tender interior, we were both transported to our respective fond memories of roast lechon, a staple in Filipino cuisine.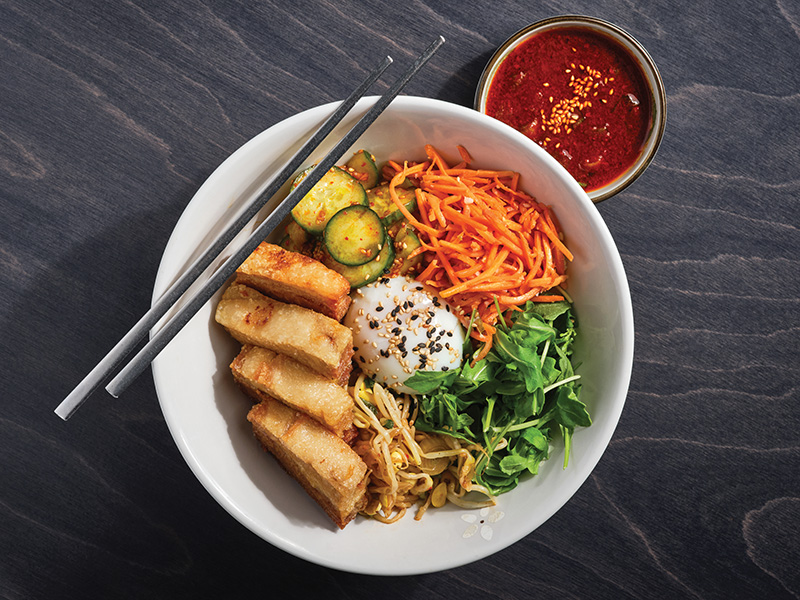 That's the power of Kim's food. We may have different points of reference for foods like a well-done piece of pork belly, but the joy is a shared experience, providing the basis of new food memories. It's food like this that drives you to make choices like bartering and lying.
 Drinking is deeply woven into the fabric of Korean dining culture (not in a "Let's get lit" way but more like "Let's bond and make good memories"), and the beverage program at Miss Kim supports that social aspect. A big part of that is soju, a clear spirit similar to vodka made from rice, wheat, or barley. It is consumed neat and often flavored by infusing fruit or herbs. The house infusions include sapote, which has a sweet, nutty flavor; rose, which strikes the perfect balance of being fragrant and floral without being perfumy; and chai, with warm and comforting flavors.
The ambience also adds to the conviviality of the food and drink. The minimalist white brick walls and exposed industrial elements are the perfect blank canvas to showcase artistic touches like pendant lamps and local artwork (when we went, Gary Horton's bright and colorful sci-fi pieces popped from the walls).
Beyond being a fun place to come and hang out, what I really appreciated about Miss Kim is its welcoming nature. The bathrooms are gender inclusive, and the service is warm and friendly in a way that makes you feel seen. When our server dropped off the bill, he told us, "I appreciate you."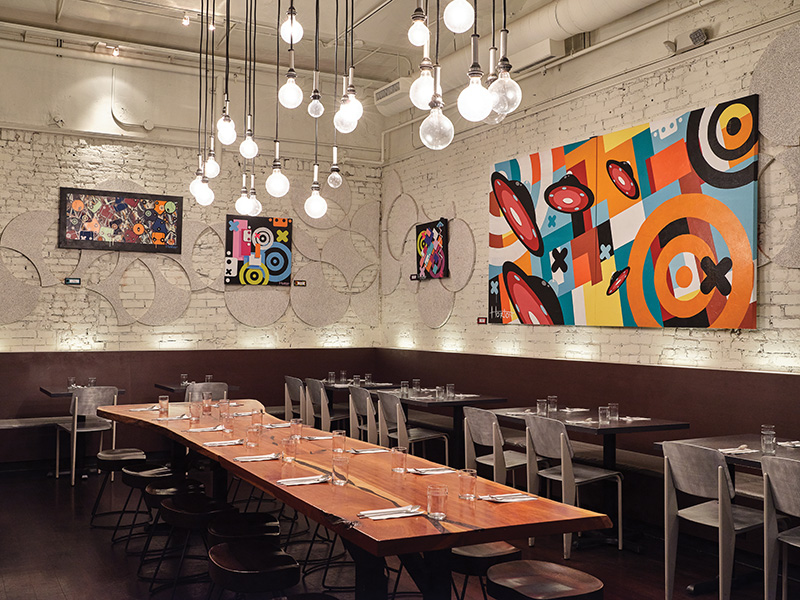 I have one critique — two actually. First, the dessert menu leaves a little to be desired, with only one Zingerman's chocolate cupcake, but that's more of a personal preference since most Korean restaurants typically don't have extensive dessert offerings. The other one is for Kim to return to doing more Korean food beyond the staples. 
 Before the pandemic, Miss Kim often held tasting dinners that showcased Kim's research into regional and seasonal dishes and traditions of Korean food. The trend of chef-driven, contemporary Korean cuisine has gained a lot of traction recently, with restaurants like Joule in Seattle and Parachute in Chicago both James Beard finalists this year, and Kim herself is a multiple-time James Beard semifinalist. While Miss Kim is going in its sixth year of being in business, Kim's profile is rising nationally with the James Beard recognition as well as a place on Food and Wine magazine's Best New Chefs of 2021. Chefs like Kim are taking an ingredient-forward approach, using the best possible produce — often locally sourced — and melding traditional and innovative techniques with a strong sense of place.
 In Michigan, Kim is a part of that generation of chefs pushing the envelope. Purists might say, "Well, this isn't how Mom or Grandma makes it," but that's not the point (besides, who can compete with Mom or Grandma?). The fact that food evolves and grows is what makes it exciting; otherwise, we might as well just eat bowls of slop like the Nebuchadnezzar crew in The Matrix. Kim takes you and your palate not only to Korea by way of Michigan but also to cherished memories with her inspired take on Korean cuisine.   
Miss Kim, 415 N. Fifth Ave., Ann Arbor; 734-275-0099; misskimannarbor.com. L,D Wed.-Mon.
---
This story is from the June 2022 issue of Hour Detroit. Read more in the digital edition.