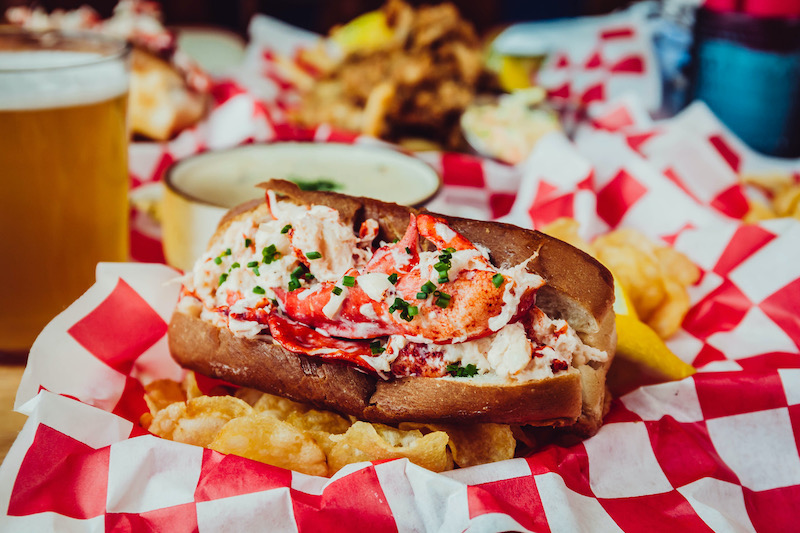 Debates have raged for years about the "proper" way to prepare a New England lobster roll —cold or hot? Mayo or butter? Garlic or chives? But one thing is for certain: there's something undeniably summery about biting into fresh, succulent lobster meat piled atop a soft, buttery bun.
If Michigan's summer heat has you craving this delicacy, you don't have to travel to the East Coast to get one. Here are six local places to get your lobster roll fix this summer. 
Hazel's
Since 2019, this eclectic downtown Birmingham eatery has taken advantage of summer's quieter weeks by experimenting with a lobster-focused menu called Hazel's Lobster Pound. This special menu is served from July until September and features a Maine-style lobster roll, which is served cold with a mayonnaise dressing; or a Connecticut-style roll, served with hot drawn butter. The menu also offers whole lobsters, lobster cobb salad, lobster bisque, and other classic New England-style shellfish dishes. Visiting outside of the summer months? Hot and cold lobster rolls are on the spring "Eastern Shore Menu," which is available April through June. Hazel's, 1 Peabody St., Birmingham; eatathazels.com. 
Pearl's Deep Dive
The New England lobster roll features a Maine lobster on toasted brioche with malt vinegar aioli. It comes with house chips for $27. Other menu options at this seafood spot include lobster dumplings, jumbo lump crab cake, seared sea scallops, and more. Pearl's Deep Dive, 100 S. Main St., Royal Oak; pearlsdeepdive.com.
The Lobster Food Truck
The Best of Detroit winner for Best Food Truck in 2020, 2021, and 2022, serves up a lobster-centric menu all year long. The hot lobster hoagie roll, which is served with garlic butter and fresh herbs is a favorite. Other menu features include seafood mac and cheese, and seafood tacos. Watch for the truck at Comerica Park and around town, or stop at their brick-and-mortar location. The Lobster Pitstop, 10405 Ford Road, Dearborn; thelobsterfoodtruck.com.
Joe Muer Seafood (Detroit)
Visit this local seafood institution (and 2021 Best of Detroit winner for Best Seafood Restaurant) Detroit location at lunchtime for a chance to try its gourmet take on the lobster roll. Fresh Maine lobster meat is tossed in a creamy, mayonnaise-based Louis dressing and infused with brandy. Joe Muer Seafood, 400 Renaissance Center #1401, Detroit; joemuer.com.
Tom's Oyster Bar
In addition to its signature oyster towers, the menu at this downtown Royal Oak seafood spot includes a New England-style Lobster roll, which features coldwater lobster tossed in a light house dressing. It's served with kettle chips or fries, and comes in two sizes: small for $21 and large for $29. Tom's Oyster Bar, 318 S. Main St., Royal Oak; tomsoysterbar.com.
Voyager
The only way to sample the lobster rolls from this coastal-inspired Ferndale eatery is by ordering from its "Dockside To-Go" menu. Choose from two types of lobster roll: a Maine-style sandwich featuring mayo, celery, and chives; or Connecticut-style with warm drawn butter. Both versions come with house kettle chips for $28. Round out your East Coast dinner with hushpuppies, peel 'n eat shrimp, or oysters on the half shell. Voyager, 600 Vester St., Ferndale; voyagerferndale.com.
This post has been updated for 2023.