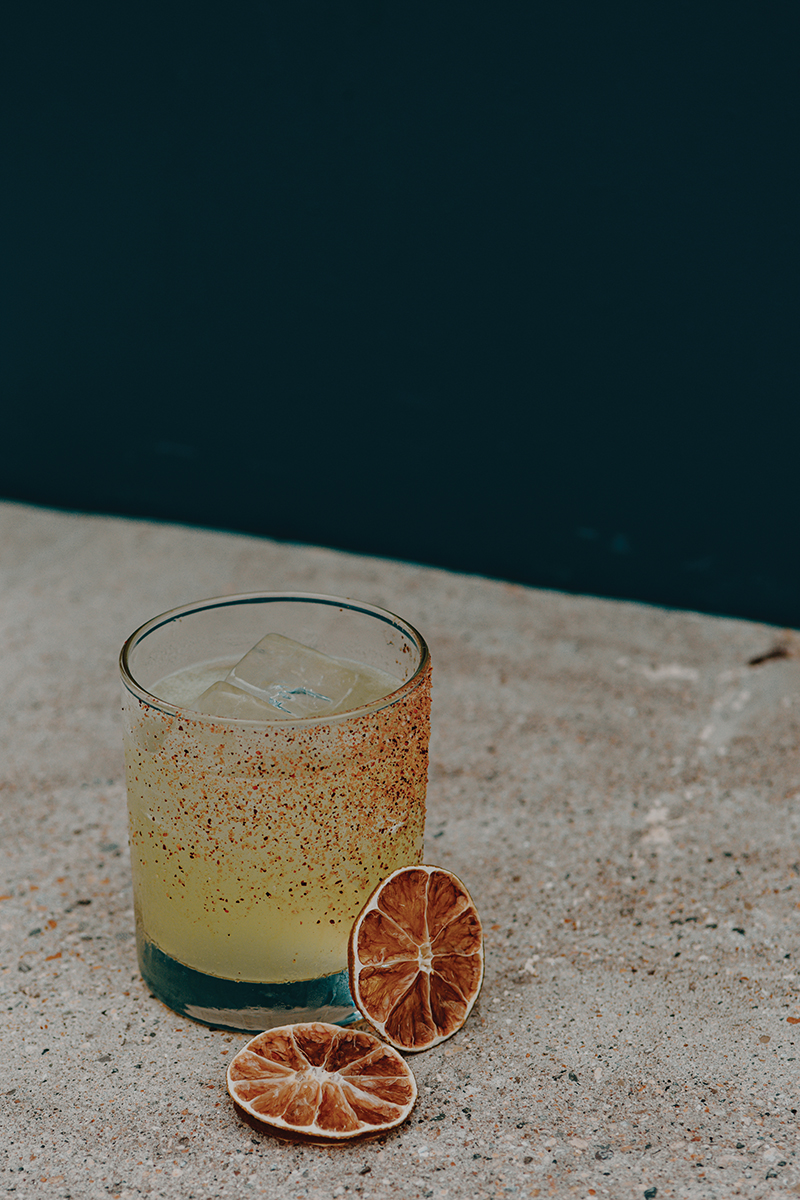 Promises in Vortex, a Takoi fan-favorite, draws inspiration from a classic margarita, but with a refreshing Thai spin. "I would describe it as zesty, herbaceous, spicy, and effervescent," says Drew Pompa, beverage director for Top Young Hospitality, the parent company behind Detroit's Takoi, Magnet, and The Pantry. Here, Pompa offers a lesson in creating two renditions of the cocktail at home.
How to Make the Promises in Vortex 
Ingredients:
2-oz.-blend of cilantro-infused El Jimador Blanco Tequila and Banhez Ensemble Mezcal
1/2 oz. mint syrup* or 1/2 oz. Thai chili simple syrup*
3/4 oz. lime acid*
1  1/2 oz. filtered water
Super Salt rim*
Directions:
Draught > Add all ingredients to a soda stream or Isi Soda Siphon and carbonate. For the classic presentation, salt a rocks glass with Super Salt, add a 2-by-2 Kold-Draft ice cube (or use an ice mold that renders the equivalent size), and fill the glass with your carbonated cocktail. Large cubes will control dilution rates better than smaller cubes, so if you plan to sip your drink slowly, this is the way to go — but good luck trying to keep this drink around for more than five minutes.
Shaken > If you enjoy drinking your cocktails still instead of carbonated, replace the lime acid with fresh lime juice, add all ingredients to a cocktail shaker — minus the filtered water — shake with ice, and strain into a Collins glass over pellet ice. Garnish the Promises in Vortex with a Super Salt rim, lime wheel, and mint sprig.
---
Super Salt Rim*
Super Salt is a balanced combination of kosher salt, citric acid, and dried chili powder. Dry and grind guajillos, ancho, New Mexico red, or cascabel chilis and mix with the salt and citric acid.
Mint Syrup*
(Yields roughly 32 oz.)
3 to 4 cups fresh mint leaves (leaves should be firm and deep green in color)
Granulated sugar
3 cups filtered boiling water
> Bring water to boil. Add mint and boil for an additional 1 minute. Immediately remove mint leaves and place them in an ice bath. Turn off burner, measure the amount of water in the pot, add equal parts sugar, and dissolve until mixture becomes syrupy in texture. Cool the syrup until room temperature. Then, add syrup and mint to a blender — you'll have to do this in two different batches — and blend each batch for 2 minutes. Use cheesecloth and mesh strain.
Thai Chili Simple Syrup*
(Yields roughly 36 oz.)
1 oz. Thai chilis, diced
Granulated sugar
3 cups water
> Dice chilis into pieces, but do not mince. Bring water and chilis to boil, then remove from heat. Combine equal parts chili mixture with sugar and let dissolve, stirring as needed. Let settle until syrup reaches room temperature.  Strain with a cheesecloth through a mesh strainer to fill large ball jars. 
Lime Acid*
Peel of 3 limes
1  1/2 oz. citric acid
1 oz. malic acid
4 cups water
> Let peels settle in the acids for 2 hours. You can find citric and malic acids at most grocery stores. If you don't have malic acid available, add a little more citric acid and adjust to taste until you arrive at a solution that strikes a similarity to lime juice. Strain with a fine mesh and cheesecloth strainer.
Facebook Comments