New York has its Rockefeller Center, but here in Detroit, The Rink at Campus Martius Park is about as lovely an urban winter scene as can be found anywhere. And like its Big Apple inspiration, Campus Martius also hosts the yearly lighting of Detroit's huge Christmas tree that sits atop the Woodward Fountain.
From when the tree is lit in November through the beginning of March, would-be figure skaters show off their moves, amateur speedsters cross the ice in a flash, and easy-gliding hockey leaguers dodge the children and first-time skaters trying to find their ice legs.
In warmer weather, the rustle of shade trees and gentle gurgle of fountains, replace the sound of skates, and the acre-plus park becomes a venue for concerts. Its botanical gardens and lawn areas create a peaceful, contemplative place.
In the middle of this very urban scene sits a single-story, glass-front building that houses our choice for Hour Detroit's 2018 Restaurant of the Year: Parc, a crisp and formal but distinctly unstuffy restaurant with very good food and exceptional service.
Little touches say a lot about a restaurant. And the excellence and atmosphere for which Parc strives is immediately evident on approaching its glass doors. Before you can reach for the handle, a member of the staff steps out and holds the door open. "Welcome to Parc," he says, a simple politeness, and a nice touch not too often seen in American restaurants, but more common to Europe.
The first steps into any restaurant often dictate how successful a customer's evening is going to be. When a host or waiter says, "Sit wherever you want," it's often the early warning of a mediocre experience. Good restaurants are regimented from the back of the kitchen to the front door. The attention to something as simple as welcoming a customer is one of those essentials.
Inside Parc, the sound level is many decibels down from the park and rink outside. We are not the first to arrive, and the hushed choreography of the wait staff — moving between tables and the kitchen, delivering and clearing dishes efficiently, like well-oiled parts of a machine — is already underway.
Parc's owners are Matthew Shiffman and Zaid Elia, who are also partners in a project to reopen the former Kingsley Inn in Bloomfield Hills later this summer. Elia also owns Birmingham's 220 Merrill restaurant.
In early 2016, the partnership had an opportunity to buy all the concessions in Campus Martius from another owner. After the deal was signed, Elia says they took the place down to the studs, adding about 1,000 square feet to the former Fountain Bistro. Part of the addition was the entire wall-to-ceiling glass front and sides that now take advantage of the view of both the park and the surrounding city.
"I've had a seat front and center, watching this fabulous growth and the general excitement, a new sense of community here," Elia says of the prime downtown location.
The restaurant takes full advantage of its setting, boasting a 270-degree vista of the park and downtown Detroit. We are seated by a window with a full view of the activity in the skating rink and beyond.
The crisp, modern décor of the room was handled by Mark Knauer and his Chicago-based architecture firm. The room features blue-green drapes, dark stained wide oak board flooring, and half-moon shaped booths in brushed faux-fur backs and leatherette seats.
Huge whimsical lithographs adorn one wall — identical black and white poses of Michael Jackson and John Lennon in suit and tie, each holding a champagne bottle in one hand and their crotches with the other. They're part of the popular "Cojones" series of portraits done by L.A.-based artist Knowledge Bennett and purchased by Parc partner Shiffman. The wall on the opposite side of the bar features the same poses, but with the faces of Jimi Hendrix and Elvis Presley.
Parc's overall feel is of cool and modern comforts. Two and four-person tables are spaced along a wall-long banquette on one side and solid inviting padded chairs on the other.
We first experienced the food at Parc early last year, not long after it opened, and returned again in 2018. Each time, it was excellent. The menu follows the seasons and the availability of products and is executed by the consistency and talent of Executive Chef Jordan Hoffman and his kitchen staff. It fits snuggly into Parc's character and attractive setting.
Hoffman is a native of Adrian, and a graduate of the Schoolcraft College culinary program in Livonia, where he studied under the great Marcus Haight, who was the chef at The Lark in West Bloomfield for 17 years.
Hoffman eventually landed in Las Vegas, where he worked for several top restaurants, including the one at MGM Grand named for French master chef, Joel Robuchon. He also opened Bianca, then a new restaurant for the grand old The Delano South Beach hotel in Miami Beach, Fla.
When the casual bistro-style restaurant in Campus Martius space became available, Zaid and Shiffman jumped at it, and they recruited Hoffman to take over as executive chef.
The menu has changed somewhat since the launch, but its focus is still a more American and Continental lineup, with an emphasis on beef and steaks and a range of offerings to appeal to varied tastes.
"It's modern American and Italian fine dining, with its roots in French and the Midwest," Hoffman says. "I try to think of the different cultural influences of Detroit, which is really where the heart of my cooking sits. So, we do wonderful pastas. A lot of it is in Italy, but of course it is local as far as ingredients go. But it is not overly fussy, it's refined, simple, and approachable."
The appetizer course selections include a luscious, fluffy, and plump charred burrata with the tops of rapini broccoli buds, white anchovy, lemon, and chiles, and grilled rustic Italian bread.
There probably wouldn't be much to say about oysters in the half shell, except that at Parc, they are dressed with an intense lemon and chile oil and a mint gremolata — a zesty cousin of pesto that adds so much to just about any meat or fish dish. In Italy, it is often seen with veal.
I ordered the tuna tartare, which came with house-made potato chips. The tartare was bright and fresh, springy and delightful. And it was properly cut. I mention the cut because quite a few kitchens make a mess of tuna tartare. They end up mashing it, as you would when grinding sirloin for its beef tartare cousin. To keep tuna together, it needs to be cut gently into small cubes. A too-heavy hand on the knife delivers a purée of tuna and aborts the fish's texture and much of its flavor.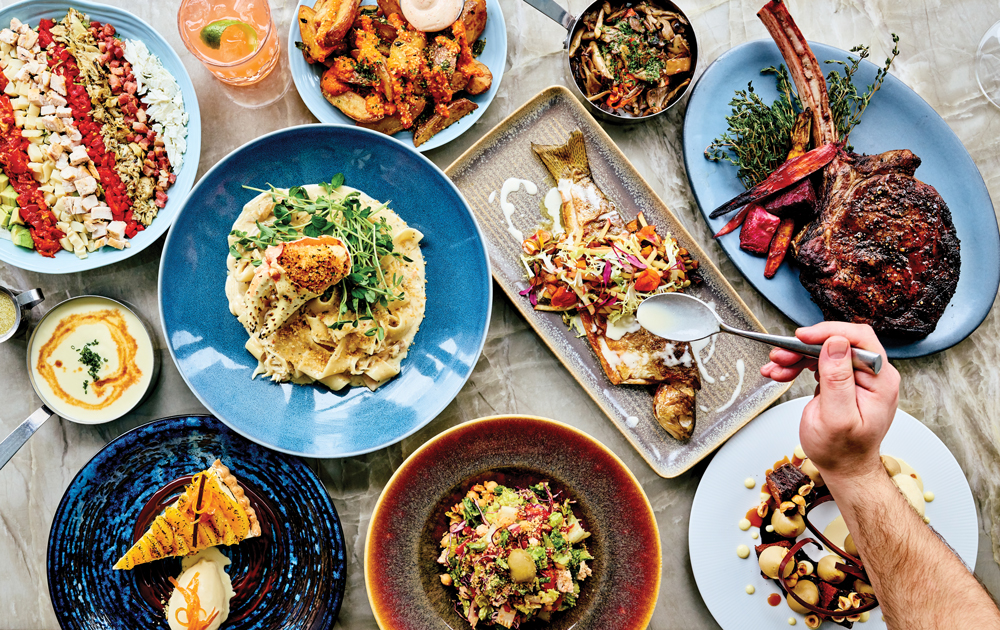 Other creative first courses from Hoffman include grilled calamari with capers, Labneh yogurt, Persian cucumbers, chives, and frisée lettuce. Or try the veal sweetbreads crisped with a honey and sumac glaze, grilled broccoli, chopped cashews, scallion and a sambal sauce with a lime and chile pepper base.
Another first course is wood-roasted oysters, grilled with seaweed butter and served with bacon, crispy kale, and pickled shallots. And for an interesting twist on wood-grilled baby-back ribs: dry-rubbed and honey-glazed, and served with Calabrian chiles, and shaved apple and brussels sprouts.
And those are just the first courses. A "don't miss it" dish is the deep-fried, battered little quails that have been marinated in buttermilk and are served with a dab of mashed potatoes and a seasonal compote.
The main courses at Parc are also exceptional. An organic Scottish salmon comes with skin crisped by pan cooking, and served with Israeli couscous, grilled rapini greens, a side of carrot purée, and a lightly tangy yogurt sauce.
There is also a wood-grilled Mediterranean Branzino, the Italian name for sea bass. A hundred miles up the coast and around the bend, the French call the same fish Loup de Mer. At Parc, the Branzino is served with a tarragon gremolata, a carrot jus, and roasted seasonal vegetables.
The other seafood plate of note is four giant prawns sitting on a bed of polenta that has been lightened somewhat with a soubise, which in turn is made using a creamy Béchamel sauce blended with finely chopped onions sautéed in butter. The prawns come with shaved onion, a charred half-lemon and Calabrian chilies.
Parc also prides itself on its steaks, described as "reserve steaks and chops dry aged and hand selected for Parc by Fairway Packing Co. and wood-grilled and served tableside with bone marrow jus, and selection of roasted vegetables."
So we tried the superb 16-ounce "Imperial," a bone-in New York Strip steak that could easily have fed the four people at the table, done to perfection without a lot of the usual fanfare and frills.
Another selection we tried was a plump veal loin chop, wood-grilled and when cut, emitted pure clear juices and showed just a slight pink color. It was served with Joel Robuchon-style potato purée, the veal jus and chives — a reflection of Hoffman's Las Vegas training under the French master.
Another not-to-be-missed dish was the rigatoni pasta with a yogurt-braised lamb ragout, slivered red onion, zucchini, sweet intense San Marzano tomatoes, and crumbled feta.
A couple of side dishes are also worth mentioning: the roasted seasonal vegetables with lemon zest and smoked yogurt and a medley of wild and local mushrooms cooked in white wine and herbs.
Parc has its own in-house baker and pastry chef, the very talented Tori Parnell, who is also the sous chef. Her desserts are deep in flavor and lovely to look at. Much of her concentration is on sculptural designs using chocolate, both white and dark, to make ribbons and bows, disks, and other architectural-like structures and flourishes, so lovely that you hesitate to take a fork or spoon to them, and wince slightly as if you are about to defile a painting in a museum.
Assistant Manager/Sommelier Dennis Payne, a longtime fixture in the Detroit area wine scene, is in charge of the very complex wine list at Parc. Payne's selections are lengthy and masterful. They include 30-plus red, white, and sparkling wines by the glass, and an extensive North American list, as well as pages of Italian and French wines, among others.
There were several avenues making Parc our pick as the 2018 honoree. The food was certainly one. We also considered its location in the center of the city. It sits at the true geographic hub of the wheel where the spokes converge at Woodward, Michigan Avenue, Fort Street, Cadillac Square, and Monroe. The combination of the charm, the very good food, and its dazzling location all combine to make Parc a great experience.
"It will become an institution that will continue to evolve and evoke that sense of place," Hoffman predicts, "taking care of itself, and developing the people, and its customers." He pauses for a second and adds, "Detroit is going to be much more hospitality-driven in the future, even more than it already is now."
Parc's ownership is thrilled to be part of downtown's revival. "We just love to go to work every day, and we are proud to be part of this renovation of Detroit," Elia says.
His partner Shiffman agrees wholeheartedly. "To be able to open our doors and see locals, professionals, and out-of-town diners from all over the place visit our dining room, brought nothing but excitement," he says. "We are beyond thrilled to contribute in a small way to the regrowth of the Motor City."
---
800 Woodward Ave., Detroit; 313-922-7272. L&D Daily, Br. Sat.-Sun.