It's nearing 8 o'clock on a rainy Monday evening at Qahwah House. The small coffee shop sits on Schaefer Road, a few blocks south of Warren Avenue, one of Dearborn's main commercial arteries. The shop was opened a little more than a year ago by Ibrahim Alhasbani, a Yemeni refugee, whose family back home has been in the coffee growing business for generations. Alhasbani serves pour-over coffee, in frothy milk, spiced with generous amounts of cardamom, ginger, and cinnamon at a little less than $5 a pot. It pairs perfectly with house-made sabaya, a flaky bread slathered in honey and clarified butter, and is reason enough to venture almost 20 miles into the city after work.
But there's more. Qahwah House is also a gathering ground for the young politicos of Dearborn. Tonight, campaign strategists, policy advisers, and lawyers invite me into a part of their world. Men and women, immigrants or the children of immigrants from Lebanon, Iraq, and Pakistan, all sip milky coffee and debate who, within the community, might be next in line to run for office. We've been waiting on the final member of the gathering for the past hour, Abdullah Hammoud — a 28-year-old Democratic state representative, the first Muslim elected to represent Michigan's 15th House District, and the youngest board member elected to the Michigan League of Conservation Voters, an organization dedicated to protecting the state's land, air, and water. When Hammoud finally arrives, the table applauds in good-natured ragging. "He's always late!" they shout. "The pride and joy of the 15th is always late." His political consultant, Zaineb Hussein, says to me, "We refer to Abdullah as our pride and joy, because that's exactly what he is. In Abdullah we see ourselves."
With 30 percent of the city's population identifying as Arab-American, Dearborn is a microcosm, and some say an ideal one, of minority politics. So, its playbook draws more from its roots — the countries of the Levant, Maghreb, and the Arabian Peninsula — where communal eating is a requisite part of social interaction, than it does from the cigar-smoke-hobnobbing of America's political epicenter, Washington, D.C. Still, food is more than just an entrypoint to socialization here. "My parents are from Pakistan, but I grew up eating Lebanese, Iraqi, and Palestinian food," says Hassan Sheikh, the economic director for the city of Hamtramck. "Everyone at this table looks past their differences and actually sees them as strengths." That multinational camaraderie, so characteristic of Dearborn's youth, is palpable in the air at a place like Qahwah House. It's what makes the shop more than just a place to find some of the most authentic Yemeni coffee, but a place to witness how identities are continually being reshaped across time, continents, and generations. And it's just the most recent chapter of a story that began long ago.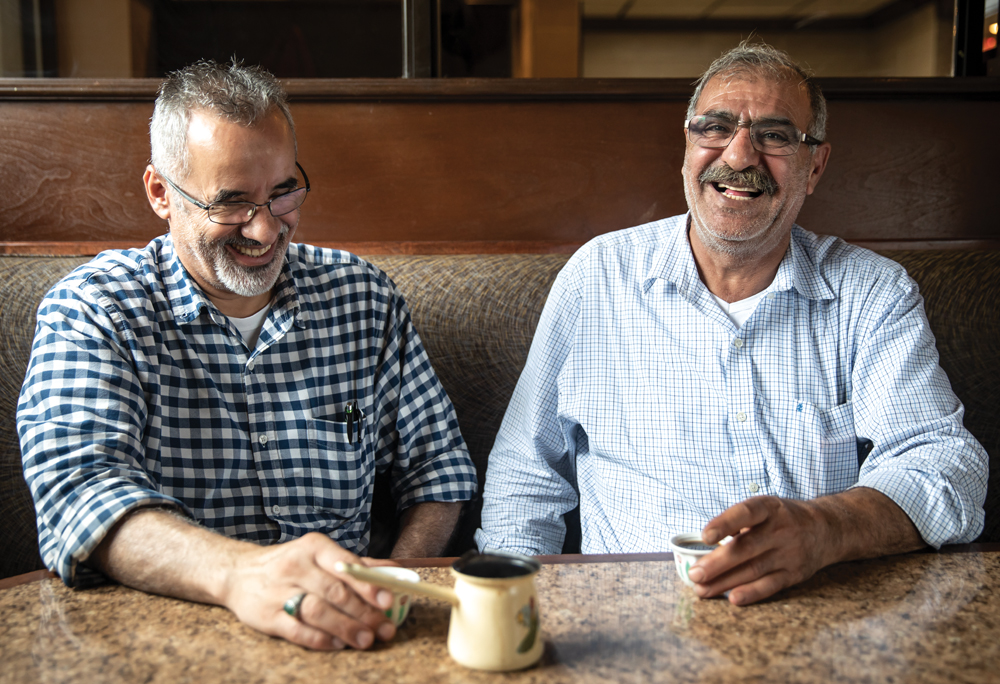 The first waves of Arabs immigrated to Dearborn in the late 1880s with hopes of finding jobs in the auto industry. Initially, most came from Syria and Lebanon, but soon those from Iraq, Palestine, Jordan, and more followed suit. And as civil tensions continued to escalate in the Middle East over the course of the following century, so did the migration westward bringing future business owners like Zaki Hashem and Khalil Ammar to the city. Hashem and Ammar arrived from Lebanon, and opened what would eventually become a culinary cornerstone and James Beard award-winning restaurant, Al-Ameer.
Hammoud's other Hotspots: Lava Lounge, Tuhama's, and La Pita
The restaurant, which began business in 1989, was one of Dearborn's original five Middle Eastern eateries, one of the first to have shawarma skewers, and is still serving that same authentic Lebanese cuisine today. Mainstays of the menu include the creamy Beirut Hummus and stuffed baby lamb served with a side of thick laban. The restaurant thrives on its partnership with neighboring vendors like Cedar Imports for produce, Express Chicken for poultry, and is one of the reasons it's such a stronghold of the community. "Al-Ameer is just a classic," says State Rep. Hammoud, who stops into the restaurant on a regular basis. According to Hashem's son, Hassan — who was also the one to connect me with Hammoud, telling me that much of the city is linked by a WhatsApp group called "The Good Fight" — the city's older political minds meet here for weekly dinners where family platters of kabobs, kafta, lamb, and roasted vegetables are always central. Come almost any day of the week and you will likely see the city's power players conversing at a table in the back or grabbing shawarma to go.
When Hammoud was sworn into the State House he met Gov. Rick Synder. Knowing that Hammoud was a Dearborn native, Governor Synder told him that the city had some of the best food he'd ever had. At tonight's table, a few go so far as to say that the cusine of Dearborn is better than that of Lebanon.
For a city to make it onto the map by way of its food is a familiar trope. But for a city to shape its conglomerate, transplanted origins into an identity both cohesive and homegrown, through its food, is indeed unique to Dearborn. "Food is a source of commonality — an easy way to explain where you come from and gain the respect of your fellow man," says Hassan Abdallah, a campaign consultant and the founder and executive director of the SAFE Substance Abuse Coalition. Iraqi kabobs, fresh pita, and a halal taco restaurant all sit within a few miles of each other and are proof that not only is Dearborn an epicurean dream, but that food has actually leveraged the sectarian divides of the Middle East — not to say they don't exist here — into something new. Perhaps that's why politics can be as much a part of the city's architecture as its fare. Because when people gather together for a meal, opacity necessarily fades, and politics suddenly becomes less about manipulation than it does about interaction. A place to find common ground. But, if need be, Dearborn's political convening spots are also a place to find authentic shawarma, crispy falafel, and the best hummus in town.