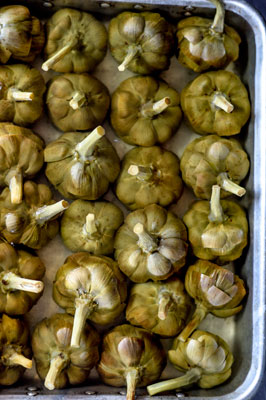 The first thing you need to know about Bistro 82 is that the food is terrific and well worth a visit.
The second thing is that there has been a lot of buzz about this recent addition to Royal Oak's hot restaurant scene, considering that the new owner is reported to have spent millions to revamp the building, adding to its curb presence enormously with its black, shiny glass exterior. The interior is cavernous in height accompanied by the wafting sound of the dining crowd.
Bistro 82 is also coupled with Sabrage, a new second floor nightclub planned, but not yet up and running when we visited in March.
Owner Aaron F. Belen is installing a posh new club that will offer a bar and a massive fish tank, a DJ-managed sound system, dancing, and bottle service booths guarded by those velvet celebrity "privacy-please" cordons to keep out the riffraff.
Atmospherics aside, the food at Bistro 82 is extremely good. And why not, considering that the chef is Derik Watson, one of the most skilled and accomplished in the Detroit area. He is a veteran of such places as Iridescence at the MotorCity Casino, the long-departed Tribute in Farmington Hills, and Takashi in Chicago, as well as a stint with restaurateur David Burke in Las Vegas.
The dining room is oddly enticing. Soft lighting blends pleasantly with the simple decor dominated by gentle hues of gray and creamy white. The glass front vitrine looks onto the street and is made up of multiple aluminum-framed glass sections, providing a faint view of the dining room from the outside.
Inside, gray leatherette banquettes line the window, and simple, bare dark gray tables are set in white china, oversized bowl wine glasses, and plush white napkins with navy stripes.
Sleek, clean-lined black chairs with white faux leather seat and back cushions keep the design and feel of Bistro 82 even and comfortable.
But it is the food and menu that really shine at Bistro 82. The kitchen is solid, turning out enticing, good dishes with fun twists — from gently spiced, hot sizzling marrow bones accompanied by coarse sea salt to a steak tartare with the appropriate balance of condiments to beef (somewhat a rarity among restaurants that attempt it these days). There's a necessarily simple but too often mishandled steak frites, which thankfully arrived exactly as requested — cold and raw in the center and singed on the outside — accompanied by french fried potatoes cooked in the traditional extra crisp Belgium style.
Other first course offerings are fairly standard to brasserie menus, with an additional turn: a shrimp mirepoix dish with chorizo; pork belly served in brioche with a poached egg, and frisee salad in a sherry vinegar dressing; a gratin of salt cod with roasted garlic and potato; a terrine of vegetables including beets and a fresh mushroom medley (called here a "conserva"), and Swiss chard. A wrap consists of cucumber, carrot, arugula, basil, mint, coconut-curry, and peanut. An old-standby grilled artichoke is offered with lemon vinaigrette and roasted pepper aioli.
And finally, Bistro 82 offers what seems to be on everyone's menu these days: the ubiquitous Canadian original, poutine, made here from polenta into steak fries, with beef shank gravy and Vermont cheddar.
No bistro menu would be complete without the requisite selection of oysters, and here they come by the half-dozen or a dozen, and depending on where the freshest are that week, either from providers on the East Coast or the West Coast, or both. Or, for the really seafood-addicted there is an assorted shellfish platter, offering oysters, crab claws, jumbo shrimp, and chilled mussels.
At first glance, the menu appears pretty standard for the casual dining bistro: chicken, short ribs, hangar steak, rib-eye, and scallops among the listings.
But at a second glance, it's Bistro 82's side dishes and other accompaniments that make them all quite different. For example, the evening of our visit, the chicken paillard was offered the usual way — pounded out and then grilled — except the accompaniments were watercress and fennel pollen.
A 12-ounce Kurobuta pork chop is served with sweet corn pureé, soybeans, roasted mushrooms, and a shallot-based reduction.
For the non-meat eater, there is a vegetable paveé option, a layered lasagna-like square. Bistro 82's version is made of eggplant, zucchini, squash, cauliflower, fines herbs tarragon-red bell pepper coulis, and lasagna pasta.
A filet of Scottish salmon comes with succotash, purple potatoes, and a broth based on pistou, the marvelous lighter southern French version of pesto.
There is also an excellent beef short rib dish. The ribs are slow braised in red wine to fork tenderness and plated with celery root pureÌe and pan-wilted Swiss chard.
Also highly recommended are the sea scallops — of which I admit I am not usually much of a fan. But here, they are perked up by a white bean mousseline and sauce Americaine, the rich, creamy, buttery, and slightly spicy shellfish broth-based sauce.
The menu also offers old standards such as a seafood bouillabaisse made with lobster, mussels, shrimp, and saffron-shellfish broth, slathered with a rouille, the freshly made red pepper and garlic mayonnaise of Provence. And there is a traditional moules frites, the Belgium-style mussels and french fries, but with a curry aioli.
The dessert menu is a real departure from just about anywhere else around town: It has such truly originals as a yogurt panna cotta blueberry compote, a plate of three incredibly light cinnamon-sugar New Orleans-style beignets with caramelized banana, and a cider-poached pear served with Greek yogurt, almond brittle, and star anise.
When we visited Bistro 82 in March, only a couple of weeks after it opened, the restaurant seemed shyly uncertain, which is not intended as a criticism because the staff of any new restaurant will eventually settle in, as it always does with new places. The service is just a matter of time. The food is already where it needs to be.
For now, the strength of Bistro 82 is all in the skilled hands of Watson, who has put together an extraordinarily good replica of a basic French brasserie menu, plus some North American twists. I emphasize "brasserie" here because Watson's menu is a solid step up from "bistro," which really sells short the level of food here. It's much better than bistro.
In summary, this is already a really good restaurant. But it has areas where it can become more re- fined and mature — in service for example — and the physical space feels oddly off kilter. But the menu is already totally solid, sending Bistro 82 to the fore with an impressive start.
401 S. Lafayette Ave., Royal Oak; 248-542-0082. D Tues.-Sun.
Cook is Hour Detroit's chief restaurant critic. Email: editorial@hour-media.com
Facebook Comments