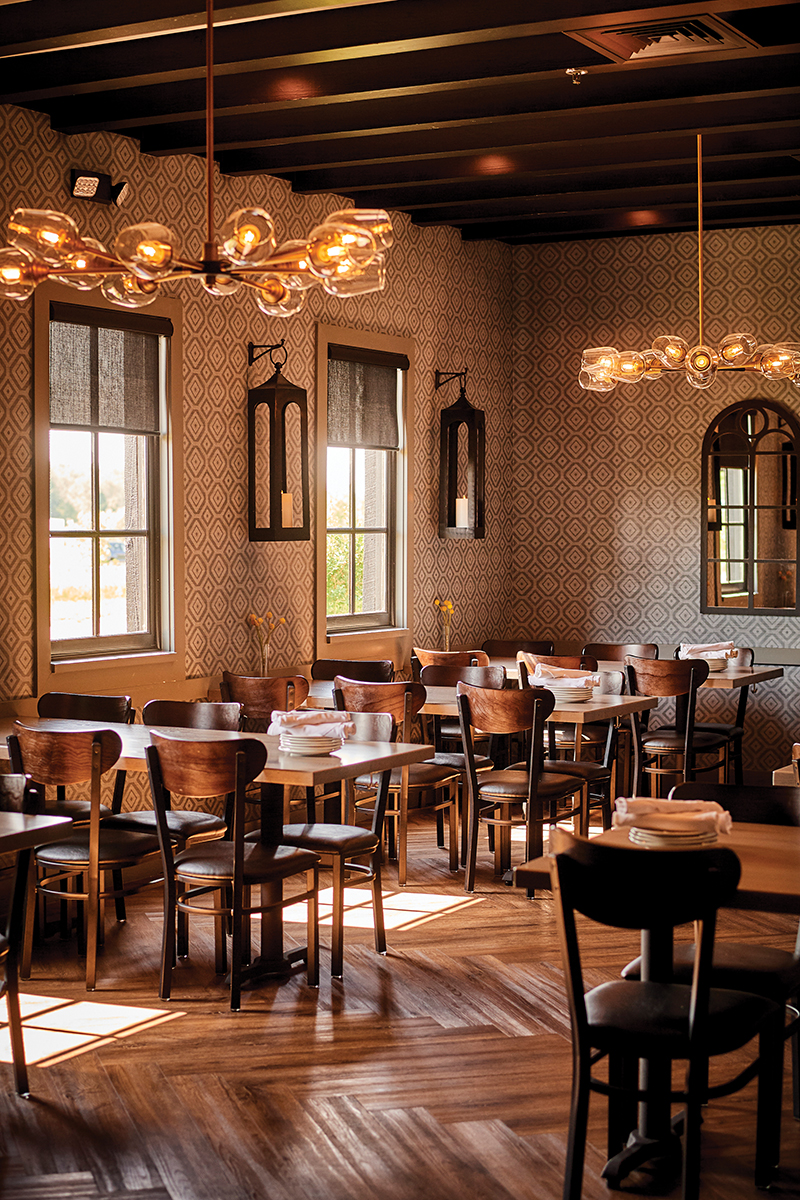 I wasn't around when Antonio's Cucina got its start in 1964. Or, when Salvatore Scallopini first opened its doors in 1982. Or even in 1989 when Joe Vicari founded the original Andiamo in Warren. While the culinary conglomerates were individually working to become metro Detroit's fixtures for celebrating special occasions over spaghetti and cannoli, I instead was awakening my palette to Italian food in New York via dishes passed down from my great aunt who'd shared recipes she learned from her Italian in-laws. But, seated at a back corner table at Bar Verona in Commerce Township, swirling noodles laced with tears of fresh basil, slices of garlic, and translucent pieces of diced onion, I could almost guarantee the newcomer is destined for a similar fate as the Italian chains that came before it. 
The success story for Bar Verona begins a little differently than the geneses of its predecessors, which take pride in their humble beginnings. Contrary to the bootstraps backstory for Scallopini and Andiamo, Bar Verona is the trustfund baby of Italian restaurants, if you will, destined for success as the brainchild of celebrity chef Fabio Viviani and Yellow Door Hospitality Group. A former contestant on Bravo's Top Chef, just one of a series of broadcast appearances, Viviani's star power offers the budding restaurant a leg up as it carves a name for itself in a landscape of several well-loved Italian eateries. 
A native of Florence, Italy, Viviani takes a uniquely modern approach to authentic Italian cooking. Whereas some restaurateurs aim to replicate the nostalgia of dining in Italy — checkered tablecloths draped across square tables, nods to the Italian flag placed throughout the space, and on the menu, chicken parmesan dishes drowning in "secret sauces" passed down for generations — Viviani instead fuses the traditional  with the unconventional.
At Bar Verona, burrata is served on country bread and neatly topped with crispy slivers of house-cured pancetta, a dollop of sweet tomato jam, and shreds of fried sage. The crispy-creamy, sweet-salty, combo satisfies many cravings in one serving.
There are the obligatory items on the starters menu: Italian Sausage and Peppers (which Viviani updates with a side of whipped potatoes), and Fried Calamari (he puts a spin on this incorporating crispy slices of zucchini tempura), but the true standouts are the more unexpected. Tuna Crudo is neatly diced and tossed with a smoky, charred shishito pepper relish, and served with house-made potato chips intended to be used as utensils for the fish.
There's spaghetti and meatballs on the menu of housemade pasta, but not much is traditional about the dish. Contrary to what its name implies, the noodles aren't round and made for slurping, but rather flat and moderately curvy, more similar to Japanese ramen noodles. Though tasty, my palette (or perhaps my brain), couldn't reckon when the expectation for a bowl of al dente spaghetti noodles was not met. The meatballs though, comprised of ground beef, raise the bar. And the dish is topped with a creamy heap of ricotta and a crack of black pepper. Already full from the restaurant's carb-ladden starters, I kindly asked the waitress to package my leftover spaghetti into a cardboard container and made a special request that she add another helping of ricotta on top, to which she gladly obliged.
On another visit to the restaurant, an order of Giuseppe's Campanelle proved to be a more traditional pasta dish. Fresh campanelle noodles tossed in a tomato sugo, earthy truffles and wild mushrooms, and flavorful sausage, the dish came recommended by the restaurant manager and did not disappoint.
Save for panna cotta, cannoli, and spumoni, Bar Verona's dessert menu covers many of the Italian desserts you know and love. Tiramisu, Limoncello Cake, and Italian Bombolini, which are offered with sweet caramel, silky dark chocolate, and tart raspberry sauce. Following Italian tradition, the rich Vanilla Cheesecake is made with ricotta and served with sides of sliced fresh strawberries and crumbled toasted graham cracker.
The restaurant's star dessert is the Cast-Iron Cookies & Cream. Unlike the standard skillet cookies served at American franchises across the country, this one's warm, equally gooey and crispy around the edges, and topped with fixings that make the cookie seem almost like an afterthought. A shard of buttery, chocolate-dipped toffee pierces the cookie while a drizzle of caramel, Oreo gelato, and sweet milk frosting melt over top.
Despite a contemporary approach to its cuisine, Bar Verona maintains one element that binds it to the Italian eateries before it — exceptionally good food. And that's enough to make a Detroit staple.
Bar Verona Commerce Township, 500 Loop Rd., Commerce Township; 248-387-5400; barverona.com. D Daily.
---
More to Come From Bar Verona 
Bar Verona's offerings extend beyond antipasto with contemporary spins, entrees with top-of-the-line ingredients, and inventive desserts. There are also artisanal thin-crust pizzas, such as the Calzone topped with Italian sausage, roasted mushrooms, and silky mozzarella.
There's a lunch menu featuring hearty burgers and sandwiches and brunch offerings including a Kahlua Tiramisu French Toast.
A curated beverage list makes it easy to select your drink of choice. Wine, beer, and craft cocktails of a variety of spirits are available. The No. 3, a vodka cocktail made with passion fruit liqueur, ginger syrup, lime juice, and muddled cucumber, is a refreshing option with a moderately spicy kick — one that I've opted for on each visit.
And the vast menu options will be available at Bar Verona's growing number of locations. The July opening of Bar Verona Commerce Township was the first of the three locations scheduled to launch this year and next.
A Washington Township location is set to open this month, and a Shelby Township location is slated for a February debut.
While many of the Italian restaurants with staying power in metro Detroit evolve into chains with a cult following, Viviani and Yellow Door Hospitality set their sights on expansion upfront. Bar Verona's success will depend on the team's ability to maintain quality in food, service, and ambience as the restaurant grows.
And as the adage says, there's strength in numbers.