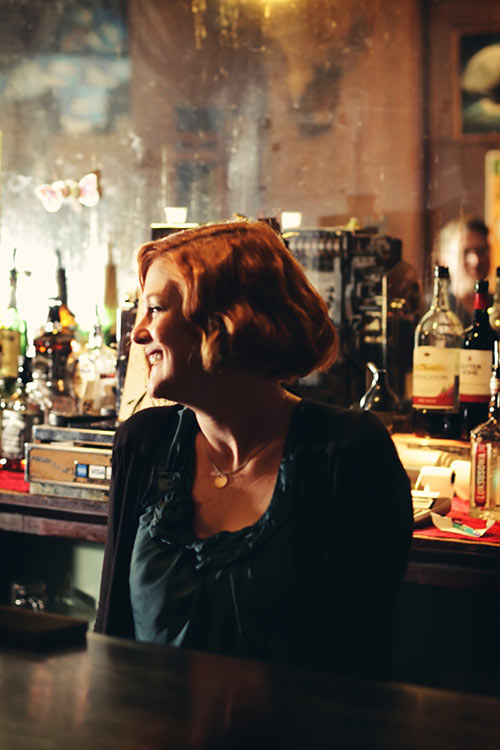 I am on a bizarre quest, one that's led to many long nights, a few raucous stories that can't be repeated, and a couple of odd treks through dusty basements, crawl spaces, and archives.
In some ways, it's a far cry from my background as an academic researcher and college teacher. In others, though, it's just where I should be.
The adventure has led me to find new friends and old whiskey barrels. It's given me invaluable insights into Detroit's darker corners. And it's led me to the only places where you can combine social and political history, material theory, and cultural/labor studies: bars. Old bars, to be specific.
The quest? To work a legitimate shift tending bar at each Detroit establishment that's been in business since Prohibition.
I first conceived the quest as a sort of distraction from my archival research on Detroit speakeasies during Prohibition. I'm writing a book about the alternative culture that thrived here in the days before Repeal (nationally Dec. 5, 1933, though Michigan celebrated a few months early. It's only fair: We were the first state to ratify the 21st amendment repealing Prohibition).
Long hours staring at a computer screen or flipping through old Burton Archives' scrapbooks and newspapers make you thirsty — and as of yet my pleas for a bar/library (a "barbrary?") remain unheard. It can be lonely work, and sometimes it's difficult to humanize the people behind stories from almost a century ago.
Luckily, I found that sort of culture is alive and well in the descendants of those intrepid barkeeps. And I found some bars that remain nearly unchanged from their lawless speakeasy days.
I had no idea how much I would learn … or how very, very dirty my work boots would get.
As it happens, I was unwittingly already a couple of bars into the project. As any good (read: poor) liberal arts student, I financed my way through several degrees by working at all sorts of different bars.
In the early stages of my book project, I'd taken on the odd shift at the historical Two Way Inn on the northeast side. I had a regular gig Friday nights at Abick's in southwest Detroit, and I was helping out for the occasional madcap hockey crowd at Tommy's Detroit Bar & Grill, a Purple Gang gambling den turned sports bar near Joe Louis Arena.
Three bars down isn't bad, I thought. How many more can there be?
And therein lies the challenge: Determining years of occupation, let alone operation, for Detroit's oldest bars is incredibly tricky. For example: How do we define a bar — does a private club count? (If so, it's time to hit up the Detroit Athletic Club, and make friends at every Elks club in town.)
I decided (perhaps controversially, as folks can get pretty heated about their favorite bars) to include Hamtramck bars — in many ways the fulcrum of area speakeasies well into the 1960s.
Determining when and for how long a bar was open isn't always easy; state records are maddeningly incomplete, and it's not as though there's a paper trail for illegally operating speakeasies.
I'm still refining the list, but I'm somewhere around halfway through.
Each experience has been entirely distinctive, but they all have one thing in common: I've met amazing people and learned great Detroit history.

Landing the Gig
I was surprised by how easy it was to wrangle my way into being the temporary caretaker of a historic bar. Admittedly, many bar owners were already accustomed to me pestering them for information. Politely worded emails aren't going to get you a bar shift, or a 10 p.m. Sunday invitation to dive into the crawl space to look at their newly discovered whiskey barrels.
That's the kind of information you only get sitting around soaking up inside jokes and yarns about somebody's "cousin's girlfriend's brother's aunt who used to run booze for the Purple Gang."
That takes patience and dedication. It takes a stubbornness well fortified by alcohol and convivial regulars, for these great, old bars have loyal and dedicated fans that often scoff at the idea of visiting the newest "it" bar.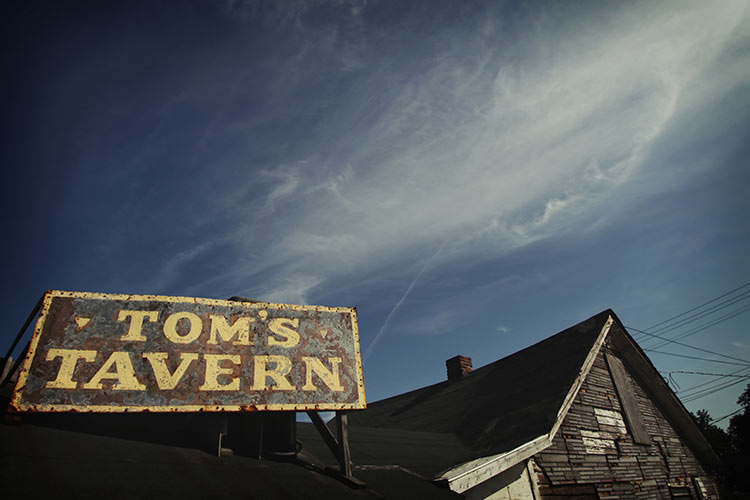 Each bar has its own temperament and peak crowd levels. Some bars shine best late at night — with just a few friends solving all the world's problems. Some are late-shift bars, when autoworkers and cops and firefighters are roaring it up at 9 a.m. Some are dinner-crowd spots, some are biker joints, and some are spots where craft beer and peanuts on the floor are de rigeur.
Some are reinventing themselves all the time, and some have remained the same, right down to the spot on the floor where drunken Greg threw a cigarette and almost burned down the place 20 years ago.
I think it has a lot to do with the character of the building: the generations of accumulated hum from various friends and strangers leaving an indelible stamp on the floors, ceiling, and bar top.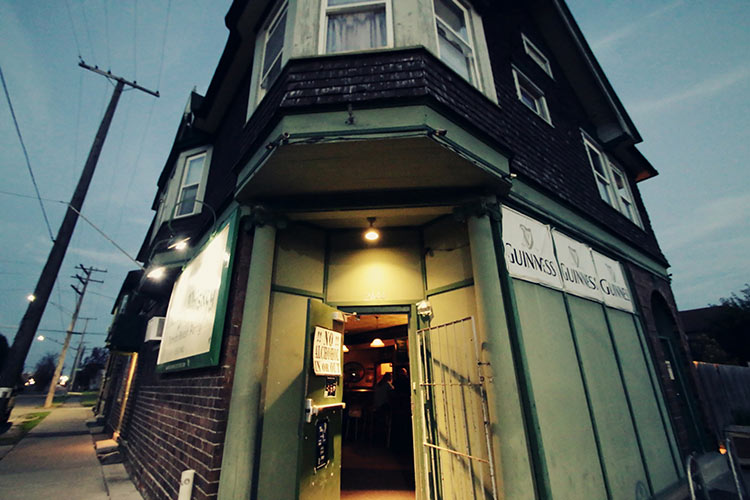 At these bars, traditions matter. For many decades, Two Way Inn regulars have lined up to toss spare change over the top of the back bar for good luck. They've rung the bell to order a round of drinks for the house.
At Nancy Whiskey in Corktown, it's customary to offer welcome shots of Tullamore Dew to new guests.
At Abick's, regulars "stand a round" for each other with a simple wave of the finger to the bartender. An upturned shot glass means someone bought a round for everyone in the bar and won't be buying any drinks anytime soon. This is a sign that others will buy the next round, and the cycle continues.
And stories matter: ones that get told and retold for decades, each participant adding details and correcting facts, until there's a rail full of bickering patrons, each trying to one-up the others on who remembers what happened in the fall of '57.
Belly up to Ye Olde Tap Room and they'll tell you all about the Purple Gang's dealings on the second floor, or the dumbwaiter in the basement that shuttled up drinks to the gambling hall. And before it was a bar, it was a pigeon club.
At Nancy's, they'll repeat tales of Jimmy Hoffa conducting business from the phone booth by the door.
Tom at Andrews on the Corner will tell of how Hiram Walker had a boat on the ferry landing, where Tom's grandfather brought out food to him.
And of course, an ancient bar will have a ghost or four hanging around. I can't think of a better place to spend the afterlife, really.
Today, most former speakeasies are a far cry from the newest trendy hot spots. Many slide under the radar by being tucked away in residential neighborhoods, in areas that were once bustling with new immigrants and now suffer from Detroit's ongoing population drain.
You'll be hard pressed to find a Last Word or Mary Pickford — or even find a bartender familiar with the newest craft cocktail trends. The '80s and '90s, with their sickly sweet excuses for alcoholic beverages, left their mark.
The oldest bars tend to take the longest to change; this is both a boon and a deterrent. This means that ancient Stroh's signs and police call boxes are often exactly where they were 80-plus years ago, but it also means that you might need to pack cash.
Some former speakeasies are boisterously proud of their illegal history, hosting historical events and boasting an in-house historian (who makes my research job nearly effortless).
Others are unconcerned with the events of a century ago, and tend to give the aspiring historian a quizzical look. (I'm sure many a bar owner in town thinks I'm a bit mad. Maybe I am.)

Schooled in Social History
Examining Prohibition-era bars gives us a perfect glimpse into the social history of Detroit at a time when industrial prosperity made us the country's fastest-growing city.
Each bar mirrors this seismic demographic shift and can tell us about generations of our parents, grandparents, and great-grandparents.
Ethnic and national groups tended to cluster together, and the bar — whether it was technically legal or not — was a combined social hall, job office, bank, and lunch counter.
Nancy Whiskey and Abick's are perfect examples: Both opened within a few years of the turn of the last century to serve as an anchoring point for their respectively Irish and Eastern European customers.
Bars such as Tommy's and Stone House on the north end of town or Two Way often began their lives as other businesses but quickly saw the profit to be made from their shifting focus to the saloon model.
Geographically, too, surviving speakeasies are as varied as their origin stories. Tom's Tavern, on the outskirts of Palmer Park, sprouted as an ostensible lunch counter (but that didn't stop the irascible Tom Lucas or his patrons from eating and drinking their way through plenty of late nights).
Jacoby's has always been a German biergarten, back before Greektown became Greek.
Andrews on the Corner and Ye Olde Tap Room are miles away from each other, but both originated as vital watering holes along the trolley lines.
We have, of course, lost many venerable speakeasies in the name of urban progress, but it's a continued surprise and delight how little has changed, really.
Hamtramck's storied dives hold a time capsule in their dimly lit interiors, where you can still get a Jezy and a Zywiec from a bartender who will argue vociferously on the correct pronunciation of those names.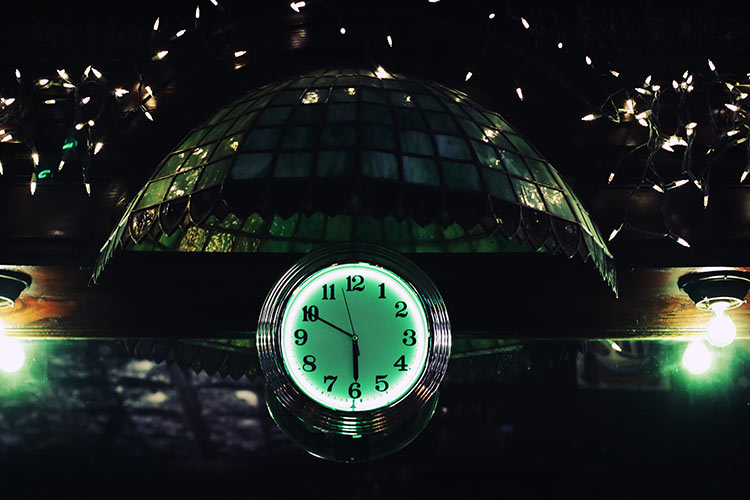 Time stops at a good old bar. Tom's Tavern is an example. It's like our own little Mystery Spot here in Detroit, with booze. It's a shack, a hovel — a gloriously uneven shanty held together with spit and dried whiskey and fiercely loyal love.
There's not a straight angle in the place, so be forewarned that getting drunk here is as dangerous to your equilibrium as it is nearly inevitable, given the generous pours, the jukebox, and the conviviality of its owner, Ron.
The only timepiece in the place is a hand-drawn clock: On a piece of yellow construction paper, the squiggly red hands are frozen at 11:15. It's a fitting image for the esprit de bar here. The time of night is early enough that you don't have to go home just yet. It's that time when the music gets a bit louder, the conversation more raucous, and "just one more" seems like a great idea.
At the heart of things, when you take away geography and drink trends and strip away all the window dressing and fripperies, a bar is a bar. It's primarily a social center, where folks gather to quaff a pint, argue politics, and unwind.
I'm fortunate to have spent so much time soaking in the atmosphere and hearing stories from those willing to share. You haven't really experienced these bars until you've heard, in the span of an evening, hipster gossip about the uncomfortable encounter between the artist and the event planner, followed by the 90-year-old story of the window maker who delivered barrels of beer for the Third Street Navy.
There's a line from a song by an Irish band called Black 47 that often rings through my head while I'm tending: "'Cuz working is for idiots, and you love the smell of bars."
Anyone who has ever worked at a bar can tell you that while this is entirely true, it rather romanticizes the pungent, hoppy smell.
But the clatter and clink of glasses, the ping of an old cash register, the dim lights, and the satiny smoothness of a bar top polished by generations of hands? These are the real draw.
Some speakeasies have remained the same for 100 years or more, and each is a chance to revisit a part of Detroit's history not seen anywhere else.
Facebook Comments