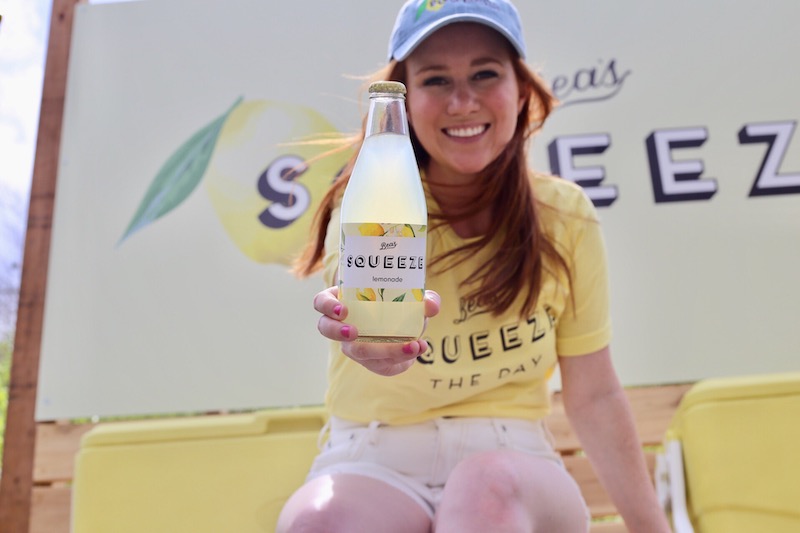 In a world where pre-pubescent summers now consist of iPads and social media use, the idea of a wholesome lemonade stand seems long forgotten. For Beatrice and Eli Wolnerman, this childhood tradition has taken on new meaning. Bea's Squeeze, their pop-up lemonade stand on the Dequindre Cut, began as a promotional campaign for the couple's soon-to-open co-working space but has since evolved into a full-fledged operation.
The entrepreneurial couple makes and sells bottled lemonade, orange cream soda, and bottled water at the stand, which is open on weekends from 12 p.m. to 4 p.m., weather permitting. The lemonade and soda are made with pure cane sugar by Beatrice and Eli. "The lemonade is just a classic, old-fashioned recipe. It's sweet but it's tart," Beatrice says. "The soda is a mixture of cream soda and orange pop. We partner with a bottling company to package the drinks in accessible glass bottles." All drinks retail for $3.
Situated near Eastern Market at 1861 Gratiot Rd., the lemonade stand occupies a small space. "We found this little tiny spot for sale right on the Dequindre Cut," Beatrice says. "A lemonade stand just popped into my head. It's a staple for summer, especially for people who are biking or jogging." The stand is located on a retaining wall that is five feet up from the street. Beatrice and Eli solved this height difference by creating a pulley system. "We send the bottled drinks down in buckets to our customers," Beatrice says. "It just makes the experience all the more interactive and fun. I definitely think the pulley system draws in a lot more customers."
Bea's Squeeze came to fruition this summer as a way for Beatrice and Eli to spread the word about their co-working space, Bea's, which will open in December at 1533 Winder St. The space, once launched, will house the couple's gift-wrapping business, Open Me When. It will also feature a for-rent manufacturing space as well as a retail shop, café, and collaborative work areas.
"We wanted to do something fun and different for the summer that would help us interact with the community and educate them about the upcoming space," Beatrice says. The stand draws in dozens of customers a day, and Beatrice estimates that every other passerby stops to grab a drink or take a photo at their unique pop-up concept. These moments give the couple a chance to get to know locals and discuss their upcoming business plans.
While the lemonade stand was only meant to serve as a summer-long marketing campaign, the couple has experienced so much success that they are expanding. Beatrice and Eli are in the process of developing new flavors of Bea's Squeeze. "We're really turning this into a real lemonade company. We're going to be selling in stores and doing some pop-ups around the city."
In the meantime, locals can enjoy the couple's offerings at the Dequindre Cut location and at a Bea's Squeeze pop-up at the Shinola Flagship store on Canfield Street on July 13 from 12 p.m. to 4 pm. For more information, visit beassqueeze.com.
Facebook Comments