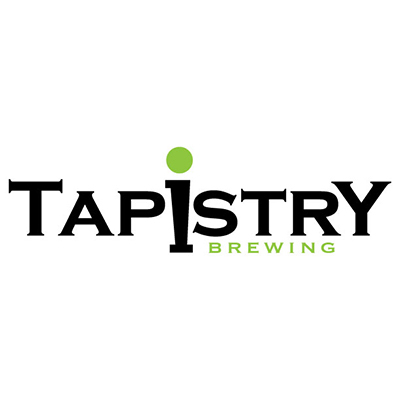 Since opening in July of 2013, Tapistry Brewing has spent the last year perfecting their recipes — and enjoying measured growth and favorable reviews in the powerful southwest Michigan beer region.
Their journey began in 2012 with the acquisition of buildings and a remodel of the brew house, a 65-person capacity taproom, and a 70-person capacity outdoor garden patio through the first half of 2013.
Co-owners Joe Rudnick and Greg Korson hail from the corporate world, with backgrounds in the pharmaceutical industry. They decided to take their passion for homebrewing and craft beer to a higher level. They aim for balancing growth and profitability while maintaining a respect for craft brewing through passion and creativity.
"We believe in brewing flavorful, traditional, and experimental beers while creating a desire for their products and the loyalty of our customers by developing a brand identity that is treasured by craft beer enthusiasts in Michigan," says Rudnick.
"The purpose of the Tapistry Brewing Company is to develop and brew flavorful beers that value quality and richness over volume, while enriching the life, tradition, and culture of the communities we serve," Rudnick adds. "We differentiate our beers by adhering to traditional brewing techniques while creating unique and experimental products and education for our customers. We strive to create a full spectrum of offerings that can be enjoyed by everyone."
The Brewery
Tapistry Brewing houses a 15-barrel system in the 3,500 sq. ft. brewing facility.
Head Brewer Nathan Peck has been crafting a wide variety of styles for Tapistry after cutting his teeth at Sand Creek Brewery in Black River Falls, Wisc. Assistant Brewers, Phil Zanello and Jamie Peters round out the brewery staff.
Tapistry's current output is around 1,100 barrels of beer, which includes taproom service, in-restaurant bottle sales (bombers only), and kegs, both for sale at the taproom and distributors.
Scheduled tours of the brewing facility are available.
Taproom/Restaurant
The 1,200 sq. ft. tap room/restaurant features an assortment of snack plates, salads, and sandwiches, maintained by a staff of 10.
Supporting the local community is important to the team at Tapistry Brewing – all meats used are locally sourced from Bridgman Premier Meat Market and are smoked in house. Many of the menu items contain farm to table ingredients, which are grown or produced in the surrounding area.
Weekly specials including Soupa' Monday, Taco Tuesday, Wurst Wednesday, and the Friday Hoppy Hour offer specials to all patrons. The mug club offers additional discounts for members.
Live music fills the air for seasonal and special occasion events; Tapistry Brewing also hosts seasonal trivia nights, mug club member parties, fundraisers, and other local events to keep themselves firmly entrenched in the community.
The Beer
The staff serves up pints of eight mainstays, as well as a rotation of four seasonal and 12 lab beers.
Up to 20 beers are available at any given time at the restaurant, many of which are available in kegs through distribution in the southern and western regions of Michigan's lower peninsula.
Mister Orange (Belgian wit), Peck's Porter (English robust porter), and Reactor (dry-hopped IPA) are the three customer favorites.
Rudnick, a hops aficionado, enjoys the Enigma (double IPA), Reactor, and Hoponacci (single hopped pale ale series with revolving hops).
Flights: Yes
Bottles: Yes (currently, Bombers only)
Growlers/Howlers: Yes
Kegs (from the brewery): Yes
Kegs (from distributors): Yes
On Tap at Restaurants/Bars: Yes
Growth Plan
"We plan to continue our growth to achieve a 10,000 barrel a year brewery in the next 4-5 years.  We strive to be the No. 1 craft beer producer in Southwest Michigan, and aim to be among the top three craft brands within each market in our network," says Rudnick.
"Our plans include canning within 8 months, and to further establish ourselves as a recognized brand throughout the 'Great Beer State.' Every product we produce will be designed to make a lasting impression and a positive impact on every customer we serve."
Upcoming Tap Events
Tapistry will have their beer on hand at tap events over the next few months. Please check the event calendar on their website or with the venue hosting the event for information or schedule changes.
Dec. 5, 2014 – Terry's Terrace in Harrison Township
Dec. 6, 2014 – Including a Firkin of Peck's Porter – Red Fox English Pub in Royal Oak
Jan.18, 2015 – The Sardine Room in Plymouth
Contact and Connect
Tapistry Brewing
4236 Lake Street
Bridgman, MI 49106
269-266-7349
www.tapistrybrewing.com
Facebook: www.facebook.com/pages/Tapistry-Brewing/219589161509633
Twitter: twitter.com/tapistrybrewing
Instagram: www.oninstagram.com/profile/tapistrybrewing